Games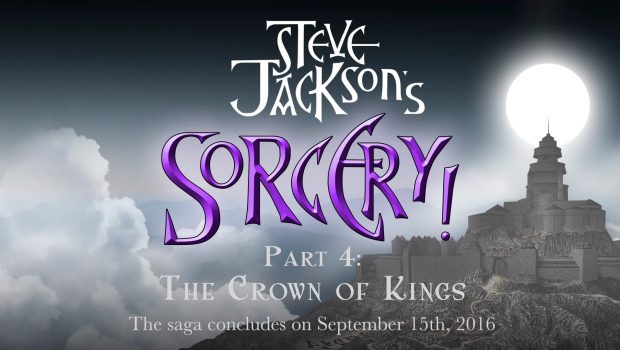 Published on August 16th, 2016 | by admin
Epic series, epic conclusion — final Steve Jackson's Sorcery! game coming Sept 15 to the App Store, Google Play, and Steam
When the journey began, the Analander was an inexperienced hero in pursuit of an impossible prize. Three games and more than 1.5 million downloads later, Steve Jackson's Sorcery! players have braved the sprawling Shamutanti Hills, outsmarted the Cityport of Kharé's bewildering traps, and survived the Kakhabad desert's seven deadly serpents. Now the greatest challenge beckons in Sorcery! Part 4: The Crown of Kings, releasing September 15th for iPhone/iPad, Android, Windows, and Mac.
THE CROWN OF KINGS
Adapted and expanded from Steve Jackson's bestselling gamebooks, Sorcery! is an interactive fantasy story told through thousands upon thousands of choices — all of which are remembered to make every adventure unique.
The legendary Crown of Kings has been stolen by the evil Archmage and taken to the Fortress of Mampang, high in the mountains. You have been sent, alone, to get it back. Armed with only a sword, a book of spells, and your wits, you must negotiate the cruel mountains, break into the Citadel, and sneak through the city within to confront the Archmage himself. You cannot hope to survive — but sometimes even death is not the end…
AN EPIC FINALE
Whether you're starting here or completing an ongoing quest, Sorcery! Part 4 is the longest, most complex, and most devious installment of inkle's acclaimed narrative series. Here's just a small sample of what this open-world adventure has to offer:
A full tutorial gets new players situated while suitable difficulty challenges those continuing on.
Past choices and old friends will come back to help — or haunt — as you look for a way into the Archmage's impenetrable Citadel.
Disguises will allow you to slip around unnoticed, but be warned, some people you meet won't like who you're pretending to be!
Multifaceted supporting characters can be befriended, betrayed, manipulated… and even seduced.
Over forty magical traps await your unique, cunning, and devilish solutions.
Stunning new cartography, hand-drawn by illustrator Mike Schley, includes 3D buildings that can be explored inside and out.
A plethora of possible endings are in store — both triumphant and tragic.