Hardware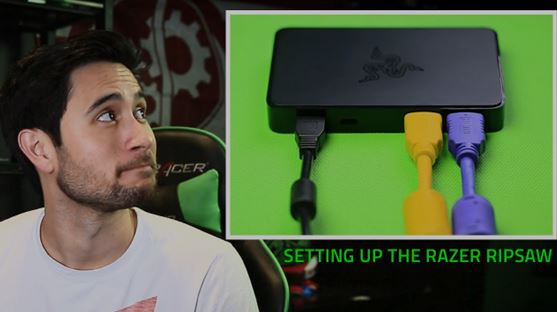 Published on March 31st, 2016 | by admin
Enter the World of Streaming Like a Pro with Razer's New Game Capture Card
IRVINE, (CA) – Razer™, a world leader in connected devices and software for gamers, today announced the launch of its Razer Ripsaw capture card. This crucial tool for broadcasting empowers users with high-performance recording and streaming capabilities, bringing game footage to popular platforms like Twitch and YouTube with remarkable resolutions and frame rates.
The Razer Ripsaw offers industry-leading full 1080p game capture at 60 frames per second, for crisp, clear and smooth viewing. Using the
top-of-the-line USB 3.0 standard, the Razer Ripsaw streams on uncompressed raw game footage with nearly zero latency. Moreover, audiences may enjoy even more personalized and fun experiences when broadcasters exploit the capture card's onboard audio and microphone inputs, which plug into any music source or microphone for a secondary audio or commentary layer.
Not only is the Razer Ripsaw a robust and easy-to-use game capture card with Windows PCs, it also comes with all the necessary cables to plug-and-play with popular game consoles such as the Razer Forge TV, Sony PlayStation 4, Microsoft Xbox One, Nintendo Wii U, and past-generation devices such as the PlayStation 3 and Xbox 360. This gives broadcasters a wider range of game options to share.
The Razer Ripsaw works right out of the box with popular streaming software like Open Broadcaster Software (OBS) and XSplit, ensuring broadcasters can start right away, without having to deal with unnecessary third-party bloatware that is commonly associated with other streaming solutions.
"Razer has been involved with the streaming scene since the beginning of game broadcasting, with top streamers using our hardware through the ages to get the unfair gaming advantage in front of audiences," said Min-Liang Tan, Razer CEO and co-founder. "We're excited to design a game capture card that meets the exacting needs of broadcasters and to also give newcomers a perfect tool to help them possibly become the next Syndicate or Pewdiepie."
The Razer Ripsaw is part of a complete suite of Razer Broadcaster products designed to give streamers the high performance tools to achieve their goals. The Razer Broadcaster suite includes the Razer Seiren digital microphone, one of the most popular mics used by streamers today.
In addition to launching the Razer Ripsaw, Razer is developing an online resource platform for streamers to get tips and tricks to performing their best. The Razer Supported Streamer Program has been revamped to ensure that aspiring broadcasters can leverage Razer support to achieve their goals. For information on Razer Ripsaw and related programs, interested parties may visit www.razerzone.com/ripsaw
Price: AUD329.95/USD179.99/EUR179.99
Availability: Worldwide and on RazerStore.com
System requirements:
• Windows 10/8.1/7 (64/32 bit)
• USB 3.0 powered
• CPU:
o Desktop – Intel Core i5-4440 3.10 GHz or above
o Laptop – Intel Core i7-4810MQ or above
o Graphics card:
 Desktop – NVIDIA GeForce GTX 660 and above
 Laptop – NVIDIA GeForce GTX 870M and above
 Memory: 4GB minimum (8GB recommended)
Technical specifications:
• Interface: USB 3.0 only
• Video input: Digital – HDMI / Analog – Component
• Audio input: Digital – HDMI / Analog – RCA L/R
• Audio mix-in input: 3.5 mm mic-in / 3.5 mm aux-in
• Video output: HDMI (pass-through from HDMI and Component input)
• Max capture resolution: Uncompressed 1080p60
• Supported resolutions: 1080p, 1080i, 720p, 576p, 576i, 480p, 480i
Product size and weight:
• Depth: 130 mm / 5.12 in.
• Width: 86 mm / 3.39 in.
• Height: 17 mm / 0.67 in.
• Weight: 183 g / 0.40 lbs.
What's in the box:
• Razer Ripsaw game capture card
• USB 3.0 cable
• HDMI cable
• Component AV cable
• Component AV Multi cable
• 3.5 mm audio cable
• Important Product Information Guide