Films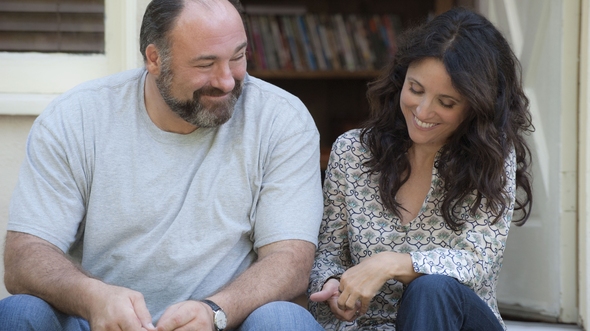 Published on November 11th, 2013 | by Damien Straker
Enough Said – Film Review
Reviewed by Damien Straker on November 11th, 2013
Fox presents a film by Nicole Holofcener
Written by Nicole Holofcener
Starring: Julia Louis-Dreyfus, James Gandolfini, Catherine Keener and Toni Collette
Running Time: 93 minutes
Rating: M
Release Date: November 14th, 2013
Writer-director Nicole Holofcener and Julia Louis-Dreyfus were born in New York in the early period of the 1960s, with just a year between them. At a young age they also saw the divorce of their parents. Holofcener's stepfather worked as a producer on several Woody Allen movies, which allowed her to become an extra on the film sets. These are interesting contextual details because they filter into Holofcener's inspired comedy-drama Enough Said. The film is Allen-like in its grounded approach to relationships, where divorce is a central theme between several characters. Also like a Woody Allen movie, the film is almost entirely dialogue driven but beautifully written so that every line thematically reinforces the smart observations of Holofcener's own screenplay.
The film contains personal observations on the way people lose perspective on relationships and how relationships are often forged with alternate motives. Holofcener creates and breaks down the binary between people's private thoughts and the public sphere of conversation. In each scene the characters often don't openly speak their minds but still want people to change. Sometimes they blindly speak aloud about other people and find that their thoughts can have a personal influence when others choose to listen. Julia Louis-Dreyfus is cast as Eva, who is a masseuse, and in the opening scene she tries carrying a heavy table upstairs while her client watches on without helping her. The purpose of the comedy and the character establishment here is to show how she is too passive and polite to ask for help.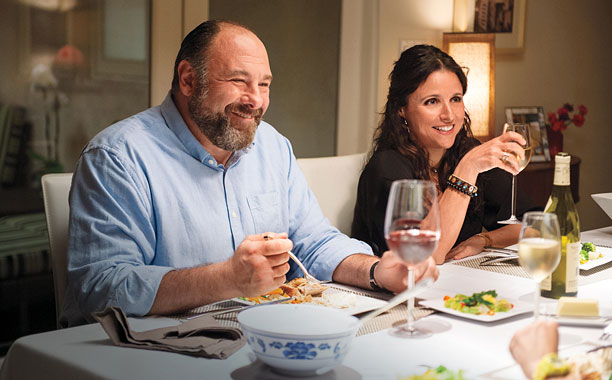 The public and private sphere of thoughts and conversations is also humorously and dramatically concurrent in the film's main narrative line. Eva meets a man at a party named Albert (James Gandolfini) who wants her number and they agree to date. What Eva doesn't realise at first is that she is dating the ex-husband of her client Marianne (Catherine Keener), who is a poet. When Eva realises they were a couple, she doesn't tell Marianne. She allows Marianne's grumblings about her ex-husband to manipulate her own feelings about her own relationship with Albert. Marianne describes Albert fat, a loser and awkward in bed and this impacts on Eva's viewpoint.
These criticisms give Eva free reign to be insecure and distanced in her relationship because after her own divorce she's tentative about the future. The film makes surprising, poignant observations about generational change and the way people fill the voids in their lives. Eva's loneliness is compounded by the fact that she and Albert are both seeing their daughters leave for college. She starts making friends with her daughter's own friend and spending more time with her, which reveals the way people latch onto other to fill the void in the life. Marianne's attitude is similar but more selective and elitist. She says she doesn't have a lot of friends and fulfils that with Eva's friendship but also remains exclusive about who is close to her.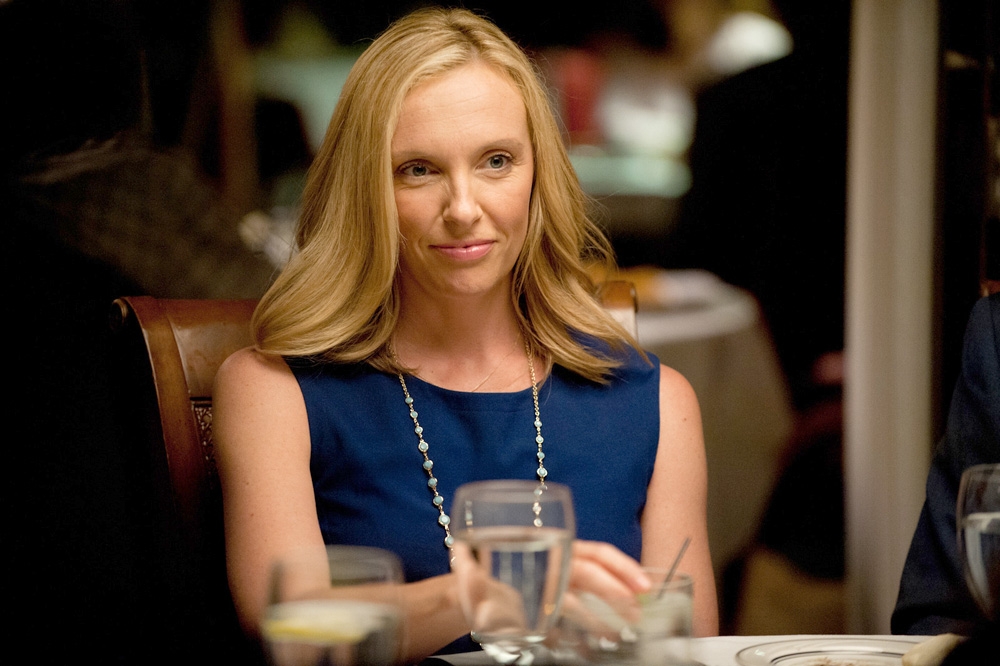 All of the film's thematic ideas are enriched by the performances, which embody the fears, weaknesses and flaws of these characters. Julia Louis-Dreyfuss' work here is brilliant in the way that she makes us forget about her signature character of Elaine from Seinfeld. Her performance is poised by her supreme comic skills and genuine feelings of remorse for some of the mistakes her character makes. It's surprising just how emotional her performance is and she has rarely been better. There's real melancholy in the purposeful casting of James Gandolfini. He strips back a lot of the aggression and anger he brings to his most iconic roles and plays Albert as a nice, ordinary, sometimes scruffy man, who is tired from his divorce. It's sad the way characters comment about Albert's weight, not because it's mean, but because it seems almost biographical now. There's searing chemistry between these two actors because their characters enjoying gently ribbing each other and thriving off each other's honesty, until this value is thoroughly tested.
What's also lasting about the film is the screenplay and the way that all the side characters including Eva's friend (Toni Collette in a funny, neurotic side role) further contribute in unison towards the larger themes of the story. A lot of film's today settle for having just a single narrative line. Yet all of the subtext and meaning in the film here is reinforced by dialogue and characters that employ Holofcener's thematic intentions. Shame on the studio then that produced the film's trailer with the bright idea of revealing one of the most critical scenes. Film scripts of this quality are rare today and shouldn't be spoiled so clumsily. It excels well beyond efficiency to become memorable and even outright touching.
Summary: The film contains personal observations on the way people lose perspective on relationships and how relationships are often forged with alternate motives.