Events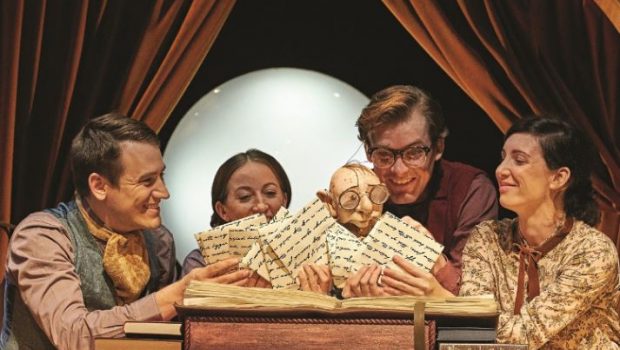 Published on March 31st, 2017 | by admin
ENJOY SOME FAMILY FUN AT ARTS CENTRE MELBOURNE THIS WINTER AND SPRING!
MELBOURNE, 30 MARCH 2017 – An exciting winter and spring program featuring fun adaptations of popular books Horrible Harriet and The Gruffalo, Irish dance theatre, circus, comedy for kids and breathtaking puppetry will make Arts Centre Melbourne the place for families when the weather gets cold this winter and spring.
Children and young people with complex disabilities will have the chance to experience a ground-breaking immersive work designed specifically for them when UK based Bamboozled Theatre Company presents Down to Earth on 10 and 11 June. In July, CoisCéim Dance Theatre from Ireland will perform The Wolf and Peter, the timeless story of Prokofiev's Peter and the Wolf told through the eyes of a somewhat misunderstood Wolf.
In a world premiere, Australia's favourite comedians for kids, The Listies, will bring their best-selling book Ickypedia: A Dictionary of Disgusting New Words to the stage in a brand new show from 11 – 15 July at the Fairfax Studio. Then UK puppeteer Ailie Cohen will present The Secret Life of Suitcases on 12 and 13 August. The heartfelt work tells the story of office worker Larry, whose world gets turned upside down by a fantastical flying suitcase.
In September, children and their families will have the chance to experience the China National Theatre for Children's Three Monks and meet the fun-loving kids who live behind a junkyard in the Flying Fruit Fly Circus' new production Junk. Also on during this month is Arts Centre Melbourne's Artist-in-Residence project, Loop. Part workshop, part performance, this unique work invites children to show off their dance moves to inspire the choreography of a brand new show by Melbourne artist Nat Cursio.
Arts Centre Melbourne will present the Victorian premiere of the Helpmann Award-winning production of Bambert's Book of Lost Stories by Barking Geko Theatre Company on 27 – 28 September. The story of Bambert, an impossibly small man with an enormous love of writing who decides to set his stories free, will delight audiences of all ages.
Fans of the beloved children's books Horrible Harriet and The Gruffalo will have a chance to see their favourite characters brought to life in stage adaptations at Arts Centre Melbourne's Playhouse. The adaptation of Leigh Hobbs' popular book Horrible Harriet will be performed from 27 – 30 September, and the award-winning The Gruffalo will delight fans from 15 – 26 November.
Arts Centre Melbourne's year-round Families Program was launched in August 2009 and has grown in reputation to become a highly respected program both in Melbourne and nationally. Featuring free events, intimate and large-scale theatre from some of the world's most respected companies and a diverse range of interactive workshops, the program is robust and growing in size, scale and scope.
Arts Centre Melbourne presents
Families Winter Spring 2017
Bookings: artscentremelbourne.com.au or 1300 182 183
TICKETS ON SALE FRIDAY 31 MARCH