Games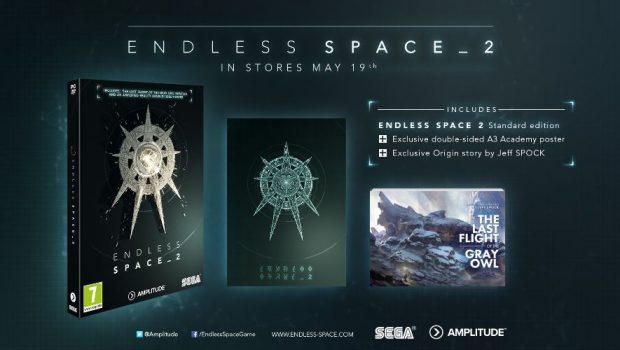 Published on April 18th, 2017 | by Admin
ENDLESS SPACE 2 GETS A RELEASE DATE AND A DAY-ONE PHYSICAL EDITION
Sydney, Australia – April 18, 2017 – Amplitude Studios announced today that its genre-defining 4X sci-fi game Endless Space®2 has an official launch date and a day-one physical edition coming for the PC! Endless Space®2, Amplitude's modernized take on the turn-based 4X genre, will leave Early Access and be fully available May 19.
A physical edition of Endless Space® 2 (PC) is also coming on day one and will feature premium package, which will include a novella – a Jeff Spock tale written under the orders of the community's mind. Titled "The Last Flight of the Gray Owl" it details the origins of the space ship that ties together Amplitude's three games (Dungeon of the Endless™, Endless Legend™, and Endless Space® 2). Physical SKU also includes an exclusive double sided A2 poster of the Endless Space 2 Academy. On one side the original version, on the other side the Academy seen through the Amplified Reality.
Endless Space®2 is a turn-based, space-strategy game that expands through the Endless universe, putting players in the fascinating role of leader guiding a civilization in making its first steps into the cold depths of interstellar space. Play through eight factions alone or against your friends.