Games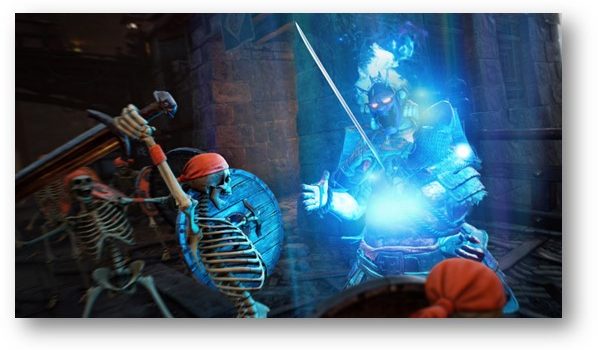 Published on October 20th, 2017 | by admin
THE ENDLESS MARCH INVADES FOR HONOR®
New Halloween Event Adds Unique Game Mode and Exclusive Rewards from October 19 to November 2 
SYDNEY, Australia — October 20, 2017 — Ubisoft has announced that For Honor® will run a special seasonal event, Feast of the Otherworld, across all platforms from October 19 to November 2. This new event brings a haunting variation of the 4v4 Dominion mode, where skeletons have taken over the battlefield. Players will also be able to loot exclusive Halloween-themed cosmetics during the event, including mood effects, emotes and ornaments.
The addition of unique Endless March mode introduces a new set of rules for the 4v4 Dominion mode, which challenges players to adapt their strategies to take down the opposing team. In Endless March, soldiers appear as skeletons and deal brutal damage. Conquering zones will only yield temporary points; the only sources of permanent points available to players come from killing soldiers and enemy players. As with Dominion, players must reach 1000 points and defeat all 4 enemy players in order to win the game.
The Feast of the Otherworld brings players new Halloween-themed rewards. Players can customize each of their Heroes with new mythic outfits that include all-new masks, which transform players into ghoulish versions of themselves. Additional For Honor weekly content released during this time will have a special Halloween flavor to celebrate the limited-time event.
Developed by Ubisoft Montreal in collaboration with other Ubisoft studios,* For Honor offers an engaging campaign and thrilling multiplayer modes. Players embody warriors of the three Great Factions – the bold Knights, the brutal Vikings and the deadly Samurai – fighting to the death on intense and believable melee battlefields. The Art of Battle, the game's innovative combat system that puts players in total control of their warriors, allows them to utilize the unique skills and combat style of each hero to vanquish all enemies who stand in their way. For Honor will continue to grow and improve with a new season launching in November, alongside plans to introduce dedicated servers further down the development schedule.
For more information about For Honor, please visit forhonorgame.com and please follow us on Facebook at facebook.com/ForHonorGame and on Twitter at twitter.com/ForHonorGame. For the latest on For Honor and all Ubisoft games, please visit ubiblog.com.
*Associate Ubisoft studios are Quebec, Toronto and Blue Byte.