Comics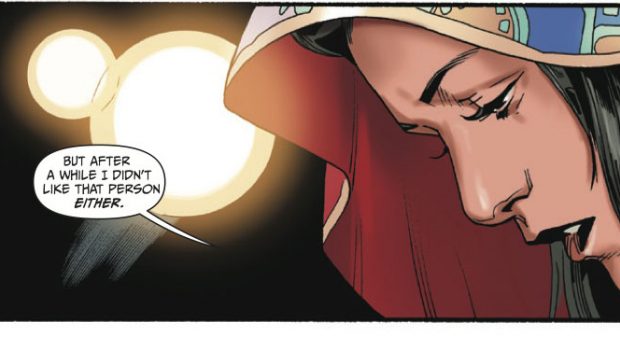 Published on June 9th, 2016 | by Dana Folkard
EMPRESS Issue #3 Review
Summary: We are swept right back up into the whirlwind of action, heroic deeds and unbelievable feats!
There is never a dull moment or a chance for us to pause and take a breath during Empress issue #3. From the very first page we are swept right back up into the whirlwind of action, heroic deeds and unbelievable feats. Mark Millar and Stuart Immonen are taking us on a wild ride through space, with swashbuckling heroics, humorous dialogue and the threat of death and total annihilation biting at our heels! What's not to love about that?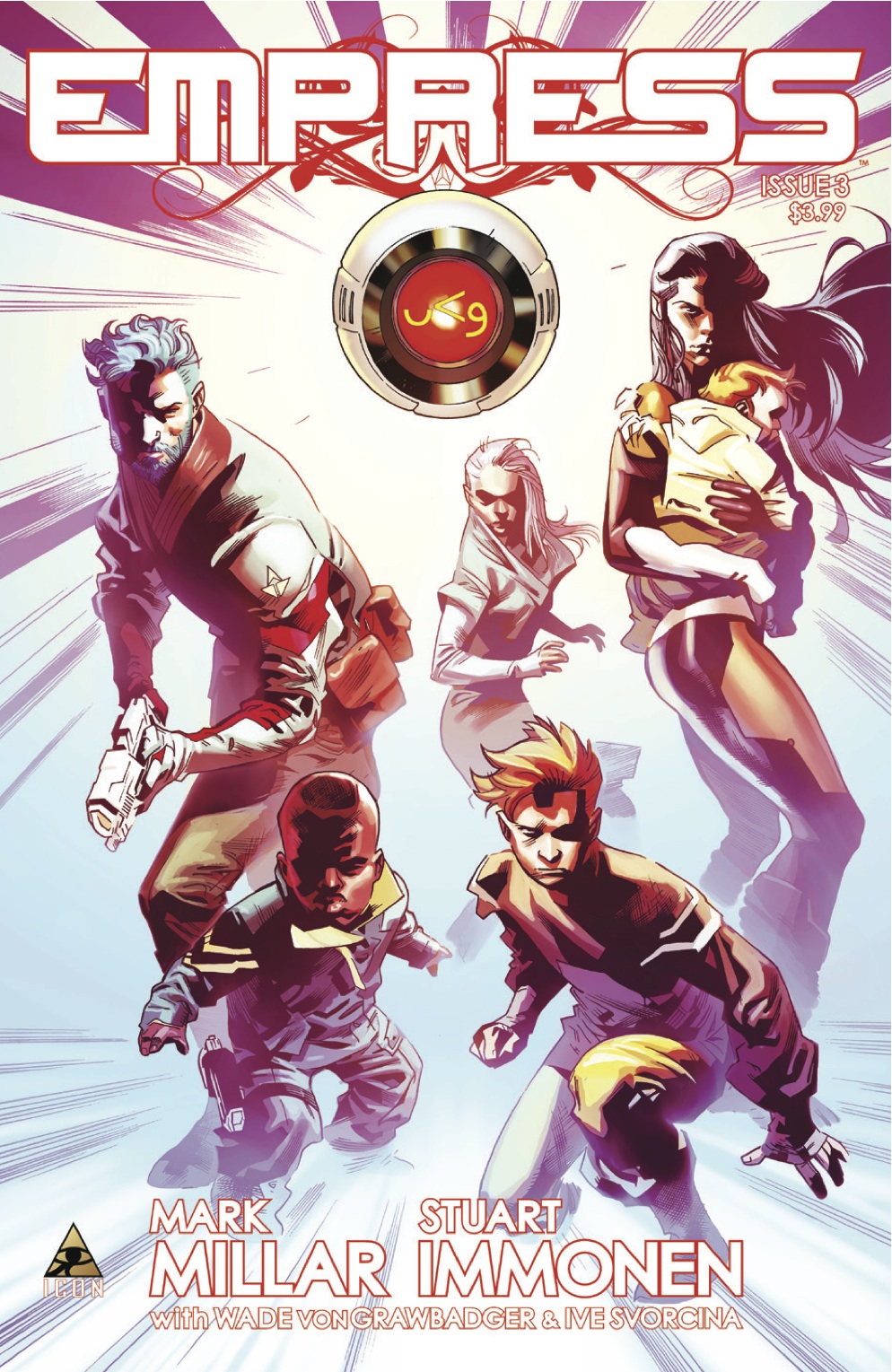 So we are back right where the previous issue left off, holding our breath on a literal cliffhanger. Emporia, her children, Captain Havelock and Tor are on a mad dash through space after stealing the rare transporter from the crime warlord, Chief Bozz. They can't seem to catch a break, as they repetitively encounter problem, after problem and this all starts to turn rather humorous as it reaches a point where it almost becomes a comical slapstick routine. I'm enjoying the lighthearted back and forth banter between Tor and Havelock, as it adds to the overall comical absurdity of their plight and it reminds me of the incessant teasing between Han Solo and Lando Calrissian. However the whole issue isn't just a mad dash through space, as we also have some quite moments of reflection. We start to see a little bit more of the relationship that Emporia has between her children. It is during these tender moments that I'm reminded that this is essentially a story about a protective and caring mother who so desperately wants the very best for her children.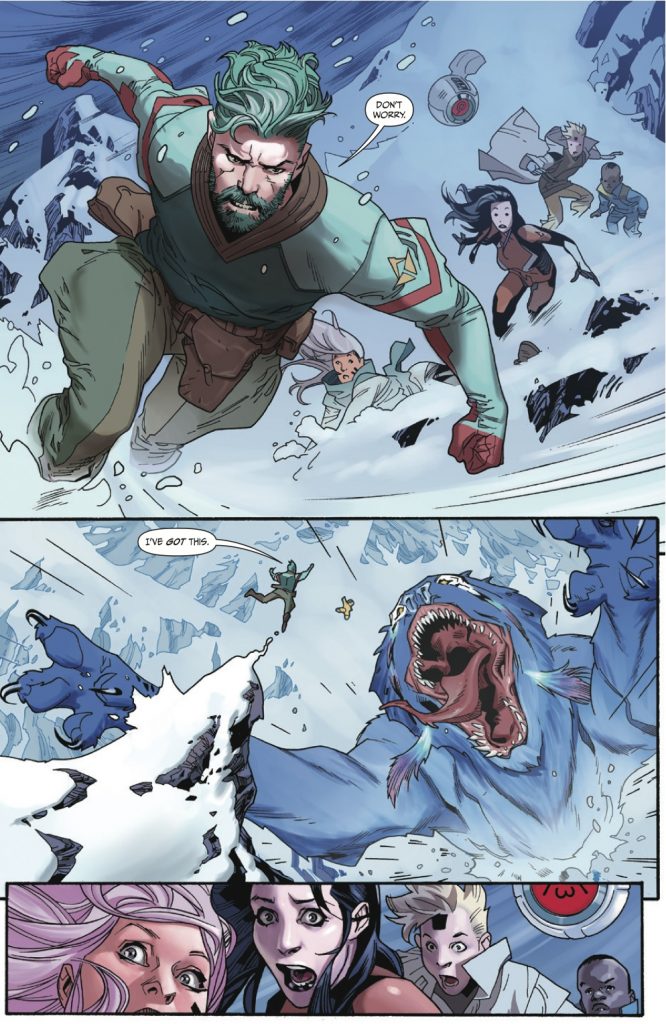 We also start to get a grasp of the cruelty of King Morax. So far we have only seen him briefly and have relied on information from Emporia about what kind of man he is. It is during this issue that we finally see what he is truly capable of. His arrogance bleeds through the pages as he claims that he has brought peace to the galaxy through the utter annihilation of any opposing warlords. He clearly sees himself as some kind of saviour to the galaxy and a beacon of ruthless stability that must maintain order under his tyrannical rule. The strength of his influence and wrath is also galvanised in this issue as we see the introduction of a new super army, who operate on a limited emotional spectrum…ahh yes, just what every bloodthirsty despot should have at his disposal. Now we begin to understand why Emporia fears her husband so.
I really enjoyed seeing Stuart Immonen flex his artistic muscle and present us with an abundance of new and exotic alien landscapes. It's just a testament to Immonen's creativity when it comes to designing completely original and believable alien environments. The fast-paced nature of this issue means that we are seeing a lot of action scenes and he does such a great job at capturing the fluidity of movement. Every space on the page is taken up with beautiful detail and the overlaying panels work seamlessly to help heighten this sense of movement and flow. He really does provide a feast for the eyes. Ive Svorcina's colouring should also be mentioned as the Technicoloured landscapes really heighten the sense that you're are venturing into some foreign worlds and deep space. These vibrant colours add that extra element of an otherworldly atmosphere and I found that to be really effective. It really does drive the overall tone and mood of the story, as we quickly dart from beautiful, bleak, vibrant and dangerous landscapes.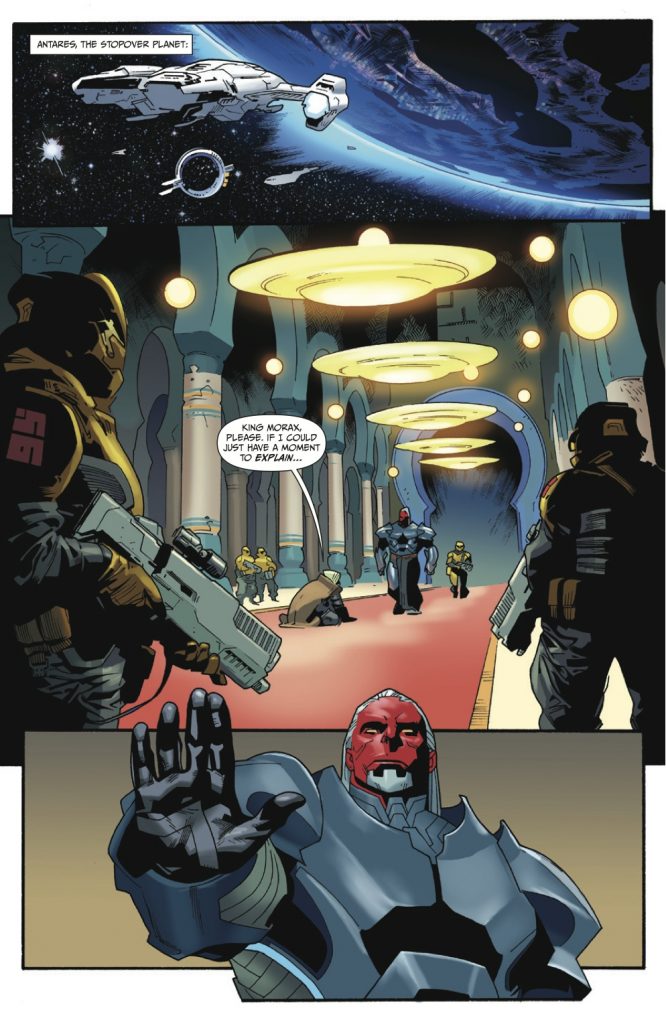 So far I'm thoroughly enjoying this mad dash through space that Millar and Immonen are taking us on. I can already see the potential for a juicy and thrilling story forming, with dynamic relationships and complex characters. I'm looking forward to venturing deeper into this exciting space adventure and seeing more of this family's desperate search for sanctuary and survival.
I'm giving this issue 4 out of 5 stars!
Comic Details
Title: Empress #3
Publisher: Icon Comics
Creative Team: Mark Millar, Stuart Immonen
Reviewer: Dana Folkard