Comics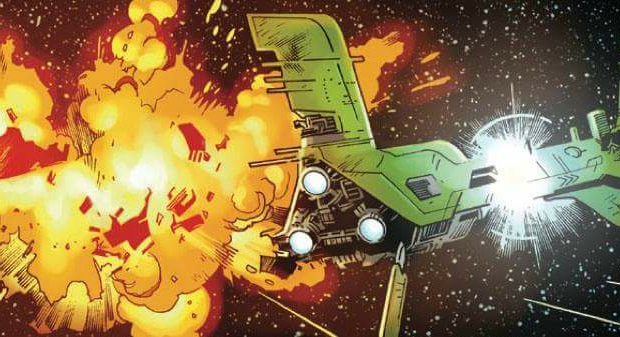 Published on September 23rd, 2016 | by Dana Folkard
EMPRESS #6 REVIEW
Summary: An impressive conclusion to the first story arc.
5
Exciting and adrenaline fuelled!
WARNING: SPOILER ALERT!
Salvation, sanctuary and betrayal are some of the prominent themes in the latest instalment of Empress. The concluding issue to the first Empress story arc certainly leaves us begging for more. Our escapees have been through a lot since their escape from Earth and it all culminates in an epic finale with a few unexpected plot developments. So in the end, does Emporia and her children finally find refuge?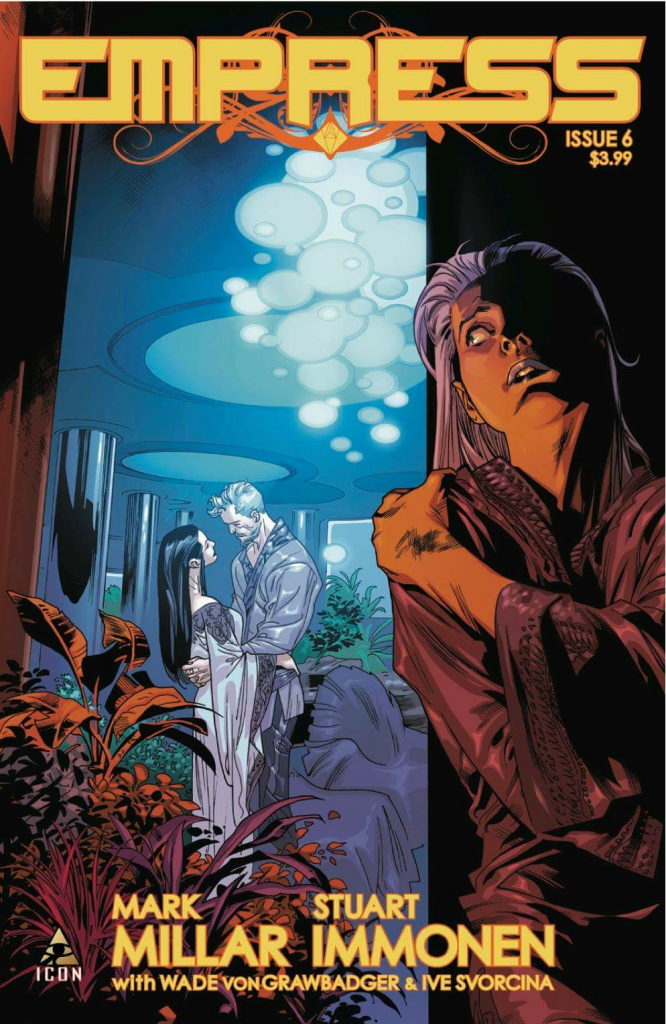 Empress #6 literally begins with a bang! Emporia's children are in a desperate situation, stuck on board a destroyed ship with no foreseeable escape in sight. Luckily, Emporia arrives in time to save her children with the help of the ever-adorable transporter. A sweet and loving reunion is shared, as Emporia is once again reunited with her children. They quickly set a course for Euphoria, the planet where Emporia's sister resides and the one place that is their best chance of hiding from King Morax. Emporia arrives on this beautiful planet with the highest of hopes and expectations, however, not is all as it seems. Deception and betrayal lurk around the corner and we are left with a tantalising glimpse into where the next story arc will be headed.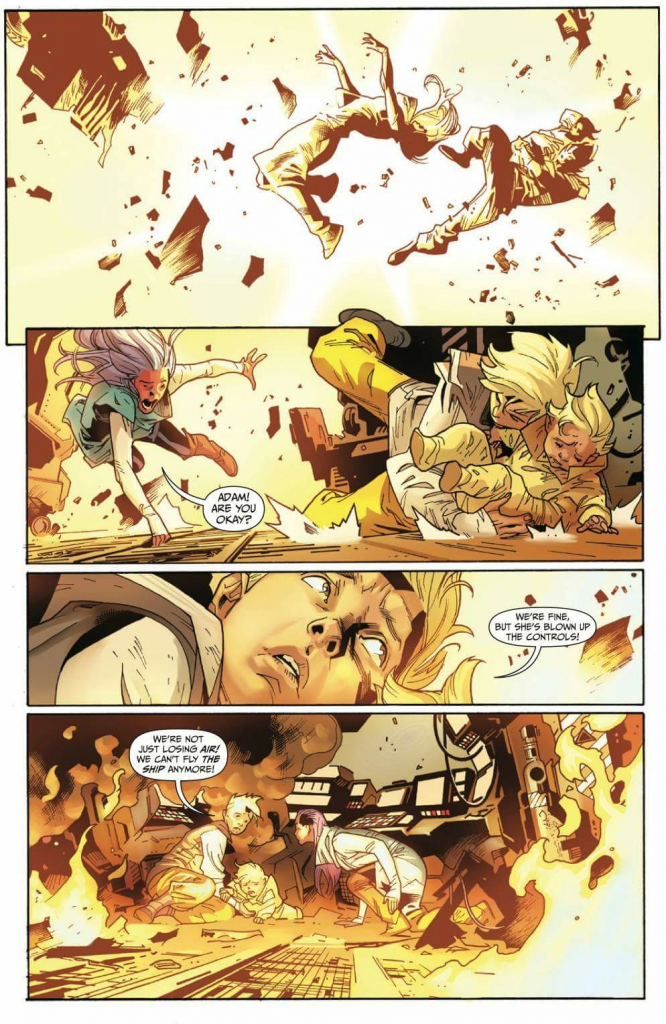 Mark Millar has given us a fitting conclusion to the first story arc of Empress. Up until this point, we have been on a non-stop, adrenaline fuelled race through space, as our escapees desperately try and evade King Morax. This is the first time in the story so far where we get to see them somewhat at ease and a little hopeful of their situation. However, Millar has still managed to frame it all in a lot of doubt and suspicion. Things aren't all as they seem, as it is clear that Emporia has some reservations about going to her sister for help, mainly because they didn't part on the best of terms. I like this contrasting emotional tone and I find it effective in creating a sense of unease and foreboding. I also find Emporia to be very relatable and I believe that this has a lot to do with Millar's clever characterisation. She's resilient, strong and protective. Her powerful maternal instinct is the driving force behind her determination to deliver her children to safety and this alone is what matters to her the most. I believe that this in turn makes me really worry and care about her and her plight. I so badly want her to succeed and to finally be rid of the threat of King Morax. All of this is reinforced with those lovely tender moments between her and her children. These fleeting scenes are important, as they naturally draw these characters closer together, on an emotional level, which is important when laying the foundations for a loving and trusting relationship.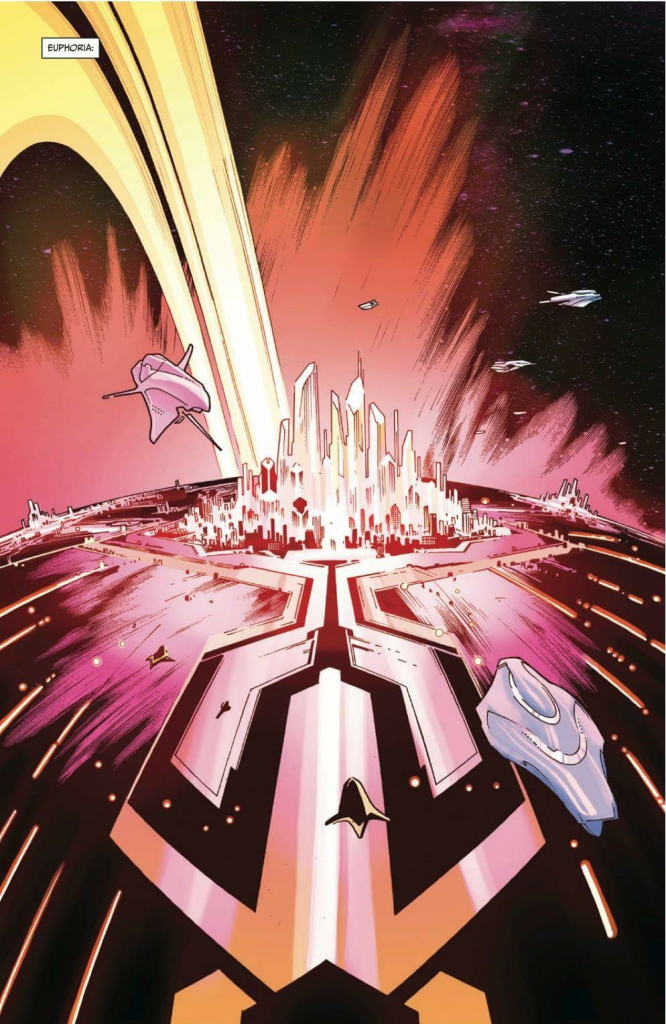 Stuart Immonen's art is impressive as always and he delivers us some epic sci-fi cityscapes and sprawling, expansive worlds. I really love the look of Euphoria, a stunning city made out of precious gems and drenched in neon. It looks just like how you'd imagine an advanced alien city to look like in all of it's other-worldly glory. Not only are our fugitives in awe of this city but I am also…I want to love there! Immonen also does a great job at reinforcing emotional responses in the faces of these characters. You really get a sense of what they are experiencing and understand the level of fear that they are feeling from the gorgeous and detailed close ups of their faces. The scene where the children are stuck on the burning ship comes to mind, because in that moment they all really do look like scared and lost children, wishing for their mum to come and save them. I also enjoy Immonen's clever panelling, as he employs the use of overlaying images that contrast with one another. For example having a huge sprawling cityscape or expanse of space with the silhouette of King Morax over the top, bleeding into the image. It's a very interesting and effective way of visual storytelling. Colourist, Ive Svorcina, does an excellent job at heightening the overall other-worldly tone of the story. The use of electric and vibrant colours makes the scenes pop and it really draws your eyes in to those wonderful details of Immonen's art. It's like a feast for your eyes, taking in all of the gem-like tones and vivid colour palette that seems to illuminate from the panels.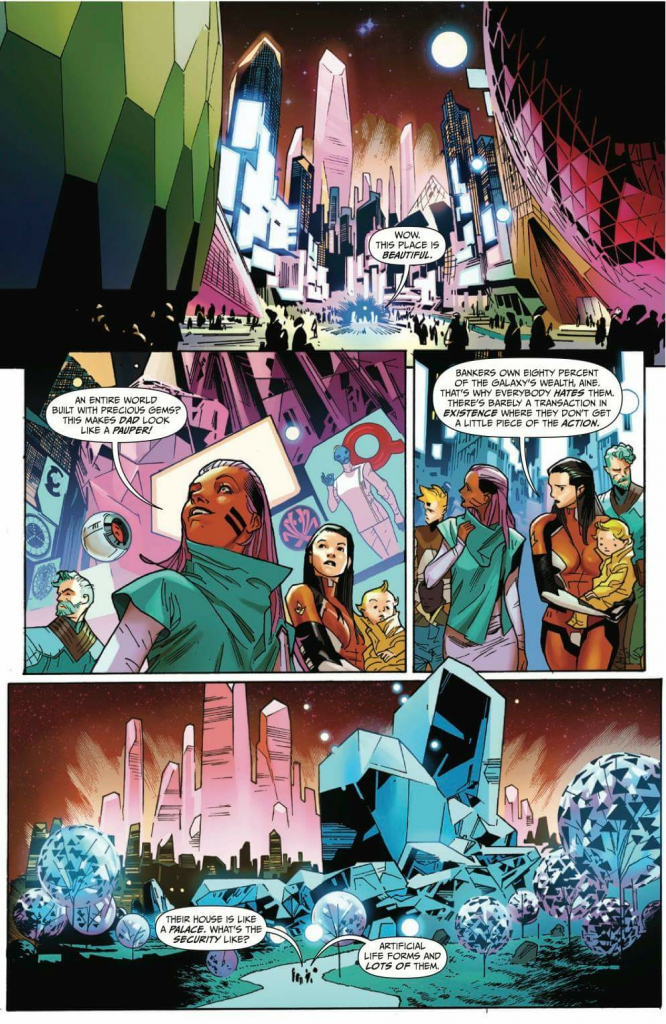 Empress #6 is an impressive conclusion to the first story arc of this series. Millar and Immonen have introduced us to a wonderful space opera that offers us some great characters, hair-raising moments and stimulating plot developments. I've thoroughly enjoyed reading Empress and I've found it to be consistently clever, gripping and fun. It's concluding issue really ties it all nicely together, making it a cohesive and dynamic story that is well rounded and cleverly thought out. I'm looking forward to the next story arc and seeing where this whirlwind of events and dramatic tale is going to take us.
I give this issue 5 out of 5 stars!
Comic Details
Title: Empress #6
Publisher: Icon Comics
Creative Team: Mark Millar, Stuart Immonen
Reviewer: Dana Folkard