Comics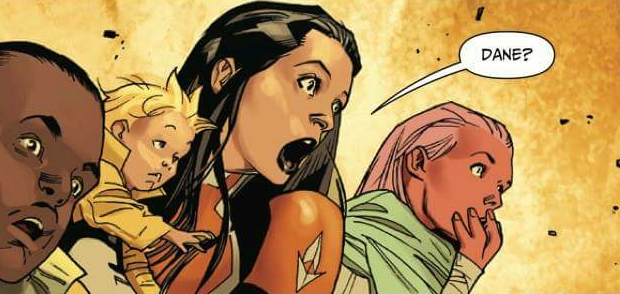 Published on July 11th, 2016 | by Dana Folkard
EMPRESS #4 REVIEW
Summary: This issue delivers an epic dose of thrilling drama!
4.5
Adventurous space opera.
Straight away from the moment I first saw the cover of this issue, I knew that the story was going to take a dramatic turn in events. Well I must say that this chapter of the story certainly delivers an epic dose of thrilling drama. We come into Empress #4 still sweating over the intense events and fast-paced narrative from the previous issue, so it's interesting to see an immediate change of pace from the very opening pages. So here we are, the mad dash through space has been halted in its tracks, the pace has slowed and it all appears like we can finally take a breather…but for how long?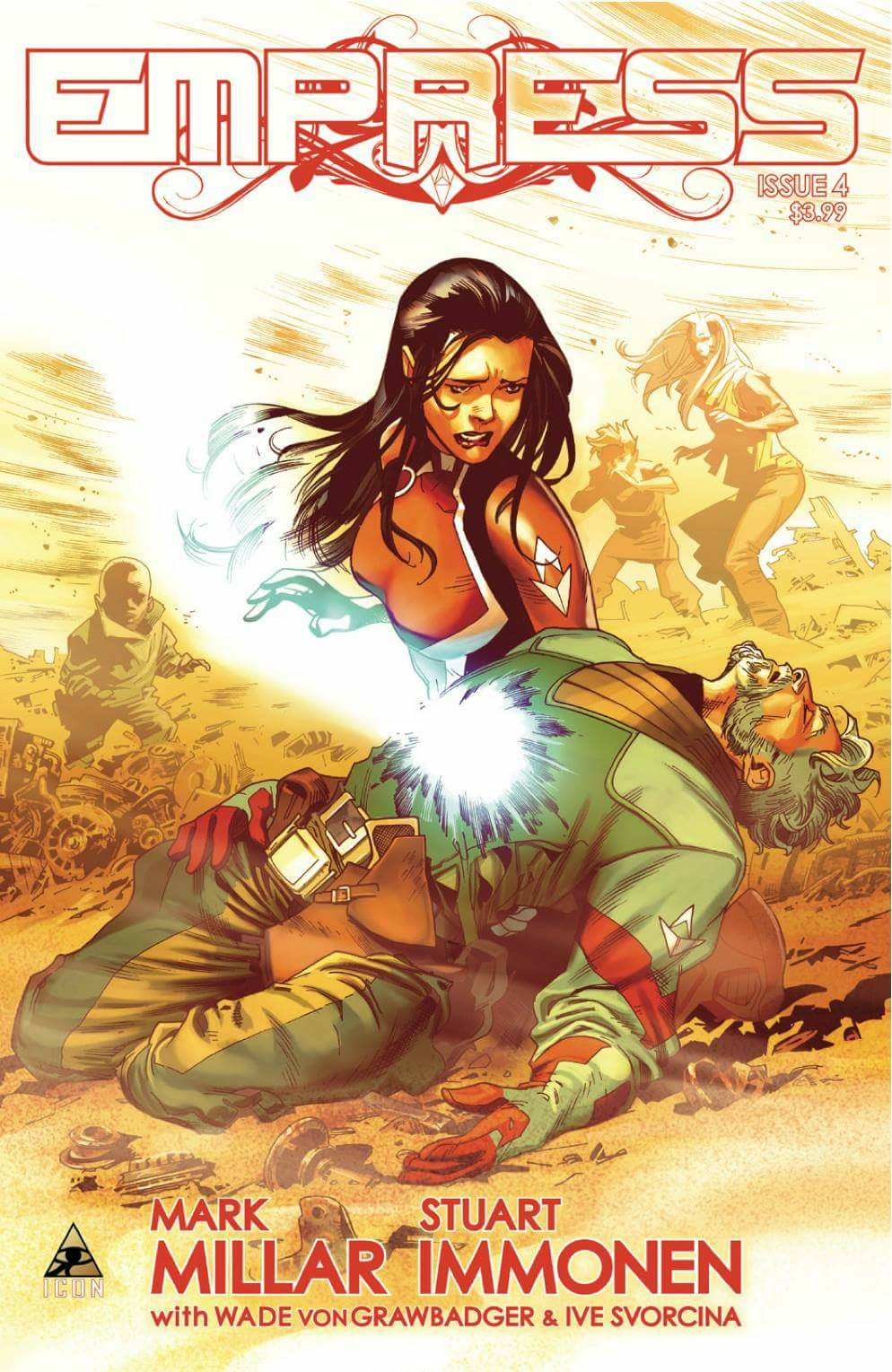 This issue picks up with our runaway fugitives still stranded on Golgoth and desperately searching for a way off the planet. In previous issues, Emporia and her children have relied on their ships ability to teleport them quickly from location to location. However, Golgoth is shrouded in a heavy dust cloud which obscures their ships vision and therefore its capacity to safely teleport them. They are stranded and desperately searching for a way to escape Golgoth before King Morax catches them. However, the slower pace doesn't last for long as we are thrown right back into the action, with our escapees being ambushed and taken prisoner by a ragtag group of space scavengers, looking to make a fast buck. From this point onwards, the story takes a dramatic change as we see some interesting plot developments and gripping changes. Things really start to get wild as they devise cunning escape plans and fight for their freedom, all whilst leaving a trail of destruction behind them!
I really enjoyed seeing some new elements being brought to the story, elements that have expanded the sense of culture in this universe. For instance, this is the first time that we witness any sort of devotion to a religion being practised. We see Emporia's daughter, Aine, praying to her gods for help and we are also introduced to a race of aliens that appear to be a part of a strange and dangerous space cult. It's starting to feel like there is more substance to this universe and that we still have a lot to discover about it. This sense of discovery also carries over to the abundant array of alien technology that we get to see in each issue. The guns and ships are particularly excellent and if you're at all like me and get excited when seeing crazy new designs and unusual concepts then you'll love what Millar and Immonen are bringing us. For example, we get to see a cool gun that shoots lasers that move and bend around corners and a tiny teleporter that that possess immense power and expresses cute emotions on a display screen, like a Japanese emoji. I also found it clever of Millar to not only use the teleporter as a means of transportation but also as a weapon, as we see the surrounding cityscapes being used to their advantage. Think about it. What would happen if you teleported your enemy into a cement wall?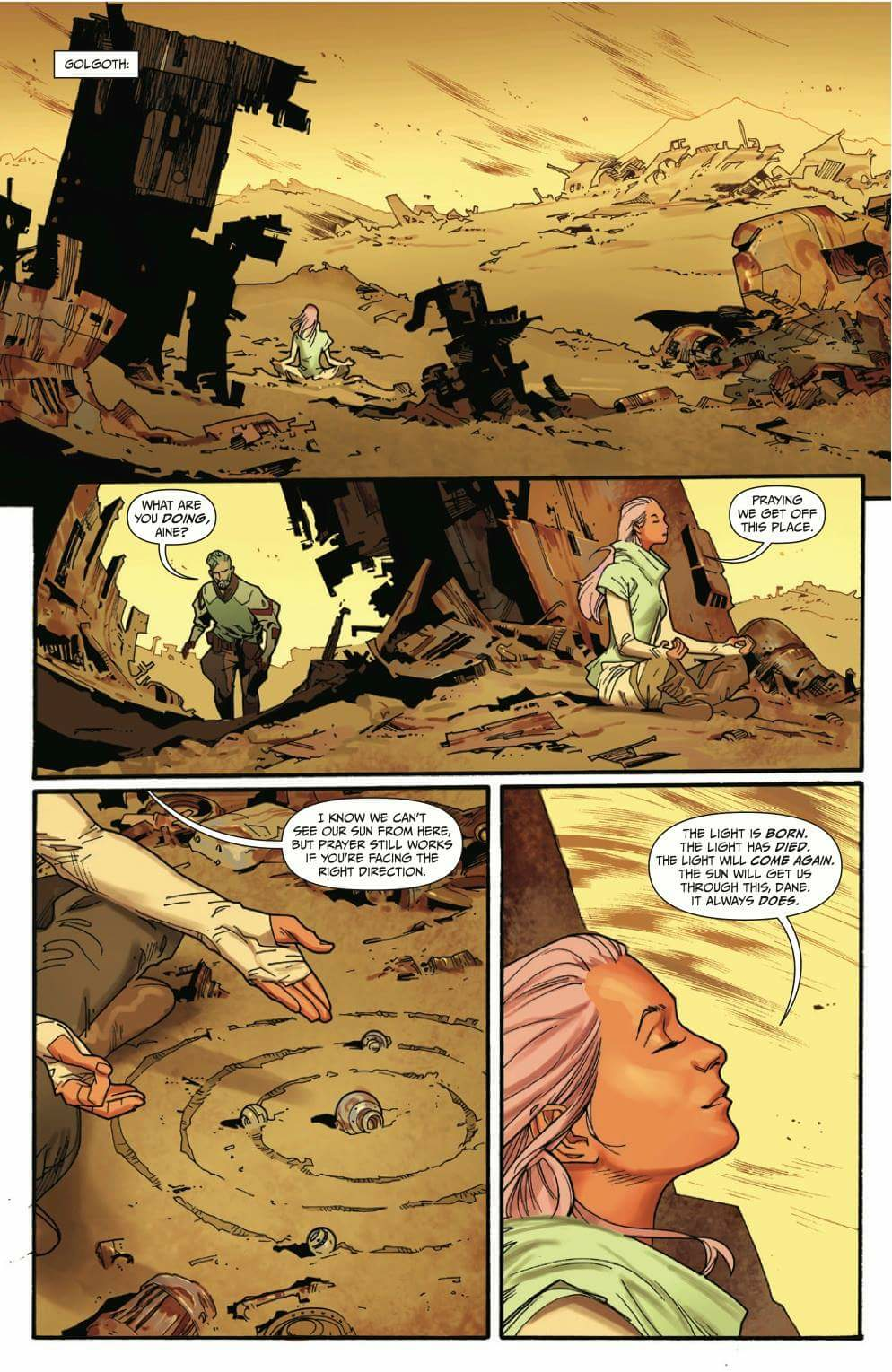 Stuart Immonen's art really is lovely and I honestly only have nice things to say about his work. He has an interesting way of framing certain angles and overlaying panels which brings a new dimension to those scenes. Immonen also brings us some pretty epic battles that are really beautiful and cinematic to look at. I often found myself pausing on these particular pages, as he draws back and allows us to see the full scope of a ship during mid-explosion. I should also mention Immonen's ability at creating a real sense of emotion within his characters. Their faces are drawn very expressively and this helps to heighten the sense of plight and anguish that they are experiencing. It really feels like he has captured the true essence of how these people would be feeling during these intense moments. Ive Svorcina's colouring is also very effective in this issue. The overall mood and ambience on Golgoth is oppressive and bleak and this is really achieved through the toxic-like colouring. I also believe that Svorcina's colouring during the space scenes is really interesting and unique. There is quite a dynamic and beautiful colour palette used here and I found that this heightened the overall awe-inspiring mood of space.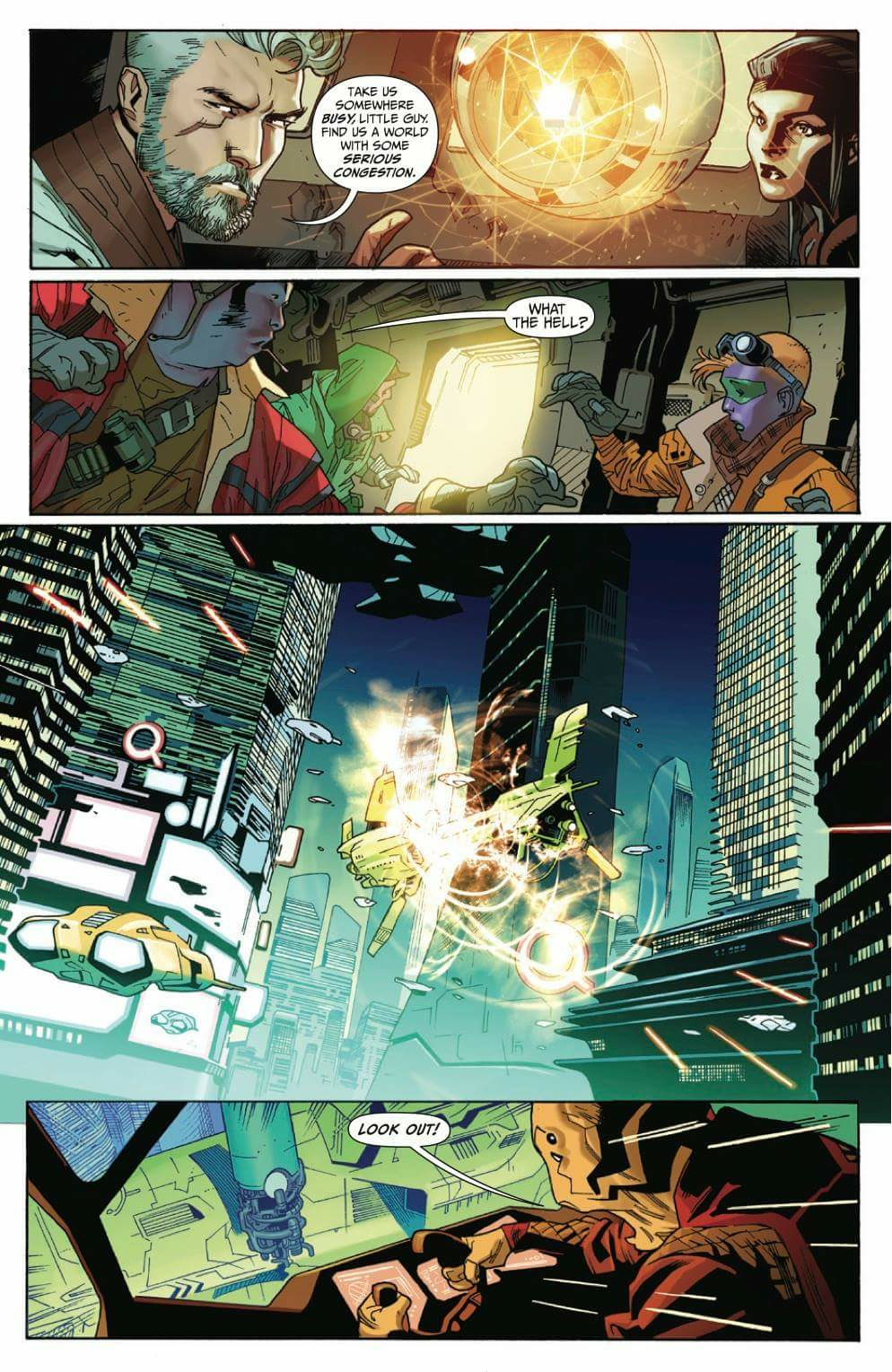 Overall I'm really enjoying this adventurous space opera. It's a lot of fun to read and an absolute pleasure to look at. Just when you think the pace is starting to slow down, it picks right back up again at an alarming rate. I appreciate the level of intensity that the story takes and that coupled with Millar's ability to establish some complex characters and dynamic relationships makes for some interesting storytelling. Empress #4 has offered us some entertaining moments and another intense cliffhanger and I'm looking forward to reading the next issue in this adventure and seeing where it takes us next!
I'm giving this comic 4.5 out of 5 stars!
Comic Details
Title: Empress #4
Publisher: Icon Comics
Creative Team: Mark Millar, Stuart Immonen
Reviewer: Dana Folkard