Comics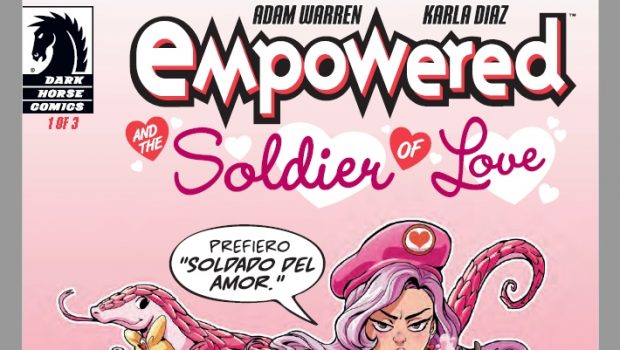 Published on February 2nd, 2017 | by Chris O'Connor
Empowered and the Soldier of Love Comic Review
Summary: If The Incredibles were a little bit more "mature" but also "immature".
Empowered is fun! I felt I needed to start with that because the whole thing is just infused with this playfulness which is, as mentioned, fun. The characters are just over the top and play on the whole cliche of superheros. Empowered is stuck trying to figure out why her Superhomies seem to have become Superhornies. Not only do the superheroes getting it on cause them to lose interest in fighting crime… in some cases they become a direct threat to the citizens of their city. Can Empowered figure out what is going on and stop the embittered "International Magical Girl of Mystery"? The idea of a recap page is great too and provides a few giggles to get things going.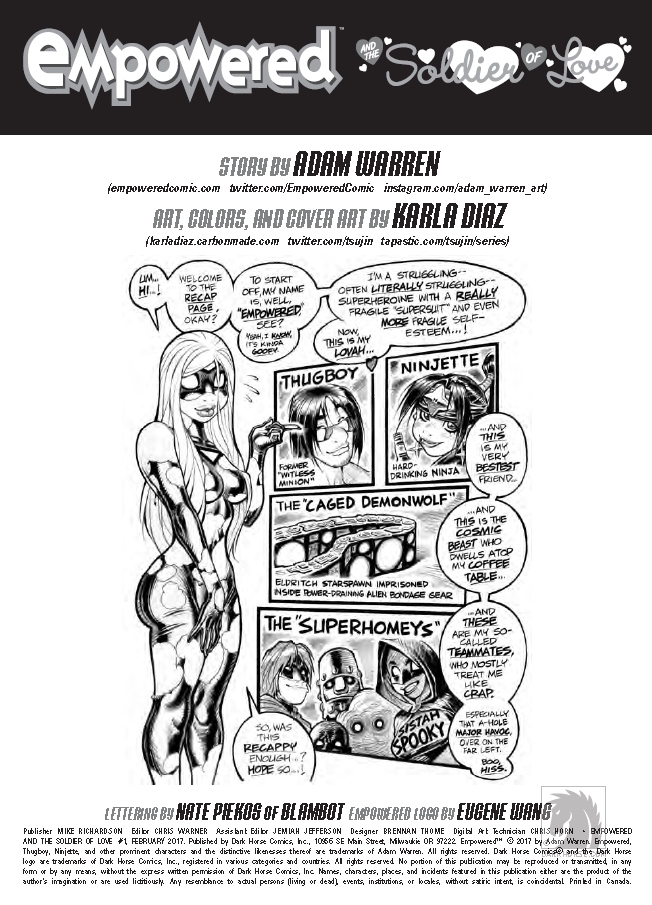 Writing
As I mentioned… this story is just fun! The notion of a superhero whose outfit tends to come apart is a novel approach (ok so the character has been around for a while… this is my first introduction to her). It makes a lot of sense too… though it seems she doesn't need to do much at all before it starts falling apart. Theirs almost a tangible pliable fourth wall between the reader and the characters that feels like it could be broken at any point. I don't know of too many villains who use love to thwart their enemies (I mean sure Poison Ivy has her pheromones and all but they aren't quite the same).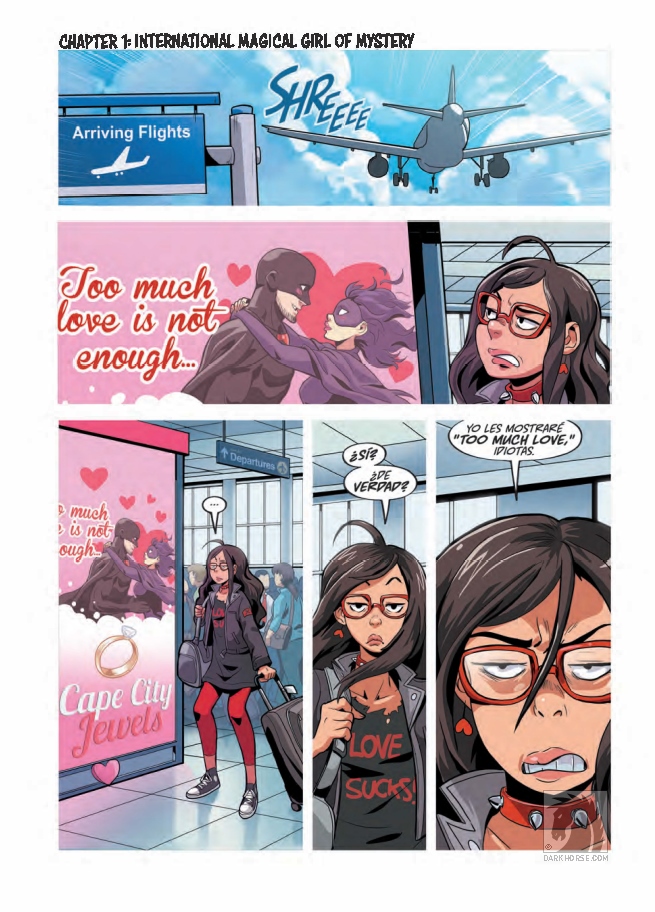 Artwork
Karla has really captured that playfulness throughout the comic. The colours are nice and bright and the characters are just alive and bubbly throughout. Sparkles and glitter are the order of the day and it just puts a smile on your face. Coupled with the interesting ways in which the various heroes "merge" it's really quite a humorous visual treat. It's not often you see superhero characters mashed together in passionate embraces and Empowered isn't shy in showing any and all combinations. Straight, Lesbian, Gay, multi-specie.. Karla has found a way to mash them all together.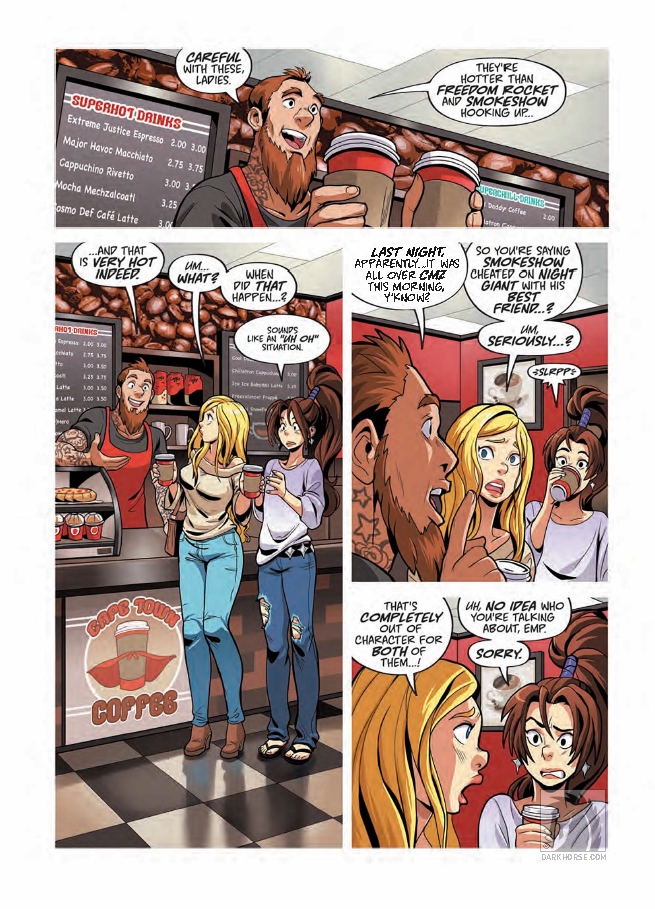 Final Thoughts
The whole concept of Empowered is giggle worthy. We're used to people pointing out the dangers of super hero capes and the absurdity of wearing underpants on the outside of outfits… but the notion of a super suit that is essentially dissolving and or tearing in front of our vary eyes both makes some degree of sense (wear and tear must surely be much more of an issue with supersuits than we are generally privy to) but also of course lends to the potential for many humorous events. When you get "attacked" with love… how can you possibly win? Tune in next time, same Empowered Comic, same Empowered Publisher and find out!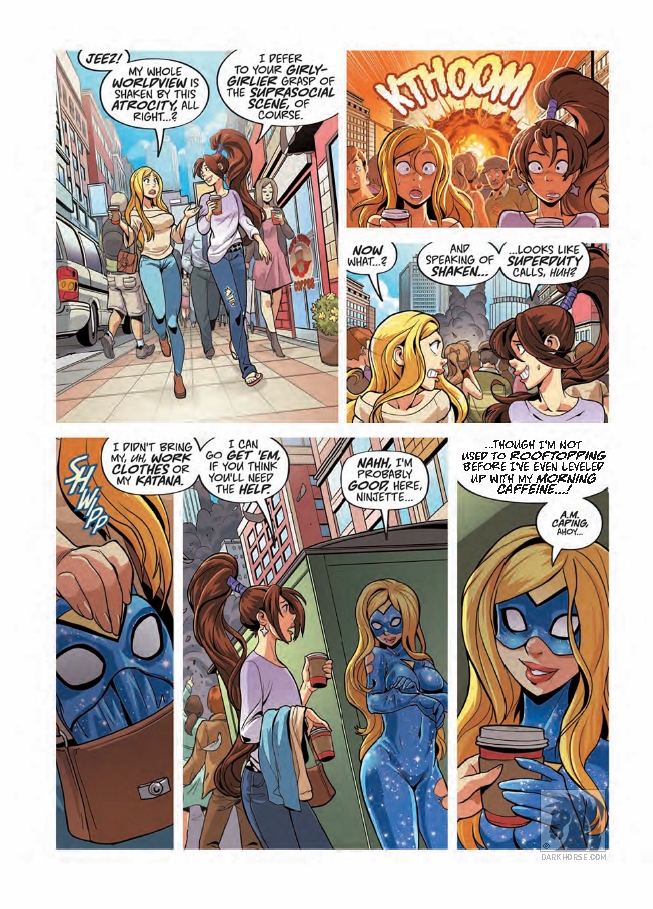 Publisher: Dark Horse
Writer: Adam Warren
Artist: Karla Diaz
Cover Artist: Karla Diaz
Genre: Superhero, Humour
Format: FC, 36 pages, Miniseries.
Release Date: 8th February 2017