Hardware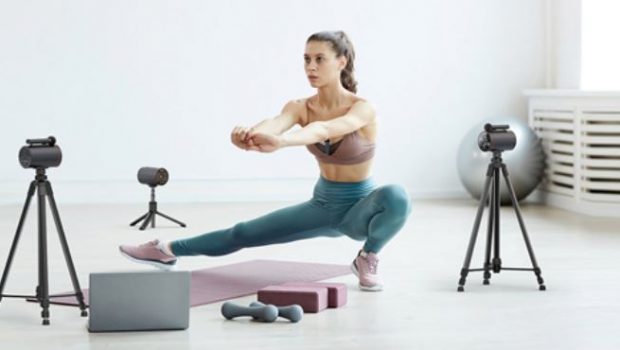 Published on September 27th, 2023 | by Andrew Bistak
EMEET Launches True Wireless Live Streaming Camera – A Studio In A Box For Live Streaming Video
Emeet, a global leader in professional audio and video conferencing solutions, has launched its new True wireless live streaming camera, the EMEET StreamCam One. StreamCam One is an affordable professional tool for everyone, catering to the market demand for high-quality network cameras for live streaming for content creators, and professionals.
Outstanding Image Quality
An all-in-one wireless streaming camera with a wireless magnetic lavalier microphone. It is equipped with a 1/2.8″ Sony image sensor; the EMEET StreamCam ONE delivers HD 1080P video when streaming, supporting HDR video and photo shooting. The prime lens is equipped with 7 glass elements for optimum image quality. It also supports white balance and exposure compensation, ensuring that your footage is clear and well-balanced.
Stream Anywhere, Anytime
The camera is portable, lightweight, and has a large capacity 8-hour battery that enables it to support long hours of live streaming. With flexible setup options creators can connect a single camera, or up to three cameras simultaneously, on their local Wi-Fi network, by creating a hotspot with your smartphone or using the StreamCam hotspot, enabling you to take your live stream anywhere at anytime.
EMEETSTREAM – Streaming app
EMEET's exclusive streaming application, EMEETSTREAM, can wirelessly connect three cameras simultaneously to capture multi-angle and multi-perspective content for live streaming. With the one-click streaming function, users can stream to different live streaming platforms all in a simple click in the EMEETSTREAM app, making streaming easier than ever. Using the RTMP protocol, easily connect to popular platforms like YouTube, Twitch, Facebook, and video conferencing tools such as Zoom and Teams for seamless live streaming. Streamers can reach a larger audience with the ability Stream live content to up to four different platforms simultaneously.
The assistance tool with AI director supports manual and automatic camera switching for seamless multi-angle display. Control the camera angles on-the-fly to enhance the viewer experience and make your content more engaging. Zoom in or out of the screen during live streaming to adapt to different scene requirements and improve viewing experience. Easily add material for creative content during your broadcast such as pictures, text, animations, and more to enrich your stream. Featuring picture-in-picture mode with small windows or split screens. Versatile storage options allows you to record every moment with support for micro SD cards and local storage.
Powerful Audio Performance
Equipped with a wireless magnetic microphone and two built-in microphones with a 48kHz sampling rate and voice enhancement function, providing your audience with an immersive audio experience. The magnetic Bluetooth portable microphone can pick up audio up to 10 meters away from the camera.
Professional tool for everyone
StreamCam One can meet your live streaming and recording needs for a variety of scenarios such as weddings, food tutorials, handicrafts, teaching, sporting events, and podcasts, so you can share your wonderful moments with online audiences and immerse yourself in the scene.
Awards
Red Dot Design award Winner 2023 https://www.red-dot.org/project/emeet-streamcam-one-64962
For media professionals and ambitious amateurs, mobile live streaming is part of everyday life. However, the appropriate equipment is often expensive and difficult to use. For this reason, the EMEET StreamCam One was developed as a wireless HD multifunctional camera with streaming features. The plug-and-play camera is equipped with a detachable, magnetic microphone and works without bothersome data cables. According to the jury, "the elegant device is suitable for professional live broadcasting and can be used all day, thanks to its excellent battery performance".
KEY FEATURES
Wireless Streaming camera with 8-hour long-lasting battery
Stream live from anywhere in the world, using Wi-Fi, Ethernet, without the hassle of cables
Sony 1/2.8″ sensor, supports HDR, resolution 1080p 30fps
1 wireless detachable lapel magnetic microphone and 2 built-in mics, with a 48kHz sampling rate
EMEETSTREAM app supports one-click streaming, AI directing, customizable editing.
Instantly Live Stream to YouTube, Twitch, Facebook, and video conferencing platforms such as Zoom, Teams (RTMP protocols). Stream to four platforms simultaneously
Network support: 2.4G/5G, Bluetooth: 5.0
Connect up to 3 cameras for multi-angle recording.
EMEETSTREAM – Compatible with iOS, Android, and Windows operating systems
Pricing and Availability
The Emeet Streamcam One is now shipping in Australia available from VideoPro
MSRP $399 Single Camera or 3-pack $999
More information: https://emeet.com/en-au/products/emeet-streamcam-one
Image download: https://www.dropbox.com/sh/fblruiiqbbrrpz7/AADVE6-v9H3O6ckHB8Fg_bgxa?dl=0
About Emeet
Established in August 2016, EMEET is a technology innovation company based on AI voice, image signal processing, audio and video remote communication services. We believe that in meetings everyone is a value contributor. Everyone should be heard and seen. Everyone's thoughts should be recorded. Everyone's feelings should be concerned. EMEET is an innovative company committed to making communication easier. It constantly keeps research as its top priority, which has certified 100+ global core patents in audio/video technology and designs.
About Audacity Australia
As our name suggests, Audacity is proud and dedicated to advanced Audio and accessories. Our goal is to deliver excellence in everything we do. With a business model delivering the best products and brands at competitive prices, achieved by direct import, and moderate overhead costs, through outsourced services. Our Directors have a combined 50 years of experience in the HiFi industry dating back to 1970
https://audacityaustralia.com.au/