Games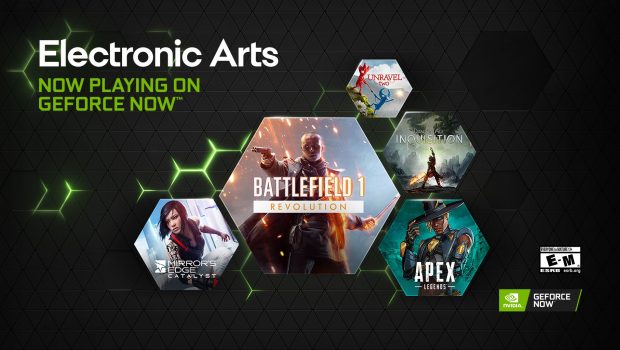 Published on September 30th, 2021 | by Adrian Gunning
ELECTRONIC ARTS GAMES COMING TO GEFORCE NOW POWERED BY PENTANET
Pentanet, one of the fastest growing Internet Service Providers in Australia, is pumped to announce Electronic Arts games are coming to GeForce NOW™ Powered by Pentanet.
From tomorrow, GeForce NOW Powered by Pentanet is set to welcome Electronic Arts to the service, giving EA an opportunity to get some of their most beloved franchises into the hands of a rapidly growing global audience instantly.
Four games from the popular Battlefield, Mirror's Edge, Unravel and Dragon Age franchises are releasing on GeForce NOW Powered by Pentanet and beaming from the cloud to underpowered PCs, Macs, Chromebooks, SHIELD TV and mobile devices — joining the popular Apex Legends on the service:
Going beyond free-to-play, and into the broader collection from Electronic Arts' massive catalogue, it's the first step in bringing more of EA's great games to GeForce NOW. The teams are actively working to onboard the Origin version of each of these four games – completing the work for some of the games as early as tomorrow as well.
And, since this is just the beginning, GeForce NOW Powered by Pentanet members can look forward to additional Electronics Arts games to come.
The welcome trailer, which can be embedded in stories, can be found here: https://www.youtube.com/watch?v=jeCi5uoL0Bo
As Australian Beta Play continues, selected participants have the opportunity to experience streamed RTX-ON gaming for real-time ray tracing. In addition to EA titles, Users will have access to a library of over 1,000 games, and can play them by connecting to their Steam, Epic Games Store, Ubisoft Connect and GOG.COM accounts. Players will also have access to more than 80 free-to-play titles, instantly, included with GeForce NOW™ Powered by Pentanet.
Players are encouraged to visit https://cloud.gg to learn more about the future of gaming in Australia.
What is GeForce NOW Powered by Pentanet?
GeForce NOW is NVIDIA's cloud-based game streaming service, delivering real-time gameplay straight from the cloud to your laptop, desktop, Mac, SHIELD TV, Android device or iPhone and iPad.
With GeForce NOW Powered by Pentanet, Australian gamers can instantly transform underpowered or incompatible hardware into the PC gaming rig you've always dreamed of. Experience instant loading, real-time ray-traced graphics and smooth FPS, even when playing the most demanding games.
Connect to your store accounts and stream your own library of games, or play your favourite free-to-play games. With cloud saves for supported games, you can pick up your game where you left off, on any supported device, wherever you are.
How To Begin:
The https://cloud.gg portal is currently live for players to access. You can begin your Beta Quests, earn XP, achievements, badges, prizes, and be in the running for Beta Play. The results of the Beta Play program above will rapidly refine the experience for all users of GeForce NOW Powered by Pentanet, so players are encouraged to begin the Beta Quest journey today and help shape the future of this incredible service in Australia.
An FAQ about Pentanet and the GeForce NOW service in Australia is available here: https://gfn.pentanet.gg/faq/
This is the current list of GeForce NOW games, subject to Australian classification: https://www.nvidia.com/en-us/geforce-now/games/