Games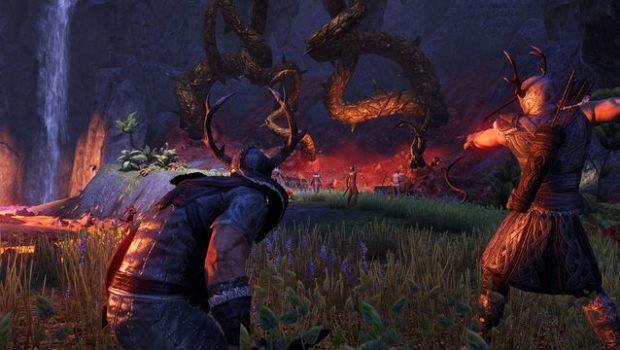 Published on August 15th, 2017 | by admin
The Elder Scrolls Online | Horns of the Reach Two-Dungeon Pack, Update 15 Now Available for PC/Mac
Today marks the release of the first DLC for The Elder Scrolls Online since the launch of the ESO: Morrowind Chapter in June. The Horns of the Reach DLC game pack introduces two new incredible dungeons – Falkreath Hold and Bloodroot Forge – in addition to a slew of new items.
Launching alongside Horns of the Reach are a host of improvements to the base game available to all players for free, as well as a new PvP Battlegrounds mode, Chaosball, and a new map, Arcane University.
The Horns of the Reach two-dungeon pack is now available on PC and Mac, free for all ESO Plus Members, or for purchase via the in-game Crown Store for 1,500 Crowns. Update 15 general improvements are available free for all players, while Battlegrounds additions are free for owners of ESO: Morrowind (Battlegrounds requires ESO: Morrowind). Both will also release for PlayStation 4 and Xbox One adventurers on August 29.
Horns of the Reach DLC Game Pack
Bloodroot Forge and Falkreath Hold, two new challenging dungeons, pit four-player groups against the menacing hordes of the Dreadhorn Clan. Both dungeons contain unique item sets, monster masks, achievements, and collectibles. For more details on the lore, enemies, and rewards, please see the preview articles for Bloodroot Forge and Falkreath Hold on the ESO web site.
Horns of the Reach is also available in a special Collector's Bundle, which offers a unique selection Horns of the Reach-themed items in addition to the DLC game pack, including the Karthwolf Charger mount, Karthwolf Shepherd pet, and five Crown Experience Scrolls. This exclusive bundle is available for a limited time in the Crown Store for 3,500 crowns.
Update 15 Details
Alongside Horns of the Reach, ZeniMax Online Studios has also released Update 15 for PC and Mac, delivering a host of overall game improvements that are free for everyone, as well as major additions to ESO's fast-moving new Battlegrounds PvP, which are free for all owners of ESO: Morrowind.
Battlegrounds additions include a new arena – Arcane University, set in the heart of Cyrodiil's ruined university – as well as a new game mode, Chaosball, in which players must capture and protect a "ball" to earn points for their team. For more information, please see the ESO web site's Battlegrounds preview.
Update 15's general game updates — free for all players — includes fixes, balance changes, additions, and improvements that everybody can enjoy. For a complete list of changes and additions, please see the base game update preview on the ESO web site.