Comics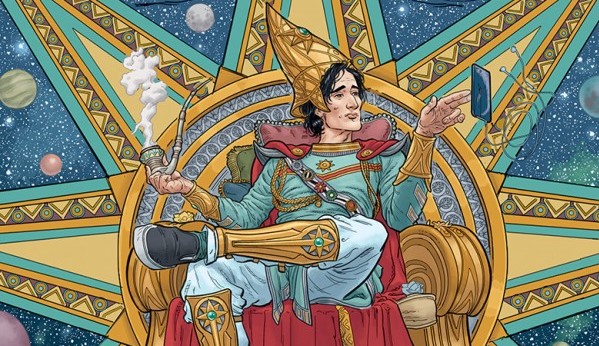 Published on September 5th, 2018 | by Dana Folkard
EISNER-NOMINATED MAESTROS, VOL. 1 HITS STORES THIS OCTOBER
Steve Skroce (WE STAND ON GUARD, Wolverine, Amazing Spider-Man) will release MAESTROS, VOL. 1—collecting the first seven issues of his dark fantasy series—this October from Image Comics. Nominated for an Eisner Award in the Best New Series category, MAESTROS is richly layered and deeply irreverent.
The Maestro and his entire royal family have been murdered. Now, his banished son from Earth will inherit the Wizard King's throne—along with a spell that turns its user into God. With enemies everywhere, will this Orlando-born millennial be able to keep his new magic kingdom?
MAESTROS, VOL. 1 TP (Diamond code: AUG180164, ISBN: 978-1-5343-0673-8) will be available in comic book stores on Wednesday, October 31st. The final order cutoff for comics retailers is Monday, September 17th.
It will be available in bookstores on Tuesday, November 6th and can be pre-ordered via Amazon, Barnes & Noble, Books-a-Million, Indiebound, and Indigo.
Select praise for MAESTROS:
"Part Harry Potter, part Heavy Metal (with maybe a dash of Guardians of the Galaxy Vol. 2 in there for good measure), MAESTROS pairs magic with some of the pertinent moral questions of our collective moment." —Comic Book Resources
"MAESTROS is a masterpiece, with one of the best first issues I've ever read. Steve is somehow an even greater writer than he is an artist. Get ready for your new favorite comic." —Brian K. Vaughan
"The art: this is what got me to pick up this book. The visuals are incredible. I haven't seen art this detailed since I encountered the work of Geoff Darrow years ago."
—Sci-Fi Pulse
"I'm loving this story and find it to be a truly original and engaging concept. It's well written, filled with likeable characters—yes, even the baddies are likeable—and the art speaks for itself." —Impulse Gamer
"Steve Skroce continues to amaze and inspire me. He pushes himself and the medium of comics past the four-color and into the technicolor. There is a Maestro behind MAESTROS." —Geof Darrow 
"A beautifully drawn book pulsing with details you can't imagine, featuring wizardry cloaked in a sheen of sarcastic sleaze." —The Oregonian
"This acerbic book promises to be a nice balance to all the more serious fantasy stories in comics right now, and that it looks good while doing it is icing on the cake." —Uproxx
"Skroce's expert sequential storytelling and detailed style are a rare treat, and the opportunity to see him drawing exactly what he pleases is the kind of comics serendipity that only the creator-owned realm can offer." —Paste Magazine
"With MAESTROS, Skroce demonstrates his true expert level conducting skills at weaving together a story and artwork that leave the mind yearning for more."
—Comicosity
"MAESTROS brings new life to the fantasy genre, and is without question one of the best comic books available today. 10/10!" —AiPT!
"MAESTROS is a Skroce Hadron Collider where panel-packed action slams into his wicked sense of humor releasing some of the most original and gleeful fun comics has seen in some time." —Lana Wachowski, co-creator of The Matrix and Sense8