Comics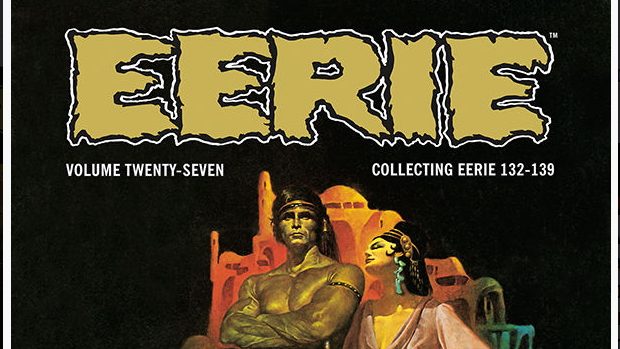 Published on August 16th, 2019 | by Chris O'Connor
Eerie Archives Volume 27 HC Comic Review
Summary: Take a time machine back to the era of pulp comics with this collection of horror and science fiction stories.
When I first got a look at Eerie, it took me back to my youth flicking through (and often buying) the "vintage" comics at a little shop in Lakes Entrance where we would holiday each year. The comics I would flick through were single stories but definitely of the "pulp fiction" style. Eerie collects a number of those types of stories and presents them together for you to enjoy at your own pace.
Writing
I'm somewhat mixed about the writing. On the one hand I suspect it's just like the comics I used to read and thoroughly enjoy as a child. On the other hand they tended to feel a bit clunky and subtext and deeper meaning was more or less absent. To be fair to the writers, the style of these stories is essentially the comic equivalent of late 80's early 90's movies… action for actions sake… don't think about it too much or you will just pick it to pieces… just strap in and go along for the ride. If you can read it with that sort of idea in mind… you might just get a kick out of the stories.
Artwork
The artwork here is old school! Without even reading a word you will know just what sort of genre of comic you are holding in your hand, sci fi, horror pulp stories! The images are very evocative of 1950's action films. Men have solid jaw lines and sort out their problems either with fists or a blaster. There is however one story that stands out for its art and that's the Sherlock Holmes story "A Study In Scarlet". Noly Panaligan does a fantastic job bringing a high degree of classiness to his images, images that show a careful and practiced hand bringing out wonderful detail and character from all the persons presented.
Final Thoughts
For me, I was little underwhelmed by this collection. There's nothing wrong with the content as such… I think it's just too dated for me. For people whose desire for nostalgia overrules their desire for more nuanced stories then this is probably going to be a great collection, but personally it just seemed a bit too ham fisted, or over the top in the story telling.
Comic Details
Publisher: Dark Horse
Writer: William Dubay, Don McGregor, Budd Lewis, Victor de la Fuente
Artist: Rudy Nebres, Victor de la Fuente, E.R. Cruz, Luis Bermejo
Cover Artist: Sanjulian
Genre: Horror, Science Fiction
Format: 328pgs B&W, HC
Release Date: 21st August, 2019