Blu-ray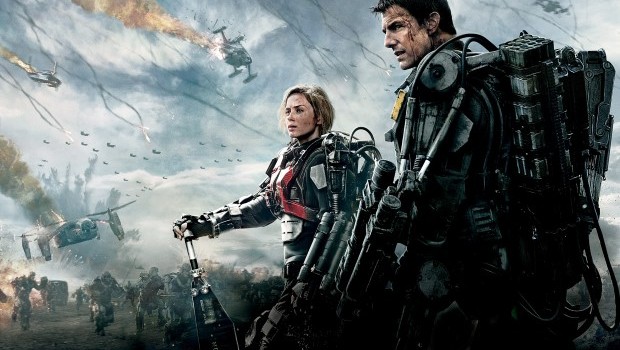 Published on October 15th, 2014 | by Sean Warhurst
Edge of Tomorrow 2D and 3D Blu-ray Review
Summary: An inspiring take on a distinctive concept, Edge of Tomorrow is epic in scope in every way.
Edge of Tomorrow
Distributor: Roadshow Entertainment
Format: Blu-ray
Running Time: 113 Mins.
Rating: M
Genre: Sci-Fi/Action
Reviewer: Sean Warhurst
Directed by Doug Liman (The Bourne Identity, Go), Edge of Tomorrow is an adaptation of Hiroshi Sakurazaka's young adult novel All You Need Is Kill that plays like the bastard love child of Groundhog Day and Starship Troopers.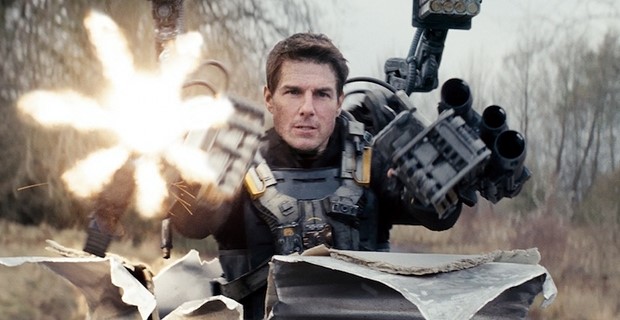 Deftly guided by Liman's steady hand, surprisingly Edge of Tomorrow performed disappointingly at the box office despite its unique premise, likable cast (Yes, even the much maligned Tom Cruise is at the top of his game here) and positive critical reception. Factor in a minor controversy regarding Warner's perceived attempt to reposition the film by reducing focus on the title in favour of its tagline Live. Die. Repeat and a marketing push that was practically nonexistent, you could be forgiven for thinking that Warner's lack of faith in Edge of Tomorrow is a reflection of the film's quality.
However, this certainly isn't the case, with the film offering an action packed, and oftentimes a surprisingly amusing, viewing experience that boasts dazzling special effects and an intelligent take on a premise rich with possibility.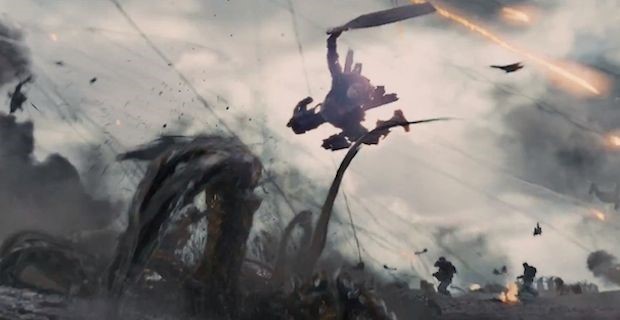 Tom Cruise plays Major William Cage, a military media consultant who lives to drum up support for mankind's efforts in repelling Mimics, alien invaders who have been systematically occupying territories, with their sights set on England, one of humanity's last bastions.
Using media campaigns to inspire people to enlist, Cage is content to sit on the sidelines rather than actively engage in the war effort, wearing his complete lack of combat experience as a badge of honour; all this changes, however, when Cage is reprimanded by his superior officer (Brendan Gleeson) for refusing to join a camera crew covering the military's next major engagement.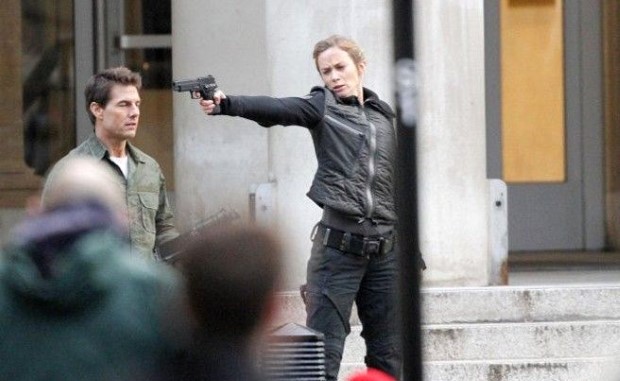 Stripped of his rank and tarred with the brush of being a deserter, Cage is unceremoniously dropped into active duty where he soon discovers that his inexperience that he's to join the vanguard on what is basically a suicide mission. Shortly after landing on the beaches, the inexperienced Cage watches on helplessly as his squad is slaughtered around him before succumbing to his own grisly demise at the hands of a Mimic.
But the Mimic who kills Cage isn't just an ordinary Mimic, it's an Alpha who inadvertently imbues Cage with the ability to reset the day's events. Finding himself with the ability to turn the tides of war in humanity's favour, Cage teams up with Sergeant Rita Vrataski (Emily Blunt), a war hero who once possessed the same ability and used it to familiarise herself with the tactics of the enemy to score a major victory before losing it due to receiving a blood transfusion rather than dying, which is the catalyst for resetting everything; together the duo incrementally make progress towards securing the fate of mankind but will Cage master using his unique ability before it's too late?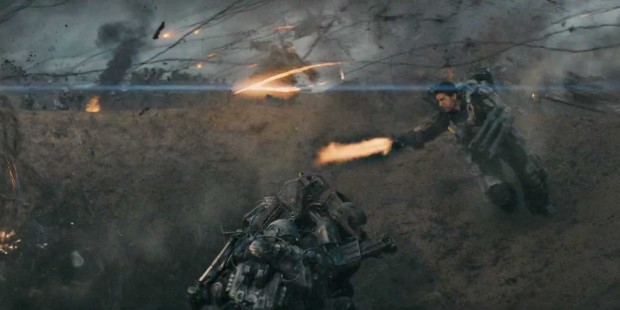 Edge of Tomorrow is a memorable and exciting take on the usual blockbuster fare and is a much more considered effort than the trailers suggest. The two leads are ably supported by a cast featuring Bill Paxton, Jonas Armstrong and Aussie Kick Gurry and the writing is tight and refined, moving along at a brisk pace that doesn't let up for a second.
A fascinating excursion into high concept Sci-Fi, Edge of Tomorrow is an interesting take on the old temporal loop theme that inexplicably hasn't got the attention from the public that it so rightly deserves.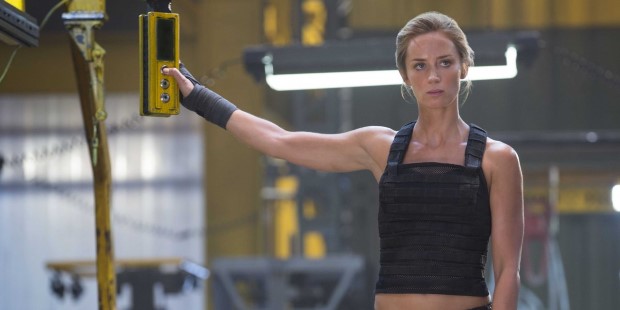 Audio/ Visual
Edge of Tomorrow looks absolutely stunning on Blu-ray, with astounding clarity and crispness to the image that perfectly complements Dion Beebe's accomplished cinematography. Boasting naturalistic skin tones and superb fine detail and textures, visually Edge of Tomorrow's transfer is of the utmost quality. There are a few moments of crushing in the darker climactic scenes but aside from that the precisely detailed image quality really cannot be faulted in any way, giving viewers a reference quality disc that is easily one of the best looking films of the year.
Audio is presented via a lossless 7.1 (!) DTS-HD track that is as robust as you'd expect; the dynamic range is incredible and the directionality is truly a thing of beauty. The battlefield scenes are a delightful aural assault that throws you right into the action and dialogue is always clear and defined, even during the more action packed sequences.
An accomplished effort that ranks up there with the year's best, Edge of Tomorrow has been blessed with a skilful transfer that only serves to accentuate the calibre of the feature presentation.
The 3D Blu-ray is a dazzling effort that will give anyone with the requisite set up the perfect opportunity to show just what the format is capable of, with an immersive quality almost on par with efforts such as Avatar.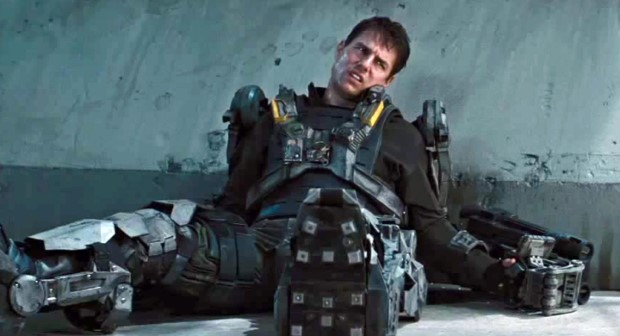 Special Features
Edge of Tomorrow comes with over an hour of supplemental features, including seven deleted scenes (Some of which are missing special effects), featurettes focusing on the futuristic weaponry and exo-armour used in the film, the process of crafting the alien species of the Mimics and a brief look at the behind the scenes process.
Also included is a lengthy production documentary that focuses on Doug Liman's experiences directing the film that provides a fascinating fly on the wall perspective on Edge of Tomorrow's production process as well as featuring interviews with key cast and crew.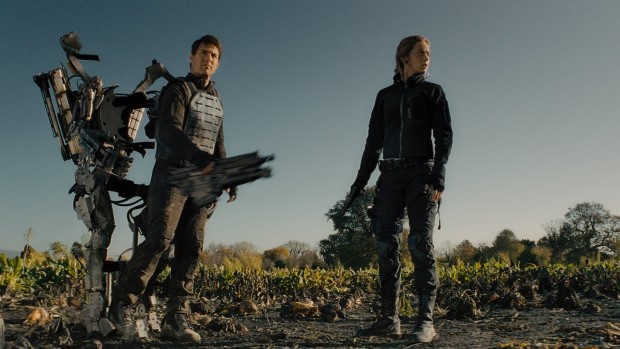 List of Features:
On the Edge with Doug Liman (42:37)
Operation Downfall – Adrenaline Cut (2:34)
Storming the Beach (8:59)
Weapons of the Future (8:25)
Creatures Not of This World (5:38)
Deleted Scenes (7:38)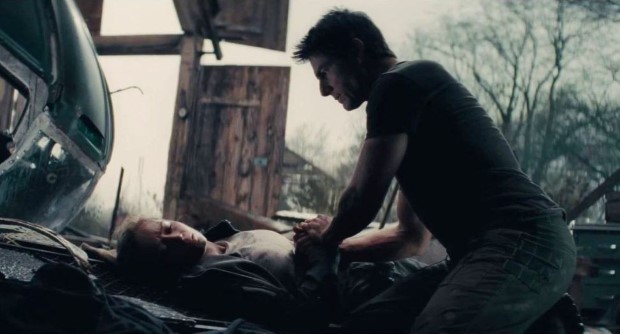 Final Thoughts
An inspiring take on a distinctive concept, Edge of Tomorrow is epic in scope in every way and makes for one of the most exhilarating viewing experiences I've had this year. The ending is a little bit of a cop-out, but for the most part the film fires on all cylinders.
I'm not sure if it was the way the film was marketed or if the general public is just simply suffering from Tom Cruise fatigue but Edge of Tomorrow deserves better than its box office receipts would suggest and is more than worthy of your time, easily ranking as not only one of the best sci-fi films of 2014 but also within the last ten years.
Highly Recommended.