Comics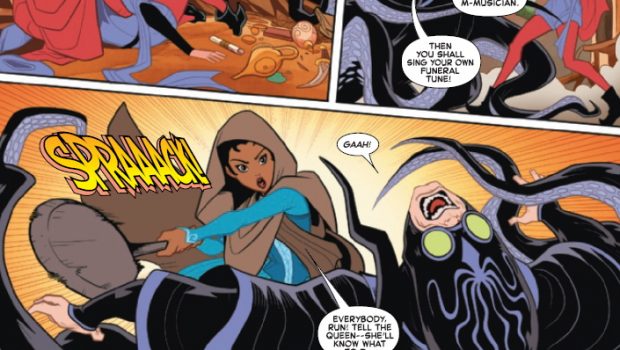 Published on September 25th, 2022 | by Tim Chuma
Edge of Spider-Verse #4 (2022) Review
Summary: Worth a look if you are not sick of the multiverse stories yet. Even Spider-Ham makes a joke about exploiting existing IP at one point.
A new Multiverse story "to exploit new IP" as wittily put by one of the characters, we see Spider-Ham,  Spider-Mobile, Sun-Spider and introducing Spinstress whose story is by the writers of Broadway hit "Come From Away". There is an over-arching storyline but it is really only briefly mentioned at the end of each of the mini stories that they are "needed" in another universe to combat an existential threat. Seems to be the standard template for these multiverse storylines now but they have tightened it up by now or they did not really have as much they wanted to say about each of these characters.
It is always fun to see Spider-Ham who admits he is not cracking wise as much these days and Pete Spiderman who is an accountant with spiderman-adjacent powers who is a suburban superhero.
Spider-Mobile was a bit more of the wacky characters and I had not heard anything of him before this edition.
Spinstress is a new character and they do a great job making her look like a traditional Disney princess with super powers.
Sun-Spider is a more serious Spider character and an alternate disabled LGBITQ character that seems to be as important as them fighting crime.
This was  fun romp and well worth your time if you want something interesting and are not sick of the multiverse stuff yet.
Comic details:
Writer: Tee Franklin, Dan Slott, David Hein, Jordan Blum
Penciler: Ty Templeton, Luciano Vecchio, Nathan Stockman
Cover Artist: Josemaria Casanovas
Publisher: Marvel
Published: September 21, 2022