Comics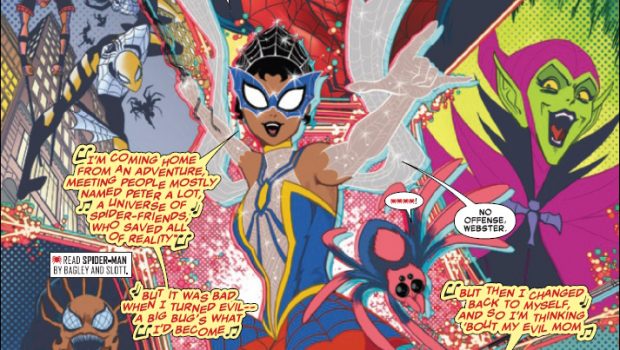 Published on June 4th, 2023 | by Tim Chuma
Edge of Spider-Verse #2 Review (2023)
Summary: As with the last issue the first story is interesting and fun but the second story seems too much of a gear change and kind of shoehorned into it just to make up the length.
Seamstress returns from another dimension only to find she is a wanted fugitive and her mother the queen is in a deep sleep that can only be broken by the Goblin's orb which is shattered. Bishop Octopus has taken power and her friend Merry James Watson is kidnapped by Kraven the Hunstman who she has to go rescue now. The other story is about Sky Spider set in the far future and is a lot darker in tone.
Like the previous story in this series this one is a lot lighter in tone and also has the main characters singing at times but I do not know what the tune is so I can't really place it. The second story is quite a gear shift and does feel a bit tacked-on like the story in the previous issue.
As I have said before if you are still not sick of Spider-Verse or Multiverse stories then I would recommend this one. Also it depends on if you like these versions of Spider-Man but as the last one was an actual dinosaur it is a bit more normal.
Comic details:
Writer: Benjamin Percy, David Hein
Penciler: Luciano Vecchio, Marika Cresta
Cover Artist: Patrick Brown
Publisher: Marvel
Published: May 31, 2023