Comics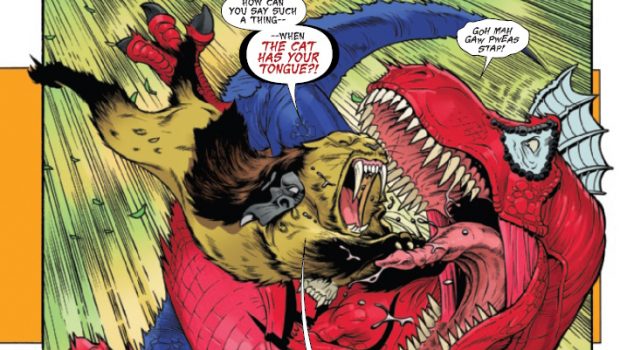 Published on May 17th, 2023 | by Tim Chuma
Edge of Spider-Verse #1 Review (2023)
Summary: You will enjoy one story of the other. Not sure if most people will enjoy both since there is such a clang between them. This certainly is a thing, but not sure what.
Spider-Rex was a mild-mannered pterodactyl that was bitten by a space spider and is now facing off against Kraventooth the Hunter. In all the commotion another dinosaur gets knocked into the space goo and becomes Venomosaurus. The second story Hunt for the Spider-Killer is more serious and much more disturbing.
Pretty much just chose this one for the cover as the dinosaur Spiderman concept seemed like something that had not been explored as yet. With the new animated movie about to come out soon they will be exploring a lot more different storylines even more than they have already.
This one was a lot more humorous in the first story but makes up for it in the second being one of the darker stories I have seen for a while. Not sure what was the decision that made them put both of the stories together they kind of clang and not sure if it works so well. People wanting the lighter story will be turned off by the darker one and those wanting darker will be annoyed someone is not being serious.
Still interesting enough that I would get this one just to try it out and if you don't like one of the stories you like the other one.
Comic details:
SPIDER-REX in
"Enter: Kravertooth The Hunter"
Karla Pacheco Writer
Pere Pérez Artist
Antonio Fabela Color Artist
VC's Joe Caramagna Letterer
SPIDER-KILLER in
"Curse Of The Spider-Killer"
Zander Cannon Writer
Guillermo Sanna Artist
Rico Renzi Color Artist
VC's Joe Caramagna Letterer
Patrick Brown Cover Artist
Josemaria Casanovas [Connecting];
Chriscross & Chris Sotomayor
[Howard the Duck];
Ken Lashley & Juan Fernandez; Skottie Young
Variant Cover Artists