Hardware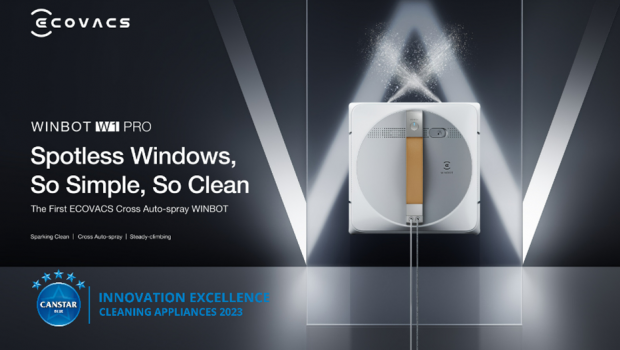 Published on July 4th, 2023 | by Adrian Gunning
ECOVACS ROBOTICS Wins Canstar Blue Innovation Excellence Award In Cleaning Appliances For Third Year In A Row
for Cleaning Appliances for its recently-launched WINBOT W1 PRO robotic window cleaner. This award marks the third year in a row that ECOVACS has been recognised by Canstar Blue for Innovation Excellence, and the first time it has been recognised outside of robotic vacuum cleaners, with its DEEBOT X1 OMNI and DEEBOT T9+ robot vacuums previously recognised with this accolade in 2021 and 2022.
Canstar Blue's Innovation Excellence Awards are scored based on product uniqueness and how disruptive or new it is to the category, measuring the impact these innovative products have on consumers' everyday lives.
https://www.canstarblue.com.au/awards/innovation-excellence/
The WINBOT W1 PRO window cleaning robot was launched in March 2023, expanding ECOVACS' local product lineup beyond robotic vacuums. Featuring a range of proprietary cleaning and suction technology, the WINBOT W1 PRO delivers a spotless and simple clean that epitomises ECOVACS' commitment to deliver innovative home robotics to Australians that bring convenience and true time-saving benefits.
The WINBOT W1 PRO has been recognised by Canstar Blue due to its design, enabling Australians to clean without hassle, with features including dual direction cross auto-spray technology, powerful steady-climbing system, WIN-SLAM 3.0 path planning, anti-flare edge detection technology and strong suction power of 2800Pa. Its compatibility with the user-friendly ECOVACS App and ability to vocalise real time updates further enables a hands-free cleaning experience, freeing up time to focus on other activities, with the WINBOT W1 PRO also delivering an incredible clean to normally hard to reach areas.
Christine Seib, Editor in Chief, Canstar Blue:
"The WINBOT W1 PRO's mix of effectiveness, convenience and connectivity is what wowed Canstar Blue's Innovation Excellence judging panel, which recognised that the combination relied on the development of multiple proprietary technologies by ECOVACS. Maintaining streak-free glass in and around the home is few people's favourite job – and a job that's just not physically possible for many householders – so the WINBOT W1 PRO also addresses a real consumer need."
"This isn't surprising from a company that has received multiple Innovation Excellence awards in the Appliances category due to its sharp focus on meeting Australians' growing interest in time-saving robotic appliances with consistently strong product offerings."
Karen Powell, Regional Director of Australia and New Zealand, ECOVACS ROBOTICS:
"We are honoured to be recognised in this year's Canstar Blue Innovation Excellence Awards, which is made even more special by being the only brand recognised in Cleaning Appliances, for our WINBOT W1 PRO. It also marks the third year in a row that ECOVACS has won this award, an acknowledgement of our track record in consistently delivering new innovation, year-after-year, that delivers true convenience and time-saving benefits into Australian homes."
"As we celebrate our 25th anniversary in 2023, being recognised in this way by Canstar Blue is particularly meaningful, and we remain committed to leading advancements in home robotics into the future."
WINBOT W1 PRO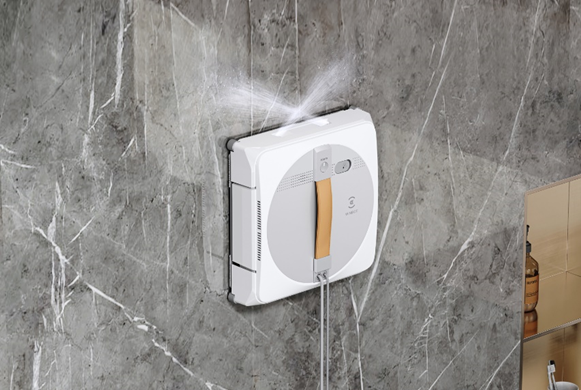 Powerful steady climbing system and strong suction power combine to deliver a stable and firm cleaning experience
Built with high-quality materials and strong driving treads, the WINBOT W1 PRO has precise gravity settings that enables for a smooth and stable window cleaning experience. Combined with its strong suction power of 2800Pa, not only does this technology further strengthen the grip of the WINBOT W1 PRO on windows, it also delivers a firmer wipe.
Advanced WIN-SLAM 3.0 technology for a smart and systematic cleaning path
With the intelligent WIN-SLAM 3.0 technology, the WINBOT W1 PRO creates a thorough and comprehensive clean. Automatically cleaning in a back-and forth motion, it comes in three adaptive modes including fast clean, deep clean and spot clean.
Dual direction cross auto-spray delivers an efficient wide-angle clean
The WINBOT W1 PRO features a unique cross spraying technology that allows stains to be both dissolved and then wiped off no matter the size of the window. Its 60mL reservoir and wide range spray angle reduces the frequency of cloth changes needed and allows all cleaning areas to be kept wet, ensuring an efficient high-quality window cleaning experience is achieved.
Anti-flare edge detection allows for cleaning route adjustments
Featuring high-precision sensors, the WINBOT W1 PRO can smartly detect edges such as frameless windows. This technology means that it is able to adjust its cleaning route in just 0.02 seconds, making it suitable for all types of glass cleaning.
Fitted with a microfiber cleaning pad for great water absorption
The WINBOT W1 PRO comes with a large microfiber material that allows for great water absorption and cleaning without any water streaks.
User-friendly app combined with real time updates enables for a hands-free clean
ECOVACS' user-friendly app means that the WINBOT W1 PRO can be easily, conveniently, and remotely controlled. Combined with its ability to vocalise real time updates, time can now be spent on other tasks and a completely hands-free window cleaning experience can be achieved.
Pricing and Availability
The WINBOT W1 PRO is available now with a recommended retail price of $799. It is available instore at select Bing Lee stores, and online from JB Hi-Fi, Bing Lee, The Good Guys, Robot Specialist, Amazon, eBay or ECOVACS.com/au