Hardware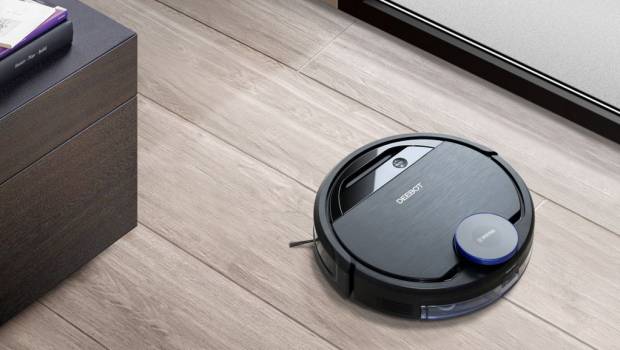 Published on December 1st, 2017 | by admin
ECOVACS ROBOTICS SET TO CLEAN UP WITH AUSTRALIAN LAUNCH OF WET 'N' DRY ROBOTIC VACUUM
Sydney, Australia, November 30, 2017 – ECOVACS ROBOTICS, a global leader in home robotics and robot vacuums worldwide, has today formally launched in Australia with the local unveiling of the much anticipated DEEBOT OZMO 930. With its wet 'n' dry functionality, patented Smart Navi technology and the fact that it is Google Home ready*, ECOVACS is well on its way to delivering on its mission to place a robot with every family with the launch of the DEEBOT OZMO in Australia today.
Introducing a robotic vacuum that can both sweep and mop.
Equipped with the company's patented OZMO technology, the DEEBOT OZMO 930 is designed to both sweep and mop entire floor surfaces in one easy to manage step. This is made possible by the extra-large, electronically controlled 300-ml water tank that moistens a washable cloth during the cleaning process. Depending on the degree of cleaning required, the amount of water dispensed can be adjusted manually through the easy to use ECOVACS ROBOTICS App.
Total control in your pocket.
With the ECOVACS App in your pocket, you can effortlessly schedule a clean, set the cleaning mode, and monitor the cleaning status from anywhere in the world. Thanks also to its proprietary Smart Navi technology, the DEEBOT OZMO 930 scans, maps and plans an efficient cleaning path across an entire home during the setup process, that then ensures an effective clean for just about every situation, from carpeted or tiles floors, to short pile rugs and more.
Added convenience with Google Home.
If the wet 'n' dry function, the ECOVACS app and SMART NAVI technology weren't impressive enough, the DEEBOT OZMO 930 is Google Home ready* such that it can be controlled through the smart home hub, adding another level of convenience for every day Australians looking for solutions that can make life easier.
And there's more…intelligent floor features
Whether the floor surface is parquet, laminate or tiled, the DEEBOT OZMO 930 recognizes different floor coverings and automatically adjusts cleaning modes to suite these. Carpeted floors, for example, receive a burst of extra suction power to help remove even more dirt and dust. Other features such as Carpet Detection Technology  help to protect carpets and rugs by avoiding these areas during the mopping process.
Other product features worth noting:
Stair Safety Technology
The DEEBOT OZMO 930 moves safely around your home using anti-drop sensors to clean around stairs without the risk of falling.
Obstacle Detection Technology
The DEEBOT OZMO 930 uses its map in conjunction with its anti-collision sensors and soft cushion bumpers to avoid obstacles and protect your furniture.
High Efficiency Filter
You can breathe easier with the DEEBOT OZMO 930 as it can help to reduce airborne contributors associated with allergies and asthma.
Auto Start at One Touch
One-touch simplicity with an Auto clean. Press the button and away the DEEBOT OZMO 930 goes.
"With more than 5,000 people globally, a strong and ongoing commitment to R&D and a presence in over 30 countries, it's fantastic that we are now able to introduce Ecovacs Robotics into Australia. The availability of the DEEBOT OZMO 930 is just the beginning for the brand and its products in Australia," said Damian Commane, ECOVACS ROBOTICS Country Manager for Australia and New Zealand.
"We have been incredibly successful with a 65% share in Mainland China and the No. 1 position in the APAC region with a well-established sales network across the country. Australia is the next big step in our global strategy. We are very optimistic and cannot wait to introduce our broader range of products," he said.
"Looking to a market more closely aligned to Australia, and sales of the recently introduced DEEBOT OZMO 930 have been particularly strong in the German market. The country has a well-known reputation for early adoption of innovative technologies, and given the similarity of household environments between the two countries, we are very positive."
"Our brand values are very much focused around improving the lives of our customers and we have had a strong level of success globally for this reason," added Commane
"As a recognised market of significance for us, we are very hopeful that Australians will embrace the innovation that we are introducing to the market. The DEEBOT OZMO 930 is the ideal solution for people looking to save time on household chores. In the end, all of the research and effort put into creating the advanced features you will find in an Ecovacs Robotics vacuum are ultimately designed to give people time back to do the things they love with the people they love," said Commane.
The DEEBOT OZMO 930 will be available exclusively in Harvey Norman stores nationwide from December 1, 2017 for an RRP of $1,299.
*Please note: The DEEBOT OZMO 930 is Google Home ready only. A firmware update is expected in Q1, 2018 at the latest and this will fully enable the Google Home function.