Hardware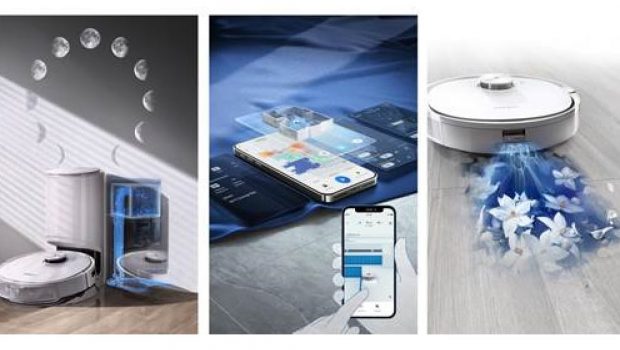 Published on April 26th, 2021 | by Andrew Bistak
ECOVACS ROBOTICS Delivers A Breath of Fresh Air with Launch of DEEBOT T9+
ECOVACS ROBOTICS, the world's leading home service robotics maker, has today launched the DEEBOT T9+, the first smart obstacle-avoiding robotic vacuum cleaner that combines powerful dual vacuuming and mopping functions with a built-in mobile air freshener and Auto-Empty Station. The upgraded DEEBOT T9+ combines 9-in-1 cutting-edge features to deliver a robot that is more powerful, smarter, and convenient than ever before.
In addition to the all-new air freshener functionality, the DEEBOT T9+ raises the bar for home cleaning with a range of new and upgraded features including TrueDetect 3D 2.0, ECOVACS' leading real-time obstacle detection and avoidance technology, and TrueMapping 2.0 for precise navigation. The ECOVACS HOME App has been upgraded with interactive 3D Maps, the OZMO™ Pro 2.0 Electric Oscillating Mopping System ensures stubborn stains are removed more efficiently and quietly, while the Auto-Empty Station enables hands-free cleaning.
"Australians are seeking ever-smarter products that can make home care simpler, easier and more thorough than ever before. The launch of the DEEBOT T9+ with an industry-first air-freshener delivers consumers a breath of fresh air in their homes while epitomising our commitment to continuously introduce new and exciting functionality," said Karen Powell, Head of ECOVACS ROBOTICS for Australia and New Zealand.
"We've also worked to upgrade and build upon our existing functionality to make sure every inch of floor surface in the home is covered. In addition to people's homes, we also believe we are delivering a 'breath of fresh air' into the industry, raising the bar for both robotic vacuums and traditional floorcare alike."
A Luxurious Cleaning Experience with Built-in Air Freshener
The DEEBOT T9+ is the first in the industry to clean floors and freshen the air at the same time. Connected to the DEEBOT's mobile system, the air freshener gives users a vacuuming and fragrance experience that goes beyond traditional cleaning.
The air freshener's unique design releases the fragrance onto the floor directly to remove musty and pet odours, while the fan at the bottom of the air freshener unit spreads the fragrance evenly for full home coverage.
The air freshener uses replaceable capsules, that can last up to 60 days[1], featuring three kinds of fragrances. Users can choose to switch the air freshener on or off using the ECOVACS HOME App and extend its lifespan.
Powerful In-depth Cleaning Performance with impressive suction, OZMO™ Pro 2.0 and Auto-Empty Station
The enhanced suction power of 3000 Pa also raises the bar in cleaning performance. The high-strength fiberglass structure keeps the suction power consistent when vacuuming both hard floors and carpets. This is ECOVACS' strongest suction yet providing a deep clean of every corner of your home. [2]
Further enhancing the meticulousness of the clean, the DEEBOT T9+ comes with the latest OZMO™ Pro 2.0 Electric Oscillating Mopping System with a newly designed motor and movement structure that minimises noise. The high-frequency vibration of up to 480 times per minute increases the mopping performance, making it comparable to an electric mop.
Disposable mopping pads can be safely discarded immediately after cleaning, with specially designed microfibers that absorb water evenly, efficiently capture dust, and reduce residual water stains. The composite structure increases friction between the mopping pad and the floor and helps the OZMO™ Pro 2.0 Electric Oscillating Mopping System effectively remove stubborn stains on the floor.
The Auto-Empty Station included with the DEEBOT T9+ clears the robot's dustbin automatically after cleaning for 30-plus days of hands-free cleaning. This means users can say goodbye to cleaning out their dustbin every other day, knowing it can hold 2.5L, or one month's worth of dirt, debris and pet hair, before needing to be emptied. The robot will automatically return to the station when needed, and users will be alerted once the station needs clearing via the ECOVACS Home App.
Optimal solutions for precision cleaning and protection
Debuting in last year's T8 family of products, both the TrueDetect 3D and TrueMapping technologies now enter their second generation in the DEEBOT T9+, providing an even more intensive and precise navigation and mapping experience.
Equipped with upgraded TrueDetect 3D 2.0 detection and obstacle avoidance technology, the DEEBOT T9+ knows every corner of the home. It detects objects with high-precision resolution in real time to strategically avoid obstacles and ensure there's no collisions, entanglements or disruptions. This updated algorithm offers 10 times the accuracy in obstacle identification as compared to traditional infrared technology down to mere millimetres.[3]
Moreover, with TrueMapping 2.0, the DEEBOT T9+ can navigate smoothly in different indoor environments and lighting conditions without any interruptions, even in total darkness. It is able to map a scanning area twice as large and with four times higher precision as compared with the previous generation of laser distance sensor technologies.[4]
Upgraded ECOVACS HOME App Debuts 3D Map with Improved Obstacle Avoidance and Navigation Technology
The new ECOVACS HOME App is designed for intuitive use, enhancing the user experience with a simpler and more seamless interface. The App is easy to navigate, ensuring users an optimal cleaning route. The interface integrates all the common features so that users can access critical functions easily. They can customise the amount of water used, suction power, cleaning times, and routes for different rooms.
Furthermore, the DEEBOT T9+ brings new ways to interact with generated maps. The 2D map has been upgraded allowing you to capture your home layout more precisely and interact with it more seamlessly. Users can also enjoy a smarter and more personalised experience with the first-of-its-kind 3D map that captures the view of your home more realistically allowing you to edit as you please, zoom, rotate, and even add furnishings.
A Summary of the 9-in-1 upgraded features include:
All new mobile Air Freshener experience is more refreshing
OZMO Pro 2.0 oscillating mopping experience is quieter than ever
Auto-Empty Station included for an effortless experience
3000Pa strong suction for a more powerful clean
TrueDetect 3D 2.0 for a Smarter Clean
TrueMapping 2.0 for more accurate mapping
Updated 2D map experience for more precision
New 3D map experience for a more realistic map experience
Renewed ECOVACS Home App for a more convenient map experience
Pricing and Availability
DEEBOT T9+ is available today at $1,299 from Godfreys, JB HIFI and  The Good Guys  For more information, please visit ecovacs.com/au or connect with us on Facebook at @ecovacs.au or Instagram at @ecovacsroboticsau.