Events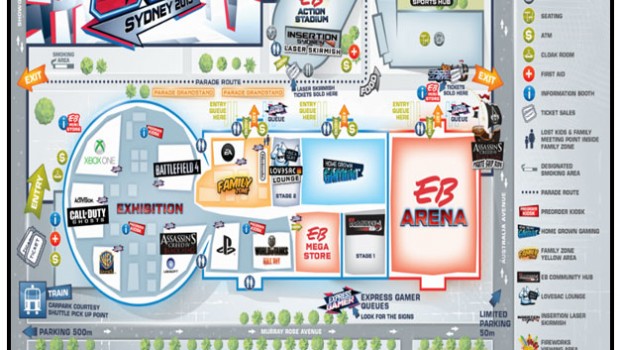 Published on September 30th, 2013 | by Admin
EB Games Expo brings Family Fun Day to the Sydney Showground
The 2013 EB Games Expo offers the perfect family day out, packed with a multitude of activities for families to enjoy. The EB Expo will make for an entertaining family day out for all ages, big and little, during the last weekend of school holidays.
The EB Expo Sunday Family Day kicks off at 10am (doors open at 9:40am) with a Skylanders SWAP Force event where 2,500 free Skylanders toys will be given away during the very special EB Live presentation. Everyone's favourite villain KAOS will make a special appearance as well as Master Eon; consumers will witness a true battle of good vs evil live on stage.
Nintendo Australia has just announced they'll be showcasing their latest titles for Wii U and Nintendo 3DS including Pokémon X and Pokémon Y, playable for the first time in Australia and launching on 12th October.  Also playable on the Nintendo booth: The Legend of Zelda: A Link Between Words; Donkey Kong Country: Tropical Freeze; Super Mario 3D World; Professor Layton and the Azran Legacy; The Legend of Zelda: The Wind Waker HD; Wii Party U and Sonic Lost World.  Fans can also get their hands on the soon-to-be-released Nintendo 2DS, the brand new member of the Nintendo 3DS family also launching on 12th October.
The entertainment continues on Sunday 6th October where consumers can catch the family friendly version of the exciting new Good Game Live Show in the EB Arena at 1pm, starring the hilarious Jimmy 'Giggle Rees, Dave Callan, Andrew Hansen, Gus Ronald, James Cottee and of course Hex & Bajo.
To add to the excitement for the first time in Australia the EB Expo will play host to the Australia's first Video Game Parade at 3:30pm on Sunday 6th October. Twenty two floats will circulate the showgrounds with a selection of EB's favourite gaming characters and personalities including EB's infamous hero Buck. Also taking part in the parade will be a legion of Storm Troopers from 501st alongside a life-size tank, the Just Dance Crew, CosPlay winners, and the hosts from Good Game. The parade will showcase an epic and colourful celebration of the video gaming culture.
EB has left no stone unturned for the 2013 Expo with the inclusion of Insertion Laser Skirmish for the big kids to enjoy during all 3 days of the expo. Participants will be some of the first to experience the revolutionary new laser skirmish from epic gaming at the EB Action Stadium. Furthermore the incredible and talented Just Dance Crew will host a "Just Dance Kids Show" show at 11:30am in the Lovesac Lounge. This is a chance for kids to come and learn some funky dance moves that they can show off to all their friends or try out on the Just Dance 14 dance floor on the Ubisoft booth.
Kid's friendly titles which will be present at the EB Expo include:
SWAP Force
SIMS 4
Just Dance 2014
Disney Infinity
Lego Friends
Lego Movie: Video Game
Leo Marvel: Super Heroes
Pacman and the Ghostly Adventures
Adventure Time: Explore the Dungeon Because I Don't Know
Hot Wheels: World's Best Driver
Scribble Nauts Unmasked: A DC Comics Adventure
Other free activities for the little ones will include a roaming magician; Balloon Artist; Colouring-in Activity Zone Water Transfer Tattoos; Face Painters and a Caricature Artist.
Can't make it to family day Sunday? The EB Expo welcomes families to attend on both Friday and Saturday. All family games will be playable and on Friday and Saturday night at 7pm there will be a free Fireworks show.
General Admission, Multiplayer, and Family Passes are all still available for purchase in over 380 EB Games Australia stores, www.ebgames.com.au  and www.ticketek.com.au
FRIDAY AND SATURDAY – OCT 4-5, 9AM – 9PM
General Admission Pass Per Session $39.95 each.
SUNDAY FAMILY DAY- OCT 6, 9AM – 4PM
Family Pass (Admits 2 Adults and 2 Children) $119