PS4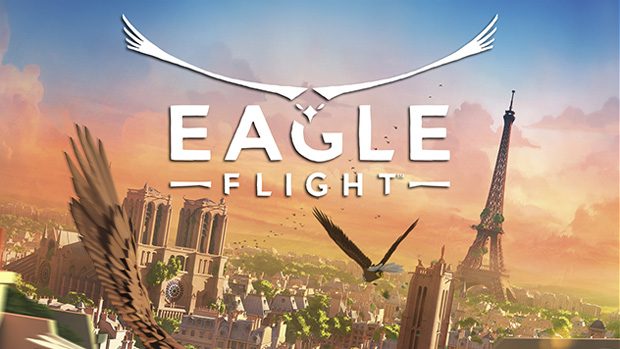 Published on November 26th, 2016 | by Andrew Bistak
Eagle Flight PlayStation VR Review
Summary: Eagle Flight is amazing immersive and surreal experience on the PlayStation VR
Eagle Flight is one of the most surreal VR games at the present and although originally released on the Oculus Rift, it's now available for the PlayStation VR which offers gamers an equally enjoyable experience as you're transformed into a bird of prey in post-apocalyptic Paris. Given the lack of AAA titles for VR, I would sad that Eagle Flight is probably the closest thing we have at the moment because of how flawless the gameplay is and how well it uses the PlayStation VR system, including some truly astonishing graphics as you fly through this virtual reality world. It's really one of those 'wow' moments as you fly through the sky and the streets which creates this unparalleled sense of freedom that almost makes it feel like you are flying.
The story, although quite 'lightweight' revolves around the eagle that you control and basically how they are protecting their own area and family from other predators. It also gives you an insight into the life of eagles which is a cool little edutainment aspect. Given that, it's almost like an animal sim and I really enjoyed the setting of this world because of the twist. Add in little missions, time trials and of course combat with other predators thanks to your eagle screech and Eagle Flight is a fun game that really made me want to explore this city thanks to the intuitive controls.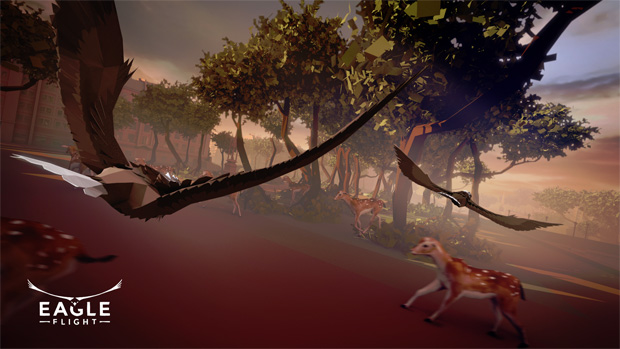 Before starting the game and like most VR games on the PlayStation 4 or Pro, a tutorial teaches the player the ins and outs of the control mechanics which uses a combination of the PlayStation VR headset and the DualShock controller. As a result, it makes navigating this world quite natural and thankfully doesn't cause any motion sickness… well, for me anyway. Other aspects of controls besides turning which is done via the headset include using the controller for speed and attacking. Although not a combat game perse, you do have an eagle attack screech when you encounter other birds of prey in the sky which works well. Given the nature of VR, it does take some time getting familiar with the system but after a few plays, it does become like second nature.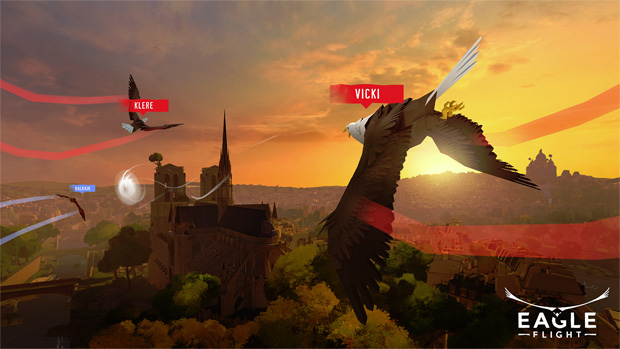 Once you're in the game, you will definitely notice some parallels to the Assassin's Creed franchise because of the graphical style of this virtual Paris and more importantly, it's an open world game (to some extend) where you can fly through the streets and buildings which really allows you to explore this magnificent city, especially looking for collectibles. However not all the city is available to the player that does help keep the gameplay on point. For multiplayer, there is a capture the flag style of mode where two teams of 3 need to bring back a rabbit to their main nest. It's a fun distraction, especially after you have finished the single-player mode. The only downside to the multiplayer is that it is a little limited in terms of replay value but still fun.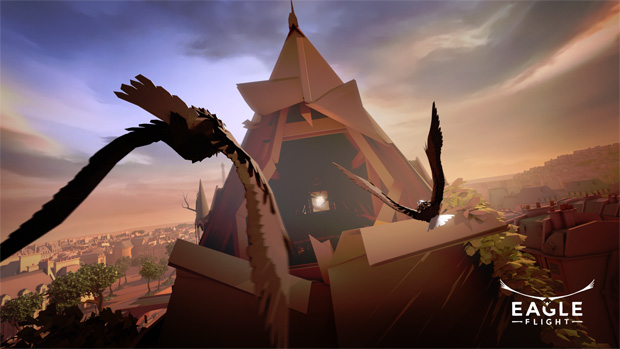 Graphics/Audio
Graphically, Eagle Flight is a beautifully created game that really maximises the potential of this new VR platform. The world that you explore is amazing and I love its architecture, lighting and attention to detail. It's really like being in your own little world and the gameplay successfully puts you in the wings of an eagle as you fly through the streets like a magnificent bird of prey. The musical score and audio also adds to the overall gameplay which makes this one of my favourite VR experiences on the PlayStation VR so far.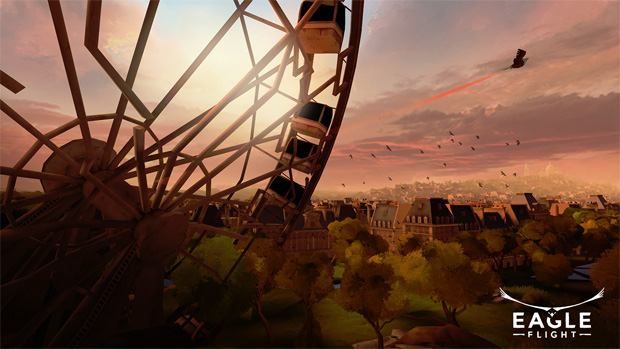 Final Thoughts?
After the relatively disappointing launch titles for the PlayStation VR, there are a few games that will make you appreciate this new medium and thankfully one of those games is Eagle Flight. In the end, it successfully creates one of the best immersive experiences with its sturdy controls and beautiful graphics plus enjoyable gameplay. Recommended!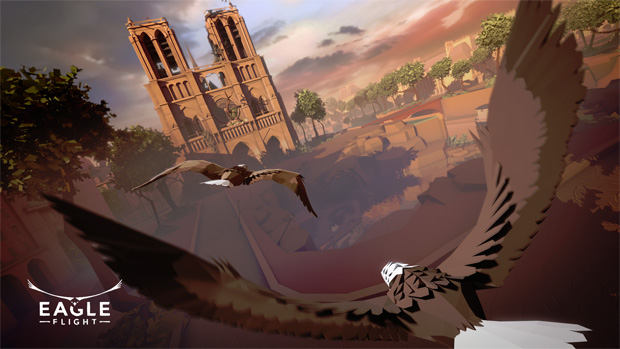 Key Features
EXPERIENCE BREATHTAKING FREE FLIGHT
Take flight through the skies of Paris with the sound of the wind in your ears and experience absolute freedom as you soar past magnificent landmarks. Hone your piloting skills in single player missions that include ring parkour and shooting challenges. Explore the city to find hidden collectibles and discover hidden passages to gain the advantage in multiplayer!
EXPLORE AN ICONIC CITY FROM A NEW POINT OF VIEW
With vegetation taking over its right and wild animals playing hide and seek in the city, experience Paris in a great new setting. Fly through Paris, from the very top of the Eiffel tower to the narrow streets that lead to the Notre-Dame cathedral. Eagle Flight gives you the absolute liberty to explore Paris from a bird's eye view!
ENGAGE IN HEART-POUNDING MULTIPLAYER DOGFIGHTS
Experience a true multiplayer adrenaline rush with up to 6 players! Use your piloting skills to lead your team to victory in two multiplayer modes. As a bird of prey, you will use the highest point of view to locate opponents and dive towards them to take them down. You will need precision and agility to gain the advantage, and use the city's narrow streets and secret passages to lose opponents in pursuit.
ENJOY OUR VR CONTROL BREAKTHROUGH
As a result of Ubisoft's research on VR games, the team developed new flight controls that greatly reduce motion sickness and enable every player to quickly master their flying skills. In Eagle Flight, you control your trajectory by using the motion of your head. Taking full advantage of VR technology, this innovation lets you pilot intuitively with extreme precision while making Eagle Flight accessible to everyone.
IMMERSE YOURSELF IN THE MOST ACCESSIBLE AND COMFORTABLE FLIGHT GAME
Eagle Flight was developed specifically for VR with the intention of delivering unmatched flight sensations while offering an incredibly comfortable experience. Thanks to the intuitive controls, high frames-per-second count, and many other developments that greatly reduce motion sickness, Eagle Flight is a full VR game that can be enjoyed by everyone.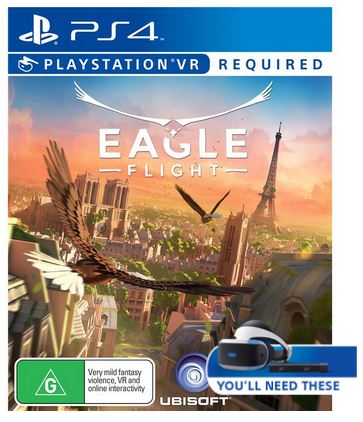 Game Details
Primary Format – Games – Playstation 4
Game Genre – Action & Adventure
Rating – G
Consumer Advice – Very mild fantasy violence, VR and online interactivity
Game Developer – Ubisoft Montreal Studio
Game Publisher – Ubisoft