Games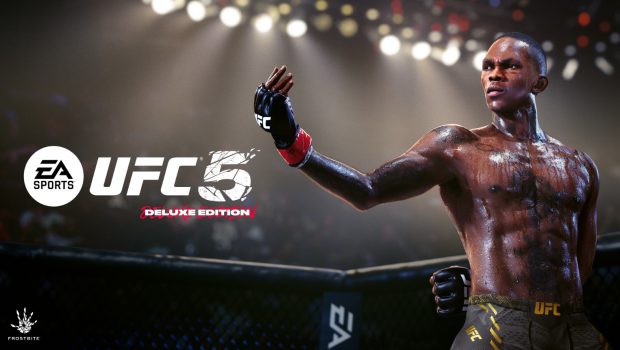 Published on October 28th, 2023 | by Adrian Gunning
EA SPORTS UFC 5 LAUNCHES WORLDWIDE – A NEW ERA OF MIXED MARTIAL ARTS ENTERS THE OCTAGON
Electronic Arts Inc. (NASDAQ: EA) and UFC®, the world's premier mixed martial arts organization and part of TKO Group Holdings (NYSE: TKO), today released EA SPORTS™ UFC® 5 worldwide on PlayStation®5 and Xbox Series X|S. Debuting on the Frostbite™ Engine for the first time in franchise history, the game features meticulously detailed fighter likenesses and seamless 60 frames-per-second performance.
Damage in UFC 5 is depicted in visceral detail with true-to-sport accuracy. More than 64,000 possible facial damage combinations, new fluid physics, and blood and sweat particle systems alter a fighter's appearance throughout the fight. With the Real Impact System's Authentic Damage feature, causing a cut to an opponent's eye will diminish their striking and blocking accuracy due to compromised vision, and triggering a low calf injury will impede mobility. In UFC 5 players enter the world-famous Octagon® with added strategic depth and mixed-martial-arts (MMA) realism.
"UFC 5 has the most advanced features that we've ever seen in a combat sports title, and EA has taken every aspect of this game to the next level," said UFC SVP of Global Consumer Products Tracey Bleczinski. "With every new iteration of the EA SPORTS UFC franchise, our goal is to create a fun and entertaining game that offers greater realism and a deeper, more engaging UFC experience. EA SPORTS has once again set the standard for combat sports games and delivered a knockout with UFC 5, the best version of the game to date."
"The energy from our passionate fans and our collaboration with UFC helped us achieve generation-advancing MMA gameplay," said Nate McDonald, Lead Producer of UFC 5. "Frostbite and the Real Impact System are game changers, and when combined with the debuts of Cinematic K.O. Replay, Seamless Submissions, and a real-world powered Fight Week experience, UFC 5 is as real as it gets."
For a deeper look at UFC 5's full suite of new gameplay mechanics, players can watch the 21-minute Gameplay Deep Dive here.
UFC 5 is loaded with features including:
Cinematic K.O. Replay: Fight-ending finishes are showcased with intense, true-to-sport visuals and enhanced excitement. Presented in super slow motion with cinematic angles and lighting, the impact of highlighting real moments recaptures UFC drama. This is just one of the many exciting additions to UFC 5's vast presentation features. Watch the official 12-minute Presentation Deep-Dive trailer for more here.
Seamless Submissions: The premier of the Seamless Submissions mechanic evolves the grappling system with quicker transitions and no mini games to maximize gameplay fluidity. Grapple Assist helps beginners while veterans delve into its depths. Seamless Submissions ensure a smoother, more authentic ground experience for grappling fans.
Fight Week: UFC 5 will showcase an updated live service closely connected to the ongoing ebb and flow of the sport's storylines, introducing features such as Fight Week and Fight Picks linked to real-life UFC events.
Online Career Mode: Online Career includes skill-based matchmaking, division progression, and title chases across four divisions. Players can compete with a different Created Fighter in each division, allowing players to showcase multiple character customizations and Vanity Items. Watch the 10-minute Game Modes Deep Dive trailer here.
Doctor's Checks and Stoppages: A significant injury can cause the referee to halt the fight for a doctor's review. Failing to shield the damage can result in a doctor's stoppage, adding authentic strategic challenges for players under increased pressure.
New Strikes and Hit Reactions: New strike animations mimic professional heavy hitters and kickboxers, incorporating varied ground-and-pound elbows, spinning moves, body punches, and calf kicks. Additionally, the hit reaction animations and impact physics enhance player immersion.
Alter Egos: Alter Egos presents fresh versions of top fighters, showcasing pivotal career moments, unique appearances, and related skills.
EA Play** members on Xbox and PlayStation can try UFC 5 for up to 10 hours.
Developed by EA Vancouver, UFC 5 is rated ESRB M (Mature) and PEGI 16, and is now available on PlayStation®5 and Xbox Series X|S. Please visit https://www.ea.com/games/ufc/ufc-5 for more information.