Games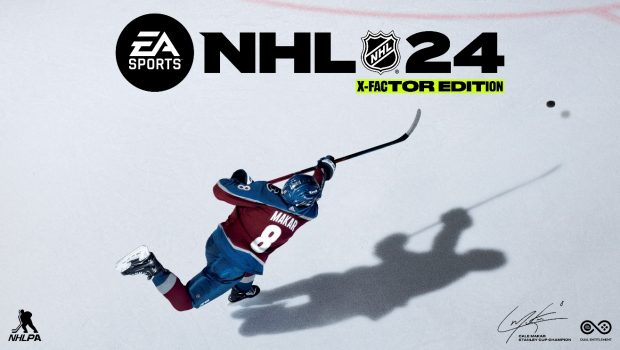 Published on October 7th, 2023 | by Adrian Gunning
EA SPORTS™ NHL® 24 BRINGS THE TRUE INTENSITY OF HOCKEY, AVAILABLE WORLDWIDE TODAY
Electronic Arts Inc. (NASDAQ: EA) today released EA SPORTS™ NHL® 24, now available worldwide on PlayStation®5, Xbox Series X|S, PlayStation®4 and Xbox One. Fueled by EA's Frostbite™ engine, the all-new Exhaust Engine introduces the Sustained Pressure and Goalie Fatigue systems for lifelike hockey intensity that bring the rush and fatigue of on-ice high-pressure to life. The revamped NHL 24 Physics-Based Contact mechanics offers realistic player contact and body checks, elevating the feel of the gameplay experience.
"Hockey fans cherish the sport's raw intensity. This year, with new features like the Exhaust Engine and Physics-Based Contact, we're capturing that essence," said Mike Inglehart, Creative Director at EA Vancouver. "NHL 24 allows players to feel the thrill of the sport, and we're eager for fans to experience its gritty physicality."
NHL 24 is packed with new features including:
Completely Revamped Gameplay Experience: EA SPORTS NHL has never felt this intense, with all-new gameplay mechanics that dial up the pressure, physicality, and control of authentic on-ice action. The brand-new Exhaust Engine – powered by Frostbite – includes the Sustained Pressure and Goalie Fatigue systems, rewarding extended offensive events and attack zone time, adding a dynamic new layer of authenticity and excitement to the game. Players can pass anywhere at any time with Vision Passing and Total Control Skill Moves makes using highlight-reel moves more intuitive and accessible. These are just a few of the exciting gameplay layers added to NHL 24, and players can learn more by checking out the 15-minute deep dive trailer here and more about gameplay here.
The Most Dynamic World of Chel Yet: Players will be able to connect in more ways than ever before with enhanced Cross-Play‡, which will lead to better matchmaking to players across platforms. Improvements to Creation Zone will give players more customization, while an update to the EASHL Playoffs introduces an authentic, streamlined do-or-die 16-game path to the title, allowing players to earn ranking points as they make their way through the bracket. NHL 24 also introduces World of Chel Battle Pass, and players can play their way through action-packed seasons at free and premium level. Learn more about the upgrades to World of Chel in the deep dive video here, and more about the game's modes here.
Experience Historic Hockey Moments in Hockey Ultimate Team™: NHL 24 debuts HUT Moments, allowing players to recreate, share, and track iconic hockey plays using a real-time system that updates player progress based on items, teams and on-ice actions. NHL 24 also introduces a new real-time objective-tracking system, enabling players to keep active track of their objectives and stay focused on the exciting on-ice action. Learn more about Hockey Ultimate Team by watching the over eight-minute deep dive here.
Modernized Presentation: With NHL 24, players will experience deeper on-ice immersion through the inclusion of Flex Moments, providing 75+ new goal celebrations, camera angles, lighting and customizable celebration controls that will allow players to map their celebration to their controller. NHL 24 features enhanced crowd reactions to bring to life the intensity of hockey, and Dynamic Rink Boards expand the augmented reality broadcast and communicate key on-ice moments. Learn more about the all-new presentation in NHL 24 in the nearly eight-minute deep dive video here.
Developed by EA Vancouver and EA Bucharest, EA SPORTS NHL 24 is rated E10+, and now available on PlayStation 5 and Xbox Series X|S, as well as PlayStation 4 and Xbox One. The EA SPORTS NHL 24 X-Factor Edition* includes the PlayStation 4 and PlayStation 5 or Xbox One and Xbox Series X|S versions of the game, three days of early access, 4600 NHL Points, exclusive Cale Makar player item, HUT Power-Up Icon of choice and WOC Battle Pass XP Modifier x5. For more details visit: https://www.ea.com/games/nhl/nhl-24/buy.
EA Play** members can get more out of NHL 24 with three days of early access, and member-only rewards throughout the season. Visit the EA Play website for more information.
Subscribe to our YouTube channel for all our Trailers and Videos. Join the EA SPORTS NHL community on TikTok and Instagram. You can also follow us on Twitter @easportsnhl to stay up to date on the latest news.