Games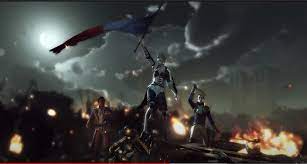 Published on June 16th, 2021 | by Alayna Cole
E3 2021 – STEELRISING REVEALS A PART OF ITS STORY
Exclusively unveiled at IGN Expo, NACON and Spiders are pleased to share a new video introducing Steelrising's uchronic context. In 1789, in an alternate Paris, with iconic locations and monuments adapted by Spiders' developers, the French Revolution has stalled. The people's revolt has been heavily suppressed by an army of automatons, deployed on the King's orders.
1789 is the year of the Storming of the Bastille and the start of the monarchy's downfall. Steelrising depicts an alternative version of history: what if King Louis XVI, who loved clockmaking, had built an army of robots capable of quelling the insurrection? Powerful and cruel, this army spares no one and violently punishes rebels. Paris is burning and bleeding. Men, women and children are being systematically massacred.
In this terrifying chaos, you play as Aegis, an outstanding automaton and bodyguard of Marie-Antoinette. Appointed by the Queen, Aegis will have to navigate through a Paris crawling with machines. Each fight with these mechanical enemies is a challenge where the player's skills are subjected to a tremendous ordeal. Such is the price to pay for those who want to change the course of history.