Collectibles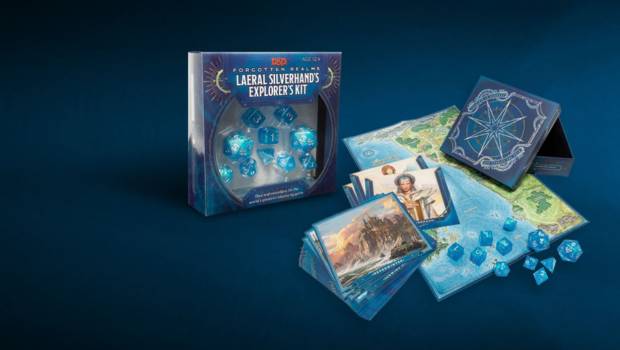 Published on June 23rd, 2020 | by James Wright
Dungeons & Dragons: Forgotten Realms Laeral Silverhand's Explorer's Kit
Right off the bat (or sword) from #D&DLive event courtesy of Wizard of the Coast which was a virtual Dungeons & Dragons Live event, we had the chance to check out the 'almost' magical trinkets of Laeral Silverhand's Explorer's Kit! So for those familiar with D&D, more so The Forgotten Realms, lives a very powerful archmage called Laeral Silverhand, who is also one of the Lords  of Waterdeep and happens to the be the daughter of the Goddess Magic. The Dungeons & Dragons: Forgotten Realms Laeral Silverhand's Explorer's Kit is based on that character and is also a celebration of D&D.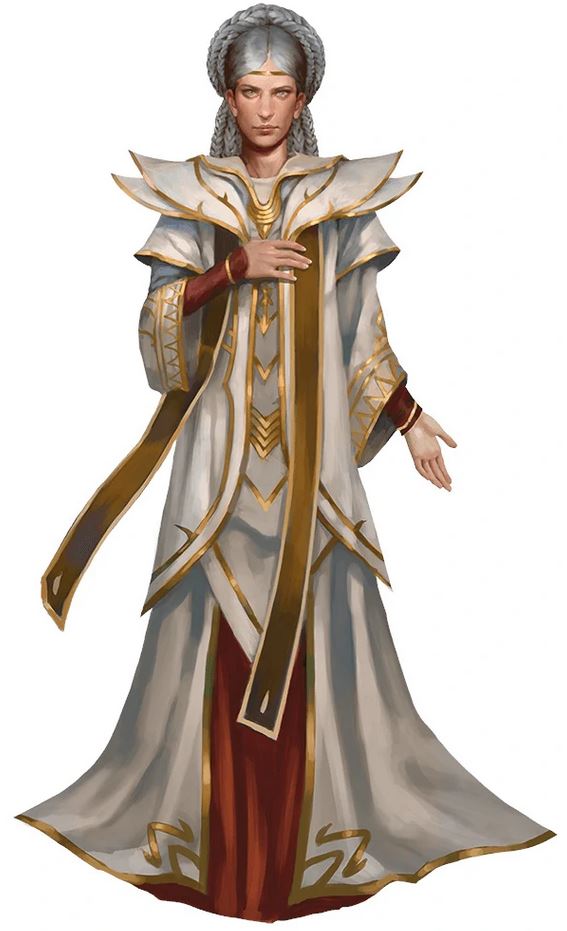 So what do you get in this kit? You get the following D&D goodies;

Eleven dice (two d20s, one d12, two d10s, one d8, four d6s, one d4).
Twenty illustrated, double-sided cards detailing Laeral's expert insights on key characters, locations, and lore from across the Forgotten Realms.
A durable, felt-lined box that functions as two dice trays.
Foldout double-sided map of the Sword Coast and the city of Waterdeep.
Time to put our helmet down and have a delicious dwarven mead to test them out!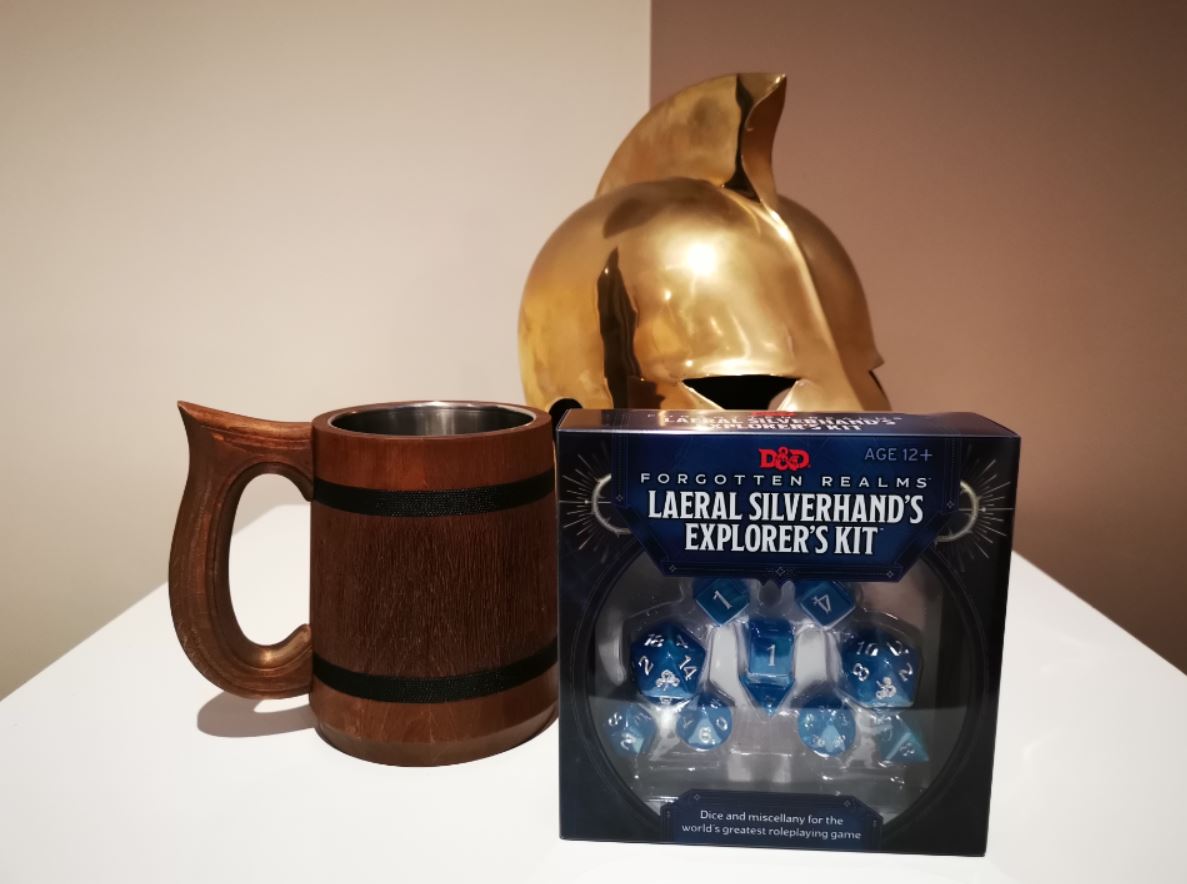 Needless to say, this is a very well presented product and I'm sure even Mystra, the Goddess of Magic would be pleased with the exceptional packaging.
So while this package is targeting the Forgotten Realms, the die (plural for dice) can be used for any D&D or for purists AD&D campaign! Given that, the dice that come with this kit are spectacular and have this almost surreal glow to them, so when you're rolling that dice 20 or classic pyramid d4, it does feel like you're using something more than regular die. Furthermore, they are quite easy to read when they land on the number as well!
Adding to the die are dice trays that once again add to the majestic nature of D&D and stops them from falling off the table.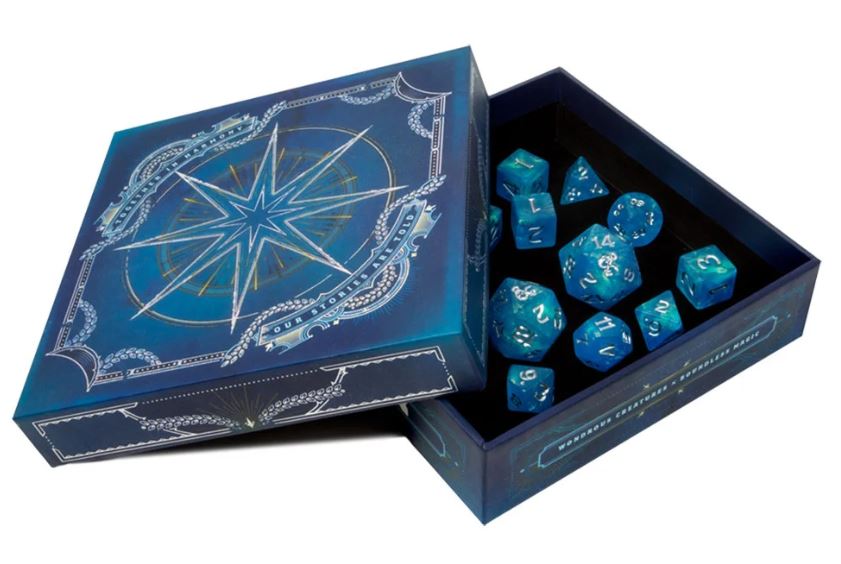 Additional in this collection is a Forgotten Realms map with one sided dedicated to the sometimes dangerous Sword Coast, with the other side showcasing the fabled city of Waterdeep. Then you have a collection of cards which showcase key people, places and organisations (e.g. Neverwinter, & dark elf Drizzt Do'Urden) in the Forgotten Realms which in essence are trading cards that were created by Laeral herself with the front being a picture and the back, a short yet informative blurb. These cards, albeit short provide a great snapshot into the Forgotten Realms and definitely one for the collectors.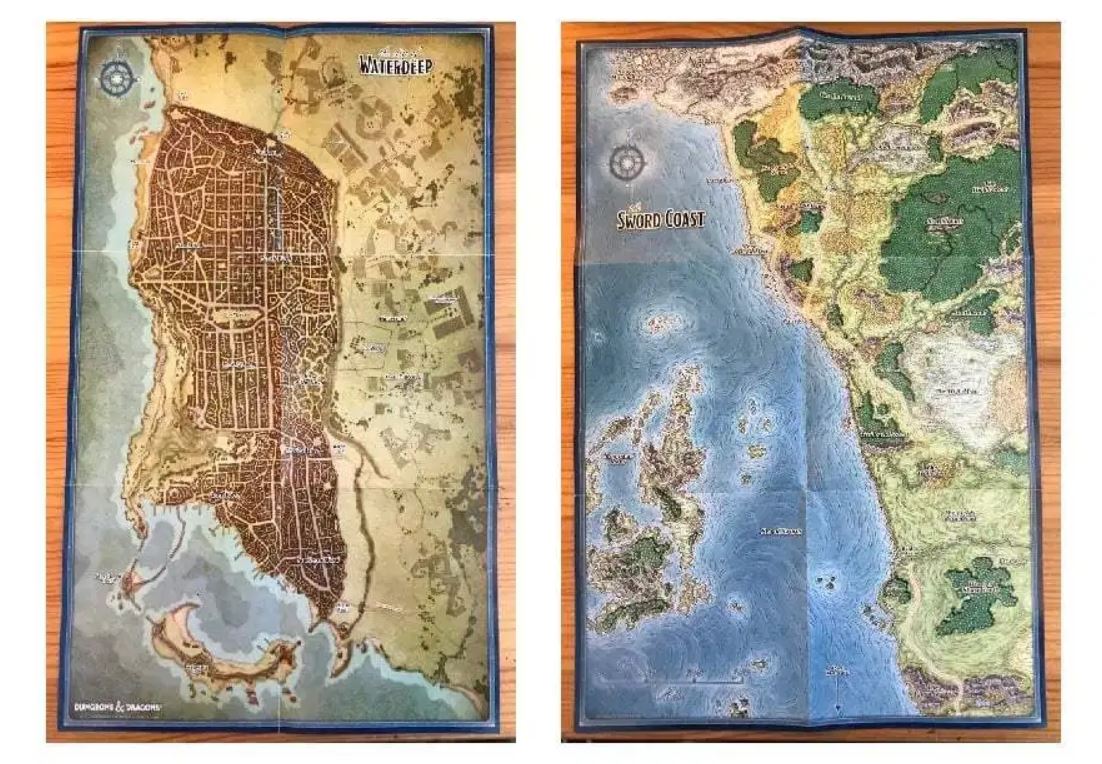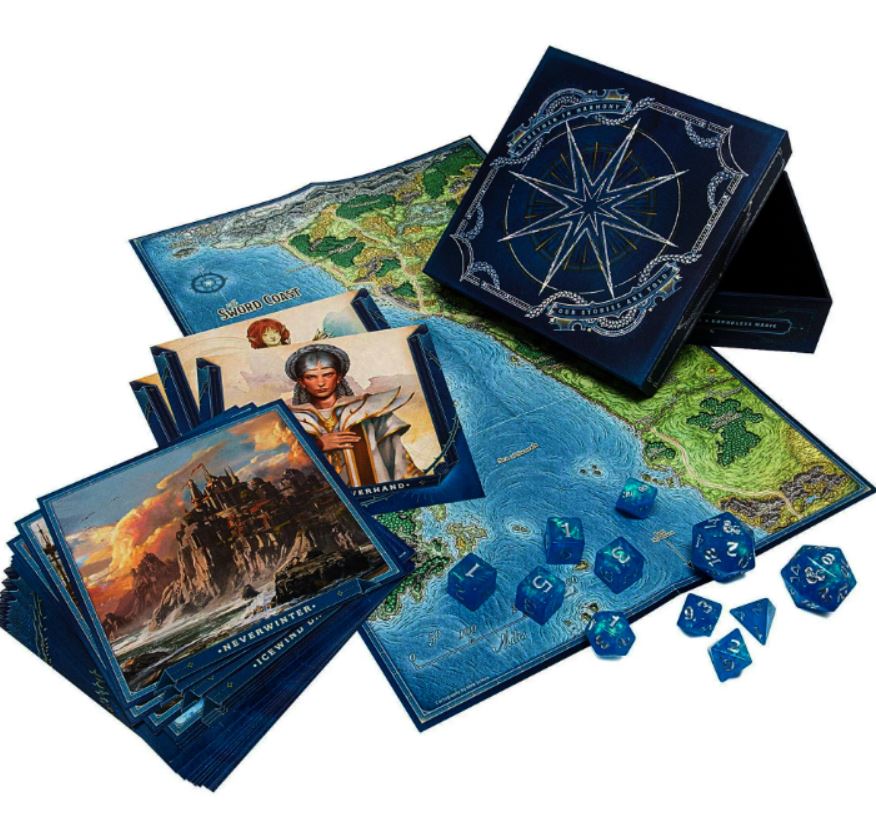 Final Thoughts?
If you're a fan of D&D, then the Dungeons & Dragons: Forgotten Realms Laeral Silverhand's Explorer's Kit is a must have accessory that will make you the envy of your next get together (probably via  Zoom) and who knows, maybe Laeral's magic will shine upon you as you hope to roll that 20 in order to prevent your party being decimated by Xanathar, the beholder!
Awesome D&D fun!