Events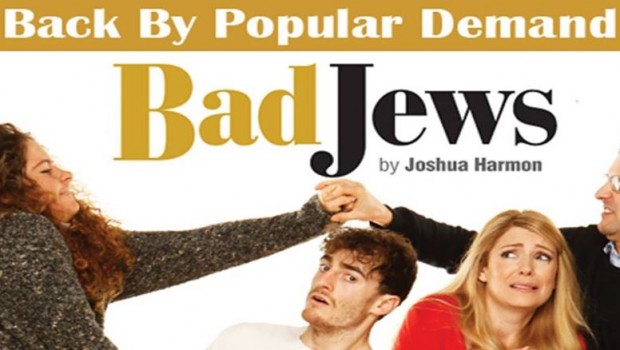 Published on January 28th, 2016 | by admin
DUE TO DEMAND BAD JEWS RETURNS TO MELBOURNE IN APRIL 2016
Bad Jews. Is it:
a) A politically incorrect title for a play or
b) A show that's been a major hit on Broadway and the West End, and Melbourne? 
After a sellout Melbourne season last year, Aleksandar Vass and Vass Theatre Group along with Alex Theatre St Kilda are excited to announce the return of Broadway and West End hit Bad Jews to the Alex Theatre, St Kilda. Due to popular demand, the critically acclaimed, all-Australian production, Bad Jews returns from 27 April for a strictly limited season prior to commencing a National Tour to Sydney, Brisbane and Perth. Tickets are on sale now from Ticketek.
The play was widely embraced by Melbourne's critics, Melbourne's Jewish community and the greater Melbourne arts and theatre audiences. Now those who missed their chance have another opportunity to witness this hilarious, edgy black comedy.
 "4 stars – Angelico steals the show as Daphna. Giving a performance as dogged and untameable as her character's frizz of hair, she remains strangely likeable in spite of all the abrasive dysfunction on display" The Age
"4 stars – …excellent performances" The Australian Jewish News
"5 stars…expertly produced" Theatre People
Bad Jews was a sell out at the Ustinov Studio in Bath when it made its UK premiere early 2014, earning huge critical acclaim and selling out its London season at the St. James Theatre. It was the hottest show in New York when it premiered in 2013, with the New York Post calling Bad Jews, "gleefully entertaining" and the New York Times hailing the show, "the best comedy of the season".
Written by New York playwright Joshua Harmon, Bad Jews is a story about family relationships, cultural identity, as well as grief, loss and legacy. It's a devastatingly funny battle of Old Testament proportions!
"Hilariously, exquisitely edgy. Four stars." The Times, UK
"You don't have to be Jewish, or even particularly bad, to love Joshua Harmon's corrosive comedy Bad Jews." City Newspaper, New York
"Superlative … Scaldingly funny. Four stars." Daily Telegraph, UK
"A riotous evening. Four stars." Time Out, London
"You'll be consistently impressed by this fast and funny, pungent and poignant comedy by Joshua Harmon. Four stars." New York Daily News 
Their beloved grandfather has died and a treasured family heirloom with religious significance is up for grabs in the Feygenbaum family. But who is most deserving of it? Bossy, overbearing, fanatically religious Daphna, who swears she is the most devout Jew in her family? Her wealthy, less observant cousin Liam, who's just returned from skiing with his non-Jewish girlfriend, Melody? Or Jonah, Liam's brother, who would prefer not to get involved in the fight?
A cramped Manhattan apartment becomes the setting for a viciously hilarious quarrel about family, faith and legacy as the contenders set at each other's throats on the night after the funeral.
Bad Jews features a tremendously talented Australian cast. Starring as the domineering Daphna is Maria Angelico (Danny and the Deep Blue Sea, Under a Red Moon, Hating Alison Ashley, Wentworth, Rush, City Homicide, We Can Be Heroes). Simon Corfield (Packed to the Rafters, COPS, Crownies, The Birth of Creation, Songs for the Fallen) stars as Liam while his 'shiksa' girlfriend, Melody, is played by Anna Burgess (39 Steps, God of Carnage, Goodbye Miss Monroe, The Producers, Waiting for Godot, Neighbours, Last Man Standing, Thank God You're Here). Matt Whitty (Foxfinder, About Tommy, Penelope) plays Jonah.
Directed by Gary Abrahams, Bad Jews' creatives include Designer Jacob Battista, Lighting Designer Rob Sowinski, Sound Design by Dave Ellis, Costumes by Kelsey Henderson and Executive Producer Helen Ellis. The play is produced by Aleksandar Vass in conjunction with the VASS Theatre Group, Richard Fitzgerald Artistic Director and General Manager.
Strictly limited season from 27 April. Tickets on sale now from Ticketek.