Interviews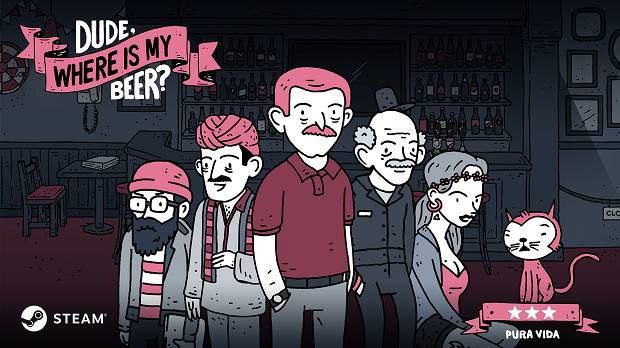 Published on November 12th, 2020 | by Jeremy Carr
Dude, Where Is My Beer? Creator Interview
From Publisher Arik Zurabian and Edo Brenes comes Dude, Where Is My Beer? Available on Steam now.
I got the chance to play this game and was really impressed by this point and click adventure game about finding a pilsner full of hipsters and craft beers. This game is absolutely humorous and filled with puzzles meant to challenge but not enough to discourage. I enjoyed my time so much with this game that I decided to reach out for an interview with creator Arik Zurabain. Here is the interview and make sure to check out Dude, Where Is My Beer?
Jeremy Carr: So Mr. Zurabian, tell us all a little about yourself.
Arik Zurabian: I'm Arik Zurabian, originally a professional 2D animator, but working with all kinds of stuff in an IT company. I was obsessed with point and click games while growing up in Moscow, and without knowing any English was struggling with old Lucas Arts and Sierra games. I don't think I ever finished any of them. So why not make my own one when I'm almost 40?
This whole project started when I lived a few months in Costa Rica, took Spanish lessons, and worked part-time. At some point, I wanted to have a creative hobby and decided to try to make a video game. Then a friend of mine recommended me to contact Edo Brenes to do the design part. And suddenly the game became a two-man project and more ambitious than I ever could imagine.
The game wouldn't be the same without its music. A good friend of mine David Børke has played in rock bands for many years, but now took the challenge and became a video game composer.
Jeremy: What gave you the idea to have a story about a guy looking for a good pilsner?
Arik: I have a lot of friends who complain about all the new craft beer bars in Oslo. All they want is just to sit at dive bars and enjoy cheap pilsners, so I hope more people will relate to the main character in the game.
Jeremy: When did you know you wanted to turn that idea into a point and click game?
Arik: Actually it was the other way around. First I decided to make a point and click game, and then I thought a beer theme would be something new and maybe interesting for not only gamers but others as well.
Jeremy: What would you say was your biggest issue during development?
Arik: I feel like we could save a few months of development if we had the story and all the puzzles ready before we started. So, next time I would avoid implementing new stuff in an almost complete game, but I'm happy we did it  – without these changes our game would be much shorter and less complete.
Jeremy: After this game is released, do you have any other ideas or gameplay types you would like to tackle?
Arik: Since I'm not a professional developer (believe me it wasn't easy to do all the development with no programming background) I would love to try to make a platform game with the characters and the humor from this game.
Jeremy: Since the game is about finding a good pilsner in a world full of snobby hipsters and craft beers, I've got to ask this of course. What is your favorite beer?
Arik: I have to say that I don't know much about beer, even though it can look like that when I now release a video game about beer. Usually, I appreciate lagers, but also good IPAs. And lately I've been very into salty Gose beers.
Jeremy: This game is pretty humorous from the outlandish craft beer names, to characters names and just some of the interactions in general. Are any of these written from actual experience and if so could you tell us about any of them?
Arik: All the beer names are just random beer type combinations used with random expressions, so I guess some of them don't even make sense. And some of the conversations are actually something a friend of mine told me he overheard at Vinmonopolet (government-owned alcoholic beverage retailer in Norway), where he works.