Comics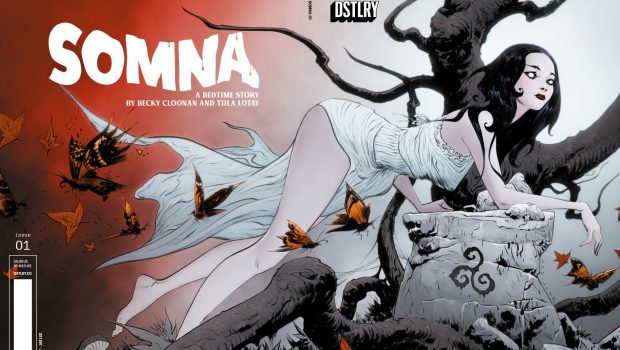 Published on October 6th, 2023 | by Adrian Gunning
DSTLRY REVEALS OPEN ORDER VARIANT COVERS FOR SOMNA #1 BY JAE LEE AND TULA LOTAY
Today, DSTLRY revealed a SOMNA #1 open-order variant cover by Jae Lee, the international superstar artist and Eisner-Award Winner artist behind Stephen King's The Dark Tower, Inhumans, Uncanny X-Men, and countless other acclaimed comic books and covers. Series co-creator, co-writer, and co-artist Tula Lotay also contributes an erotic FOC variant—the first to complete a trilogy of covers that will come polybagged to retailers.
SOMNA is an erotic folk-horror comic series launching this November from Eisner Award-winning creators Tula Lotay (Barnstormers) and Becky Cloonan (By Chance or Providence, Wonder Woman). The pair, who have been developing the supernatural series for over a decade, both write and illustrate the full series. Spinning out of their 11-page story "What Blighted Flame Burns in Thee?" from DSTLRY's debut release The Devil's Cut, SOMNA is an eerie exploration of puritanical oppression and forbidden passion presented in oversized, 48-page perfect bound issues, exquisitely written, drawn, and colored by Cloonan and Lotay.
Set amidst the terrifying backdrop of the witch hunts in a quiet 1600s English village, Somna follows one woman's escape from the confines of her puritanical world. Ingrid is unhappily married to Roland, the town's bailiff and chief witch hunter, who has embarked on a single-minded quest to purge the 'heretics' in their midst. After a prominent town leader is found murdered, accusations fly and no one is above reproach from Roland's deadly crusade. Ingrid has her suspicions about who the real murderer is, but even as she searches for the truth, she's pursued by a shadowy figure. Ingrid gravitates to the foreboding phantom in ways she can't resist; does this otherworldly seduction hold the key to the mystery? Or will he damn Ingrid's soul to the blackest circle of Hell?
SOMNA #1 is available to pre-order now and will be available to purchase at local comic shops on November 22nd.
SOMNA #1 will be on sale at local comic shops on November 22nd. Retailers can place print orders now through Lunar Distribution (FOC: October 8) and Diamond Comic Distributors (FOC: October 9).