Events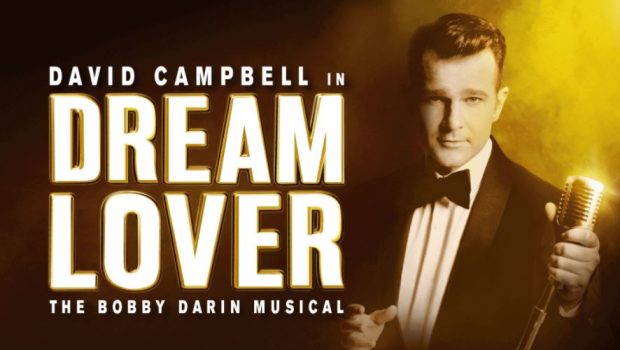 Published on January 3rd, 2018 | by Admin
DREAM LOVER – THE BOBBY DARIN MUSICAL SMASHES RECORDS AT ARTS CENTRE MELBOURNE
Melbourne's summer musical Dream Lover – The Bobby Darin Musical, has just opened to audience and critical acclaim at Arts Centre Melbourne.  The Australian made production smashed the record for the highest number of pre-opening ticket sales for summer musicals at Arts Centre Melbourne and has played to FULL HOUSES every performance since the first preview on December 27.
Due to demand new performances have been added until March 4 with no further extension possible. Tickets are on sale Sunday 7 January at dreamlover.com.au 
"The summer musical is back bigger and better than ever! Dream Lover is such an amazing piece of musical theatre, it's no wonder Melbourne and Victoria can't get enough of it. Almost 1 in 3 people are coming from outside of Melbourne with a staggering 20% of sales coming from regional Victoria.  The show looks and sounds so sensational on the magnificent State Theatre stage, so I encourage everyone that has a love of musical theatre to get your tickets now before it's too late", Claire Spencer, CEO, Arts Centre Melbourne.
"I am delighted with the way the audiences from both near and far have embraced the Melbourne season of Dream Lover and to have broken the pre-opening Summer Musical sales record at the Arts Centre Melbourne is just the icing on the cake", commented John Frost, on behalf of his co-producers John and Barbara Gilbert.
Dream Lover – The Bobby Darin Musical explores the extraordinary story of the Grammy award-winning singer and Oscar nominated actor, Bobby Darin. Produced by John Frost and John and Barbara Gilbert of Gilbert Theatrical, it is the first musical celebrating the return of the summer musical at Arts Centre Melbourne.
David Campbell stars as Bobby Darin where he won audience and critical acclaim during the Sydney season and now again in Melbourne. An exciting addition to the cast for the Melbourne season is Australian musical theatre royalty Marina Prior who plays the dual roles of former showgirl Polly, Bobby Darin's mother (who is revealed to be his grandmother), and the ambitious, cut throat Mary Douvan, Sandra Dee's mother. Returning to the role of Sandra Dee is Hannah Fredericksen, Martin Crewes plays Steve Blauner, Darin's oldest friend, biggest fan and longtime manager. In the role of Nina, Darin's sister (later revealed to be his actual mother), is Marney McQueen and Rodney Dobson plays Charlie, the partner of Nina, a warm father figure to Darin.
The incredible supporting cast includes Danielle Barnes, Ian Bliss, Ella Burns, Jan Di Pietro, Stefanie Jones, Andrew Kroenert, Jess Lindon, Natasha Paramor, Thern Reynolds, Josh Robson, Suzanne Steele, Ellen Sutton, Riley Sutton, Jack Van Staveren, Drew Weston, Deone Zanotto.
Also introducing the four talented boys who will share the dual role of Young Bobby Darin/Dodd Darin, Amon Prete, Hudson Sharp, Oscar Mulcahy and Lachlan Young.
An extraordinary story that goes far beyond the song, Dream Lover – The Bobby Darin Musical reveals the amazing life of this legendary American singer, songwriter and actor. An intimate and epic story of an all-round entertainer adored by his fans, Bobby Darin, together with his movie star wife Sandra Dee, provided the iconic soundtrack to a generation. The musical captures the glamour and passion of the big band era, the Rat Pack in Vegas and the Golden Age of Hollywood, a time of trail-blazing stars, knock-out fashions and life-changing events and includes, the show includes 34 great hits from the 50s and 60s including Mack The Knife, Beyond the Sea, Splish Splash and the multi-million-seller Dream Lover.  Dream Lover – The Bobby Darin Musical is a big show with a big score and a big heart.
Melbourne Reviews
"Spectacular. 4.5 Stars. Dream Lover hits all the high notes" Herald Sun 
"David Campbell is just perfect as the demanding and expansive lead role…Campbell nails it all with impeccable vocal chops and enough pathos to give Darin a human edge rather than remain a stock theatre character." Herald Sun 
"A fantastic show, a winner, a truly great production" 3AW
 "A brilliant story with brilliant music and a brilliant cast" Noise 11 
"Campbell is in supreme form throughout, managing the epic role with finely calibrated control and seemingly tireless lungpower…he deserves every plaudit for this superb performance, which is a chief attraction of the show." Simon Parris: Man in Chair
Don't miss Dream Lover – The Bobby Darin Musical, a true story stranger than fiction and far beyond the song. 
dreamlover.com.au
@dreamloverAU