Events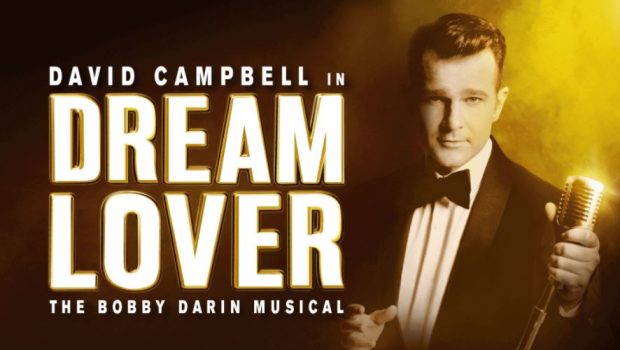 Published on June 18th, 2017 | by Admin
DREAM LOVER – THE BOBBY DARIN MUSICAL – PRINCIPAL CAST ANNOUNCED
Producer John Frost today announced the casting of the principal roles in Melbourne's summer musical Dream Lover – The Bobby Darin Musical, which plays at Arts Centre Melbourne from December 29th for a strictly limited season. Joining David Campbell who plays Bobby Darin is Hannah Fredericksen playing Sandra Dee, Bobby Darin's wife.  Starring alongside them will be Marina Prior, Marney McQueen, Rodney Dobson and Martin Crewes in the extraordinary story of the Grammy award-winning singer and Oscar nominated actor, Bobby Darin.
Tickets go on sale to the general public on Friday 23rd June at dreamlover.com.au
Dream Lover – The Bobby Darin Musical produced by John Frost and John and Barbara Gilbert of Gilbert Theatrical, will be the first musical celebrating the return of the summer musical at Arts Centre Melbourne. Dream Lover – The Bobby Darin Musical had its world premiere at the Sydney Lyric Theatre late last year and audiences fell in love with this new Australian hit.
"We're thrilled to be bringing Dream Lover to Melbourne as the first in the new annual summer musical presentation at the Arts Centre. Audiences in Sydney were awe-struck by the incredible performance of David Campbell as Bobby Darin and we are delighted Hannah Fredericksen will return as the stunning Sandra Dee. We are also very excited to welcome the one and only Marina Prior to the cast along with Rodney Dobson who join other returning principal cast Marney McQueen and Martin Crewes. We cannot wait for Melbourne audiences to be blown away by this magnificent cast and to experience this awe-inspiring production." commented John Frost, on behalf of his co-producers John and Barbara Gilbert.
Returning to the role of Sandra Dee is Hannah Fredericksen. Fredericksen recently starred as Olivia Newton-John in the hugely successful TV mini-series Molly, and on stage in the new Australian musical Ned, A New Australian Musical and the Green Room nominated production of City of Angels.
Joining the cast for the Melbourne season is Australian musical theatre royalty Marina Prior. Marina who most recently was praised for her leading role in The Production Company's Hello Dolly, will play the dual roles of former showgirl Polly, Bobby Darin's mother (who is revealed to be his grandmother), and the ambitious, cut throat Mary Douvan, Sandra Dee's mother.
In the role of Nina, Darin's sister (later revealed to be his actual mother), will be Marney McQueen. McQueen played Marion in the original cast of Priscilla, Queen of the Desert the Musical, the devious Velma Von Tussle in Hairspray the Musical and the evil Queen Zeena in Cat Stevens' Moonshadow.
Fresh from the Australian tour of My Fair Lady, Rodney Dobson will play Charlie, the partner of Nina, a warm father figure to Darin. Most recently Rodney also featured in Singin' in the Rain and Les Misérables as well as having starred in many Australian theatre productions including Wicked, Annie, Sunset Boulevard, Dirty Rotten Scoundrels, Moonshadow, Sweeney Todd, Buddy and South Pacific.
Martin Crewes will play Steve Blauner, Darin's oldest friend, biggest fan and longtime manager. Crewes has performed leading roles in Australia, America, the UK and Asia, enjoying a successful career in film, theatre and television. His musical credits include GFO's Doctor Zhivago and South Pacific, Guys and Dolls, Chess, Hair, Joseph and the Amazing Technicolour Dreamcoat, Aspects of Love and most recently Hayes Theatre Co's award winning production of Sweet Charity.
An extraordinary story that goes far beyond the song, Dream Lover – The Bobby Darin Musical reveals the amazing life of this legendary American singer, songwriter and actor. An intimate and epic story of an all-round entertainer adored by his fans, Bobby Darin, together with his movie star wife Sandra Dee, provided the iconic soundtrack to a generation. The musical captures the glamour and passion of the big band era, the Rat Pack in Vegas and the Golden Age of Hollywood, a time of trail-blazing stars, knock-out fashions and life-changing events.
Dream Lover – The Bobby Darin Musical is a big show with a big score and a big heart. Based on an original concept and stage play by Frank Howson and John-Michael Howson, and adapted for the stage by Frank Howson with Simon Phillips and Carolyn Burns, the show includes 34 great hits from the 50s and 60s including Mack The Knife, Beyond the Sea, Splish Splash and the multi-million-seller Dream Lover.
Audiences and media acclaimed the premiere season of Dream Lover. The Sunday Telegraph said, "Turning in a phenomenal performance, (David) Campbell is the charismatic heart and anchor of Dream Lover … Brian Thomson's glittery black set, studded with arching lights, puts the superb 18-piece big band on stage. Tim Chappel's wonderful costumes capture the period, as does Andrew Hallsworth's snappy, inventive choreography. Simon Phillips' slick direction keeps things moving seamlessly and he is well served by a terrific cast." Broadwayworld.com said, "Australia…can rival anything Broadway or the West End can produce" and The Australian raved about "a thrilling 18-piece band".
Don't miss Dream Lover – The Bobby Darin Musical, a true story stranger than fiction and far beyond the song. 
dreamlover.com.au
@dreamloverAU