Comics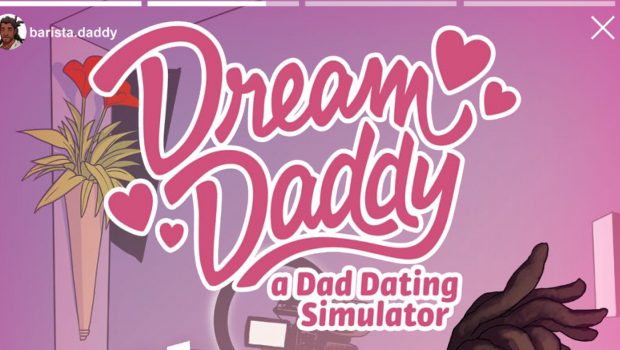 Published on November 21st, 2018 | by Chris O'Connor
Dream Daddy #3 Comic Review
Summary: The Coffee Spoon could do with some fresh marketing, fortunately Robert's just the man for the job.
As with most people, I first came across Dream Daddy via Steam's Discovery Queue… though I haven't had a chance to play it… I did find it curious. Flash forward some time and the chance to review a comic based on the game pops up and I figure why not. The setup for this particular issue is that Mat wants to boost sales at the Coffee Spoon cafe via an ad, lucky for him Robert is just the man who can shoot that ad. But when you have friends like the Dad's of Maple Bay… chances are nearly everyone will want to chip and help.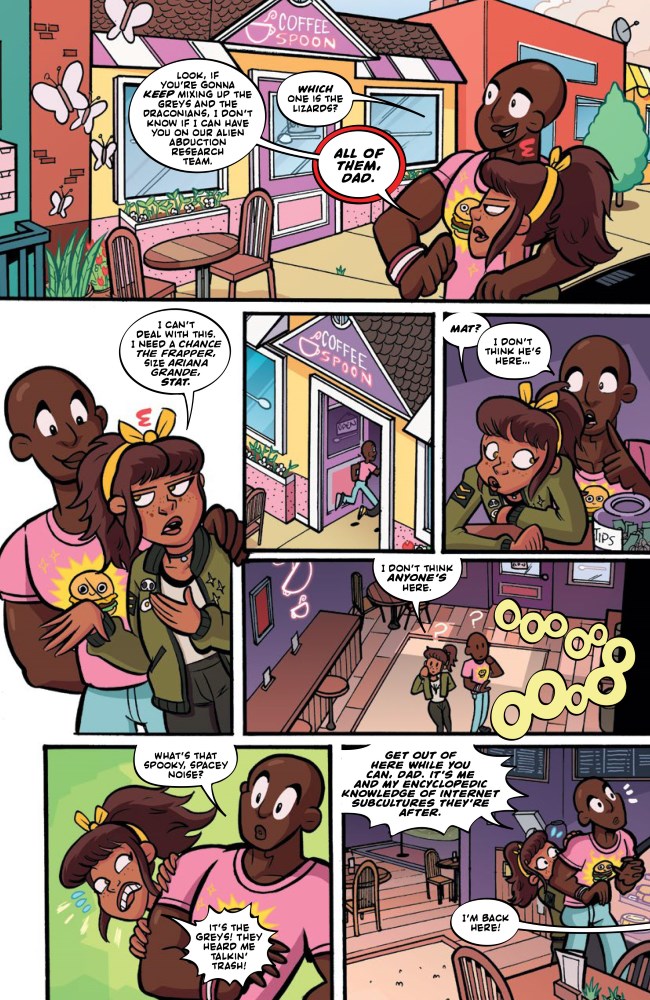 Writing
The writing is pretty rapid fire… it gives the feeling of a snappy paced sitcom with the back and forth between characters. Furthering that sitcom feel is the exaggerated characters, the length of the comic somewhat necessitates each of the distinct characters being hyped up just a touch to convey their personalities in the limited story space. The result is a somewhat over the top, but fun story that is full of quips and yet still maintains a heart. Perhaps the biggest benefit of this series focusing on Dads is the ability to fill the pages with Dad jokes… ok maybe not fill the pages… but the odd few are thrown in there.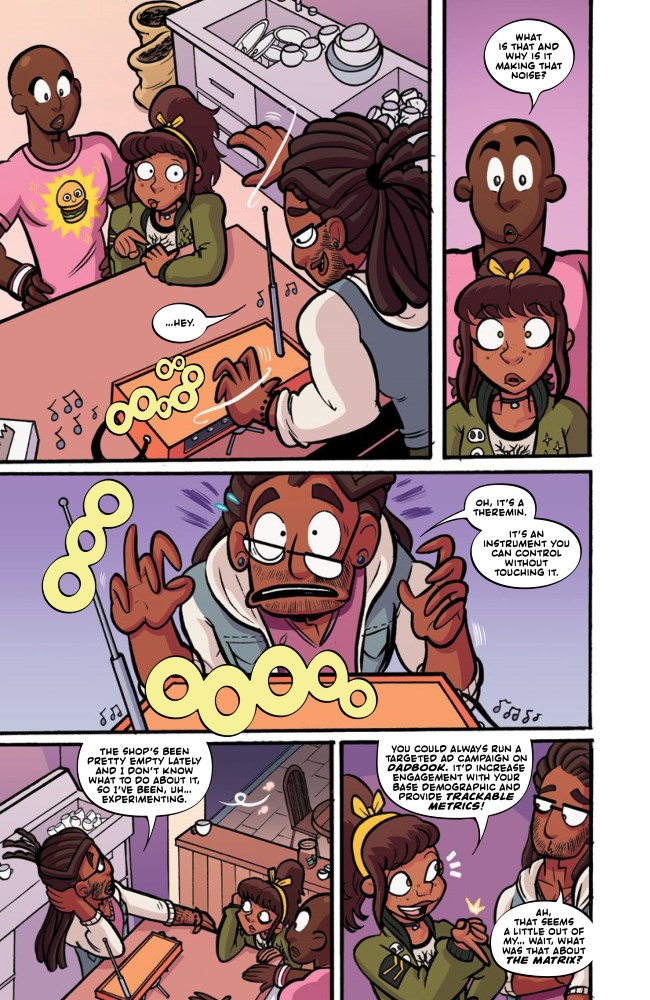 Artwork
Just like the writing, the artwork is pretty full on and panels generally don't have much space left after all the action that is packed into them. The art style is playful and the colours are quite bold and with so much action squeezed into each panel, those colours work wonders to help prevent things getting messy of confusing.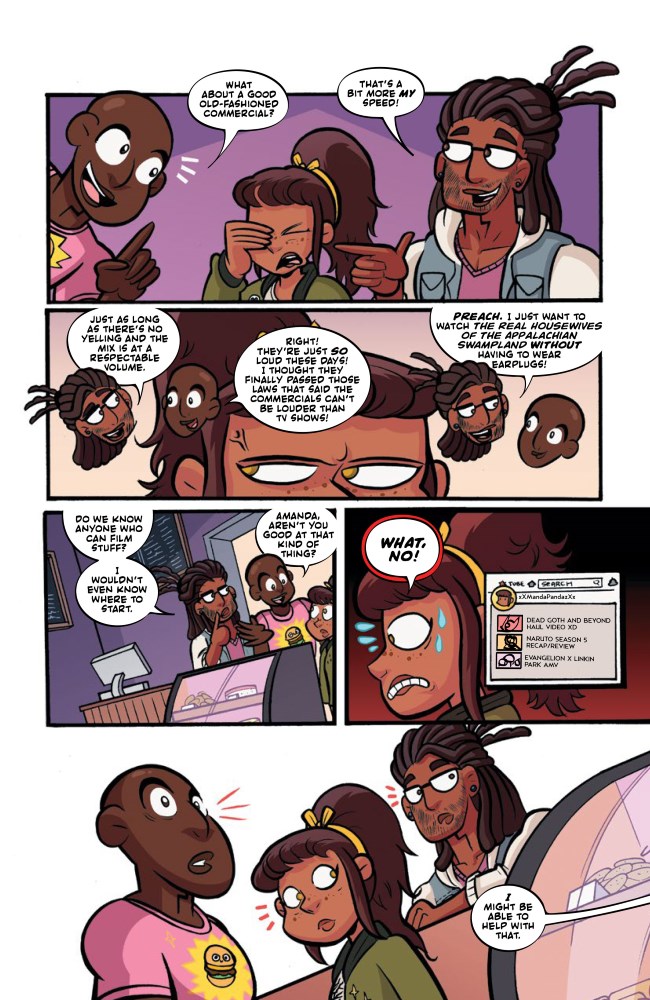 Final Thoughts
It's nice seeing such variety in intellectual properties these days and as acceptance of different lifestyles and peoples increases we get to see more and more representation. But not everything has to have a message and arguably Dream Daddy #3 doesn't really have a message to it… it just wants to have a bit of fun and show a collection of people with their own unique personalities existing in their own (arguably exaggerated) world. Some pop culture references, obligatory dad jokes and a decent helping of heart make this a nice easy going comic to pick up.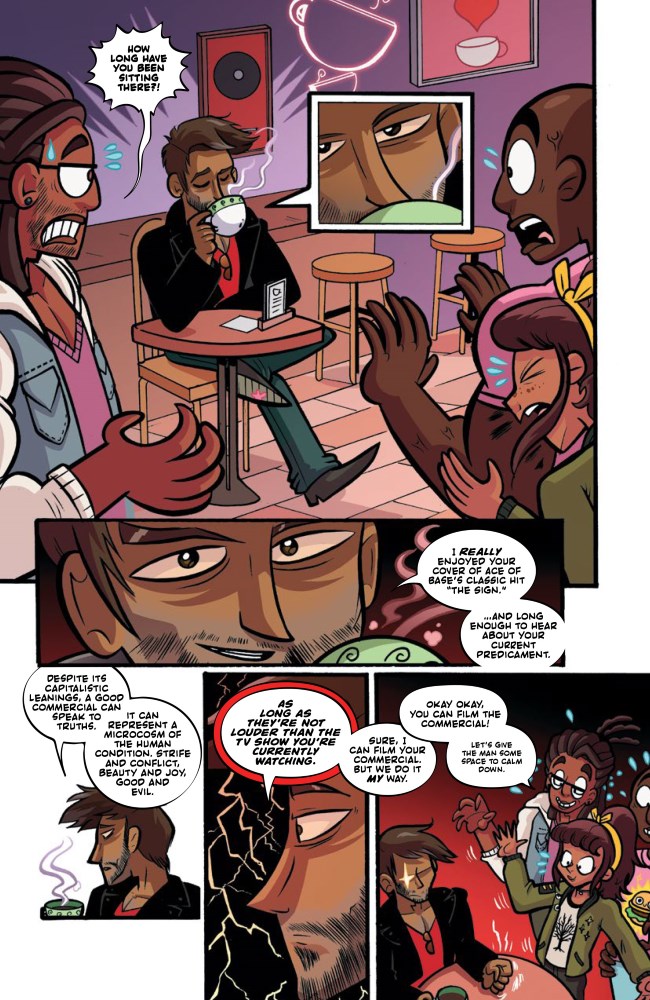 Publisher: Oni Press
Writer: Leighton Grey, Vernon Shaw
Artist: Jarrett Williams
Colourist: Jeremy Lawson
Cover Artist: Kris Anka
Genre: Romance, LGBTIQ+, Humour
Format: 20pgs, FC
Release Date: 24th October, 2018