Games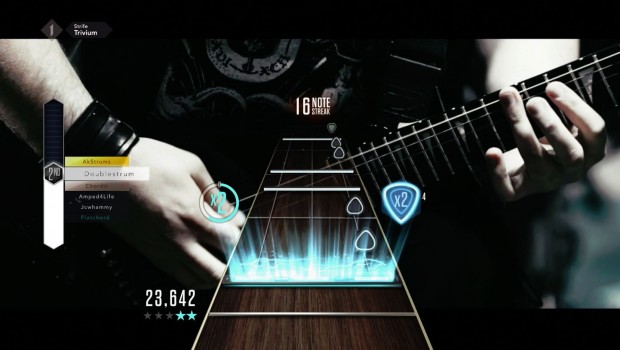 Published on February 4th, 2016 | by Admin
DragonForce Officially Debuts in Guitar Hero Live with 5-Day Shred-A-Thon
Beginning today on the console versions of the game, fans can join a special, can't-miss marathon event featuring the toughest songs in GHTV with the chance to win special prizes and more 
February 4, 2016 – Activision Publishing, Inc. and FreeStyleGames today announced the Guitar Hero Live SHRED-A-THON, a special 5-day marathon that includes the highly anticipated debut of Through the Fire and Flames by DragonForce. The Shred-a-Thon is live now on a special third channel in GHTV, and runs until Monday, February 9th 2:00 AM AEDT.
"The Guitar Hero community is the lifeblood of the game, so we knew we had to do something huge to bring back one of the most beloved songs of all time," said Jamie Jackson, Creative Director and Co-Head of FreeStyleGames. "Everyone at the studio has fond memories with Through the Fire and Flames, so we decided to take it up a notch and combine it with the toughest songs in the game hand-picked by us to create the ultimate challenge: a five-day shredder marathon. It's time to crank it up to expert difficulty and show us what you got!"
The Shred-a-Thon playlist includes the following tracks on repeat:
DragonForce – Through the Fire and Flames
Alter Bridge – Cry of Achilles
Megadeth – Hangar 18
Lamb of God – Ghost Walking
Trivium – Strife
Once the marathon concludes, Through the Fire and Flames will be added to the game's regular song catalogue.
Every song in the Shred-a-Thon is also Rival Challenge-enabled*, which means players have the option of competing against matchmade players in a head-to-head battle during each song.
Additionally, fans can tweet the @GuitarHero Twitter account with a screenshot of their Shred-a-Thon scores for a chance to win in-game prizes, including an exclusive marathon Player Card and song play tokens, as well as Gold Guitar Hero Live Controllers, Guitar Hero Live t-shirts and more.**
Since the launch of the game, lots of new music has been added to GHTV, including recent additions from Def Leppard, Fall Out Boy, The Strokes, Weezer, The Dead Weather and many more.