Games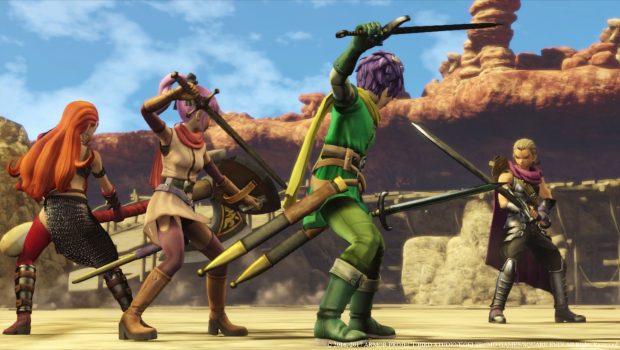 Published on April 28th, 2017 | by admin
DRAGON QUEST HEROES II AVAILABLE NOW ON PLAYSTATION®4 SYSTEM AND STEAM
Iconic DRAGON QUEST Heroes Band Together in Action-RPG Sequel

SYDNEY, 28TH April 2017 – The fight to restore peace in the Seven Realms begins today in DRAGON QUEST HEROES™ II, the action-RPG derived from the beloved DRAGON QUEST® videogame franchise and the anticipated follow-up to 2015's DRAGON QUEST HEROES. Developed by KOEI TECMO (creators of NIOH™), the title brings back the charming characters, engaging music and deep role-playing mechanics that fans know and love about DRAGON QUEST. The game also adds new and exciting features including multiplayer, an interconnected single player world, the ability to play as iconic monsters and more.
With artwork and designs by world-renowned artist Akira Toriyama, DRAGON QUEST HEROES II will also offer players access to the series' most expansive roster yet, with 15 playable heroes both new and old in Story Mode including newcomers Lazarel and Teresa and fan-favorites from DRAGON QUEST IV, DRAGON QUEST VI, DRAGON QUEST VII, DRAGON QUEST VIII and more. Eight additional characters will also be playable in the series' first-ever multiplayer mode, where up to four players can band together online to vanquish hordes of monsters in Dimensional Dungeons and story-driven battles called War Zones.
DRAGON QUEST HEROES II will feature more customization options than ever before with a diverse selection of skills, weapons and accessories for players to choose from, and even deeper gameplay through a new and improved "Monster Medal" system where heroes can not only summon but also transform into iconic DRAGON QUEST monsters to help turn the tide in battle.
DRAGON QUEST HEROES II is now available for the PlayStation®4 computer entertainment system and STEAM®.
Story: 
After a thousand years of peace, the Seven Realms suddenly collapse into conflict as if guided by a mysterious and malicious force. Now, players must lead a band of powerful heroes in a quest to defeat evil and save the war-torn world.
About the Game: 
DRAGON QUEST HEROES II is a hack-and-slash, field-roaming Action RPG that sends players on a new adventure to restore order in a once peaceful world filled with hordes of monsters and battles of epic proportions. Up to four players can band together in cooperative multiplayer to conquer swarms of enemies and defeat challenging boss monsters. There is also a cast of many playable characters each with unique moves and abilities – including a host of familiar faces from the DRAGON QUEST series and four brand-new heroes that must team up to defeat an unknown threat looming over the Seven Realms.