Games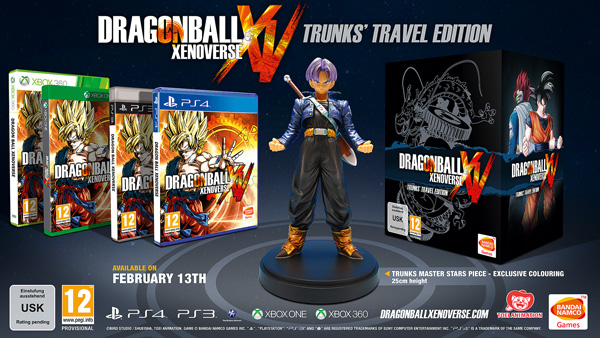 Published on October 24th, 2014 | by admin
DRAGON BALL XENOVERSE COLLECTOR'S EDITION AND PRE-ORDERS ANNOUNCED!
SYDNEY, AUSTRALIA – October 24, 2014 – BANDAI NAMCO Games today announce that DRAGON BALL XENOVERSE will be getting special editions for its biggest fans pleasure! The fighting game – coming on STEAM®, PlayStation®4, PlayStation®3, Xbox One and Xbox 360 – is developed by the famed Japanese studio DIMPS, the team behind DRAGON BALL Z: Budokai games.
Fans pre-ordering the game on either PlayStation®4, PlayStation®3, Xbox One and Xbox 360, will get several unique items for free! (These won't be sold afterwards):
An amazing Shenron Black Metalcase
Super Saiyan 4 Vegeta as a Playable Character
2 exclusive Frieza Soldier's Battle Suites to customize the players' Avatars: Gold & Crystal versions!
To celebrate this new DRAGON BALL game in the best possible way, players will also be able to get their hands on a limited Collector's Edition – " Trunks' Travel Edition" (Consoles only), containing:
DRAGON BALL XENOVERSE Full-Game
TRUNKS MASTER STARS PIECE 25cm's Figurine (Exclusive Colouring)
Watch the DRAGON BALL XENOVERSE Trunks' Travel Edition trailer at: http://youtu.be/fbHXKACl2lY
With gameplay taking the licence back to its roots, BANDAI NAMCO Games and DIMPS are proud to reveal a brand new mode where fighters will be able to gather and show who is the strongest warrior of the universe: the World Tournament aka the Budokai Tenkaichi! This brand new mode will be accessible through Toki Toki City and will allow players to take part into a massive frenzied brawl and crown a champion for special rewards! Will the players' Avatars be strong enough to take down long-running Champions such as Hercule and Tien or fans' favourite returning characters: Vegito, Goku in his Super Saiyan 3 and Super Saiyan 4 forms?!
DRAGON BALL XENOVERSE will be available in Australia and New Zealand for the PlayStation®4 computer entertainment system, Xbox One, the all-in-one entertainment system from Microsoft, PlayStation®3 computer entertainment system, the Xbox 360 games and entertainment system from Microsoft on 12th of February and on 17th of February for STEAM®.
For the latest DRAGON BALL XENOVERSE updates please go to: www.DragonBallXenoverse.com. For more information about BANDAI NAMCO Games' entire line up, go to www.BandaiNamcoGames.com.au