Blu-ray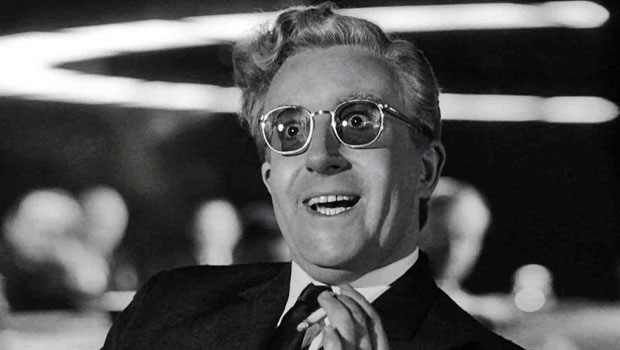 Published on May 22nd, 2016 | by Simon Black
Dr Strangelove Blu-ray Review
Summary: 'Gentlemen, you can't fight in here! This is the war room!'
The enduring and darkly hilarious Dr Strangelove is far and away Stanley Kubrick's most satirical film, managing to strike a deft balance between cynicism and comedy, and stands as one of the cinematic gems of its decade.  Actually, who are we kidding: it's the cinematic gem of its decade.  Of all the films touted as masterpieces, few are so richly deserving of the title as this.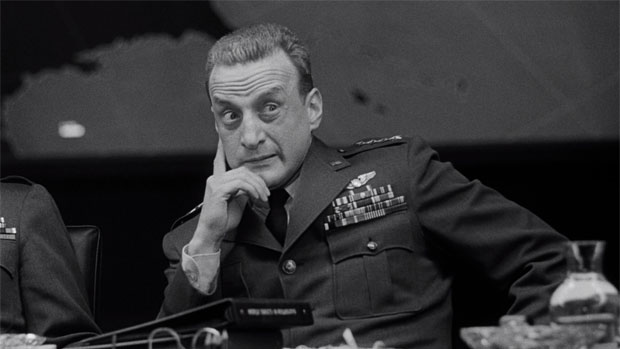 A scathing lampooning of the Cold War and the military powers behind it, Strangelove proved the perfect vehicle for the talents of legendary comic Peter Sellers, who plays no less than three roles – beleaguered British army officer Captain Mandrake, who must attempt to avert a nuclear holocaust by negotiating with the unhinged General who initiated it; the American President, who spends most of his time hunkered down in the aforementioned war room discussing what to do in the event the catastrophe cannot be curtailed; and the alternately-sinister-and-hilarious wheelchair-bound Nazi scientist Dr Strangelove, who, assuming he can avoid being strangled by his own hand long enough to espouse it, might just have a plan.
Marked by Kubrick's flawless cinematography and unerring eye for detail (his recreated B-52 bomber interiors were said to have impressed even the hobnobs at NASA and the United States Air Force, which had refused him permission to film aboard a real B-52), the film is further bolstered by career-defining performances from George C. Scott as the excitable General Buck Turgidson, Sterling Heydon as the calmly maniacal General Ripper, in whose hands the fate of humanity rests, and Slim Pickens as the Texan Air Force Major charged with delivering the payload (his role was also intended for Sellers, who had to pull out when a sprained ankle meant he was unable to comfortably access the cockpit for filming).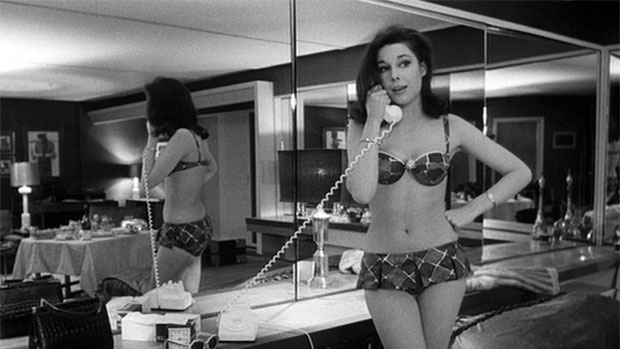 Although Kubrick was formerly a prolific filmmaker, following the release Dr Strangelove in 1964 the notorious perfectionist went on to direct a mere six films over the next four decades, namely 2001: A Space Odyssey (1968), A Clockwork Orange (1971), Barrie Lyndon (1975), The Shining (1980), Full Metal Jacket (1987) and Eyes Wide Shut (1999).  Perhaps the effort of helping NASA fake the moon landings had taken its toll.
Whatever the reason, the film stands as something of a dividing point in the Kubrick oeuvre: henceforth his filmmaking efforts would result in psychologically-complex, symbology-laden visual extravaganzas which were designed to be experienced as much as watched and which lent themselves both to multiple viewing and multifaceted readings.  Co-written with Terry Southern and Peter George, upon whose novel Red Alert it is loosely based, Dr Strangelove contains many moments of sheer cinematic perfection and remains one of Kubrick's most enjoyable and perfectly-realised films.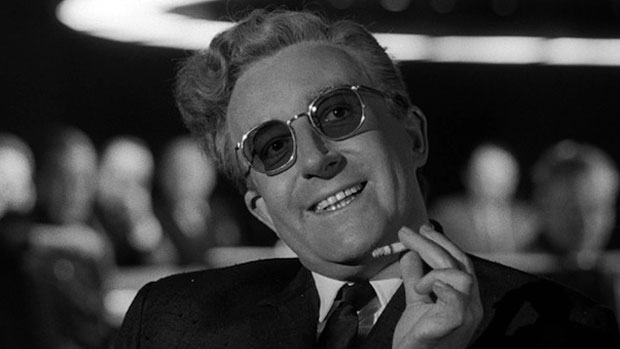 Special Features
Picture-in-Picture and Pop-up Trivia Track
No Fighting in the War Room (30 mins)
Inside Dr Strangelove (48 mins)
'Best Sellers' or Peter Sellers and Dr Strangelove (18 mins)
The Art of Stanley Kubrick: From Short Films to Strangelove (14 mins)
An Interview with Robert McNamara (24 mins)
Period Promotional Interviews with Sellers and Scott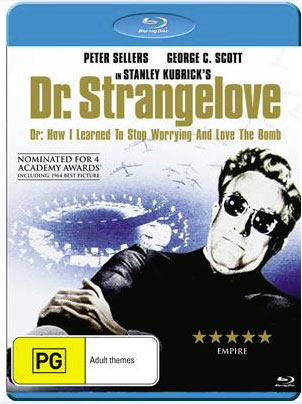 Blu-ray details
Director – Stanley Kubrick
Actors – Peter Sellers, George C. Scott, Sterling Hayden, Keenan Wynn, Slim Pickens, James Earl Jones
Film Genre – Comedy
Label – Via Vision Entertainment
Running Time – 95
Aspect Ratio – 1.66:1
Region Coding – B (Blu-Ray)
TV Standard – PAL
Rating – PG
Year of Release – 1964
Primary Format – Movies/TV – Blu-Ray