Comics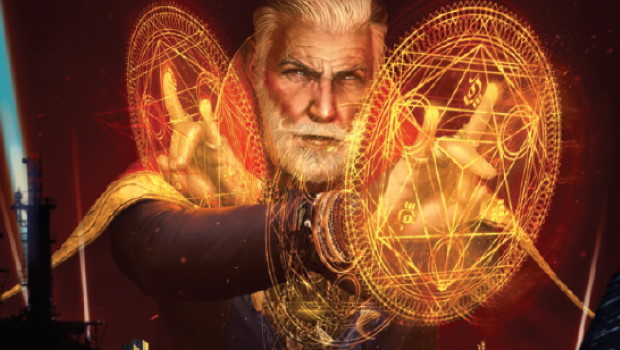 Published on February 5th, 2020 | by Chris O'Connor
Dr Strange The End (2020) #1 Comic Review
Summary: Finding himself in a cyberpunk future that has all but forgotten himself and his kind, Dr Strange sets off on one last quest.
Dr Strange, The Sorcerer Supreme finds himself in a future in which magic is all but forgotten. The world around him is awash with technology, science reigns and people seem to no longer have an interest or even recollection of the magical arts. In a world such as this, there is only one thing left for Dr Strange to do… and that's to make a final journey.
Writing
What a world for Dr Strange to find himself in… the man whose origin was so heavily rooted in science that the mere notion of magic was practically a joke, now finds himself surrounded by the trappings of science and technology while he holds out as the last glimmer of magic use and understanding. That alone would be quite compelling to read, but Leah has brought her comedic skills to the title and peppers lines throughout that are bound to get you chuckling. But it's not all magic tricks and giggles. There are (what I guess should be expected given the concept of these one shots) some real heartfelt moments as well.
Artwork
The general feel I got of the art was a very 1991 Aeon Flux animation vibe. There's nothing wrong with it, but I'm mindful that it might not be to everyone's taste as it is somewhat stylized. While the writing certainly carries the weight of the humour, the artwork does some wonderful work in selling the gags as well, particular the scenes in the snowy wilderness. Once again I have to draw attention to R Rahzzah's fantastic cover art, a beautiful cyberpunk city standing below what (arguably fittingly) appears a little bit like a Jeff Bridges (circa Tron Legacy) version of Dr Strange with some lovely colouring.
Final Thoughts?
I really enjoyed this one shot. It took me a little to get my bearings but once I did it was a fun ride with some great humour laced throughout. As with others in this collection of "The End" titles, there is a kick to that pulsing red muscle in the chest… but it's such a lovely one that you don't mind the emotional twitch it may cause. A great standalone title that is worth a read.
Publisher: Marvel
Writer: Leah Williams
Artist: Filipe Andrade
Cover Artist: R Rahzzah
Genre: Superhero
Format: 32pgs, FC, Oneshot
Release Date: 29th January, 2020