Comics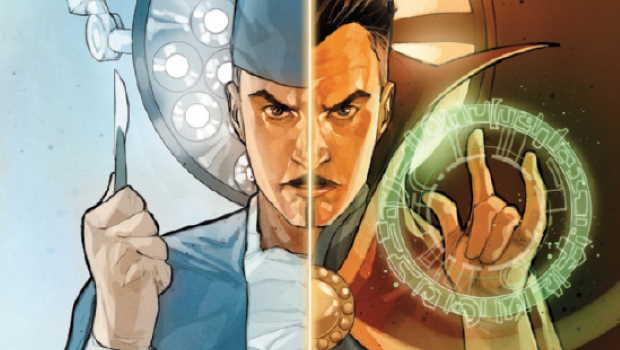 Published on January 4th, 2020 | by Chris O'Connor
Dr Strange: Surgeon Supreme #1 Comic Review
Summary: With his hands restored, Dr Strange can once again perform neurosurgery, but how can he split his time between being a Doctor and being the Sorcerer Supreme?
To think, when I was young I used to quite like Mandrake. Not that there is anything wrong with Mandrake, but compared to Dr Strange, he kind of seems like a children's entertainer. Dr Strange: Surgeon Supreme begins with the revelation that Dr Strange has made a deal to regain the use of his hands and as such he can again perform neurosurgery. But with the demands of being a doctor and being earths Sorcerer Supreme being so high, can he manage the two? If two emergencies arise, one of magic and one of surgical nature, how can he choose which to see to?
Writing
For all those people who thought they had trouble juggling their work life balance, Mark has decided to show them what it would be if you had to juggle your medical, magical life balance and I don't think anyone reading wants to be put in that position. It's certainly an interesting path to take Dr Strange on, giving him back the use of his hands, restoring his ability to once again show his talents in the operating theatre. But he also remains earths Sorcerer Supreme and the demands of that job can be just as unpredictable and time consuming. So what's the good doctor to do? Mark has laid the ground work for us to find out just how much trouble the Doctor could be getting himself in for.
Artwork
To get a good sense of the quality of the art in this issue, have a look at the first few pages, then flick to the last few pages (try not to read anything or look too hard or risk spoilers… but notice the tones and colour choice). There is a distinct mood change that happens through this comic and it's brilliantly done. There's a division that effectively splits Dr Strange's two worlds, the world of the E.R. and the world of magic and the threat of the foes that brings. The way it's portrayed here, certainly after you've read the last few pages, makes you feel somewhat safe at the beginning. The halls of the hospital, whilst filled with people in pain and suffering, have somewhat of a protective feel to them as if being inside them means at least you are close to help. Once we venture outside, things start to look dark and menacing and the "safety net" seems to have gone.
Final Thoughts
I'm curious to see how long Dr Strange can continue living a double life, my guess is not long. I have trouble managing the vents of a day with just family about… I can't imagine the strain of trying to balance high precision surgery and the need to see off invading forces. If you'd like to see where the Dr is headed this year, you need to grab this issue… it starts with a bang!
Comic Details
Publisher: Marvel
Writer: Mark Waid
Artist: Kev Walker
Cover Artist: Phil Noto
Genre: Superhero
Format: 24pgs, FC, Ongoing
Release Date: 26th December, 2019