Games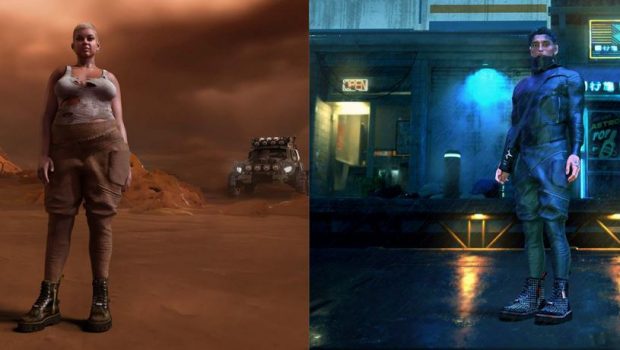 Published on November 16th, 2023 | by Adrian Gunning
DR. MARTENS X WARNER BROS. 100TH ANNIVERSARY
MARTENS REUNITES WITH WARNER BROS. DISCOVERY TO CELEBRATE STUDIO'S 100TH ANNIVERSARY FOR A COLLECTION THAT PAYS HOMAGE TO THE ICONOGRAPHY OF BLADE RUNNER & MAD MAX: FURY ROAD 
Vengeance. Solidarity. Redemption. Dystopian films have captured the collective imagination for decades — with humanity reflected in alternative futures. Our latest collaboration with Warner Bros. Discovery Global Consumer Products pays tribute to the enduring iconography of Blade Runner (1982) and Mad Max: Fury Road (2015) as Warner Bros. celebrates 100 years of storytelling since 1923. 
Our first collaboration with Warner Bros. Discovery Global Consumer Products in 2022 was a nostalgic celebration of 80s outsider stories — brought to life on Docs boots and shoes, which have been championed by those who rejected the mainstream in favour of unapologetic individuality. This time, our silhouettes provide an alternative canvas for the dystopian imagination of Blade Runner (1982) and Australia's Mad Max: Fury Road (2015). The five-piece collection spans our 1460 boot, Jadon boot, and Reporter bag — all adorned with enduring iconography from each film.
Frenetic, heavy-metal mayhem. Iconic Australian film, Mad Max: Fury Road, was an immediate cult sensation: brutal, unrelenting, and visually arresting. The Jadon Mad Max boot is a chrome-plated rework of our most recognisable platform boot. Built from supple, waxy Orleans leather and stamped with a metal plate in the shape of Immortan Joe's skull emblem, with a matching zip pull. The upper is printed with a skeleton arm and fitting with a chain threaded with red rubber. The laces are secured with gear-inspired eyelets and a gunmetal facemask charm.
The 1460 Mad Max: Fury Road boot is built from textured Old Harness leather punched with rivets and fitted with an all-over harness anchored by gold hardware. The laces are equipped with a spearhead lace charm printed with the Immortan Joe emblem, and the backstrap is printed with one of Nux's memorable quotes: WHAT A LOVELY DAY. Both Mad Max: Fury Road boots retain their signature Docs touches: tagged with a black and yellow heel loop and punched with yellow welt stitching.
Blade Runner is a neon-drenched cyberpunk noir set in Los Angeles in 2019. Claustrophobic and enigmatic, the film became a cult classic that inspired a generation. The futuristic rework of our Jadon boot is built from Smooth leather with a TecTuff heel, and the Docs signature heel loop and contrast welt stitching have been reworked in red. The boot is stamped with a large, moulded rubber Tyrell Corporation logo, also seen on the tongue, and embossed in the leather. The laces are fitted with a metal Tyrell Corp charm and an origami unicorn charm. Roy's haunting words, LIKE TEARS IN RAIN, are printed on the backstrap.
The 1460 Blade Runner boot is also built from our classic Smooth leather with a reflective grid print and a reflective tape strip on the backstrap. The boot is stamped with a moulded rubber Tyrell Corp patch and fitted with a matching lace charm and DM's dog tag. The welt is printed with LIKE TEARS IN RAIN, with a hidden message inside the side zip.
The collection includes a Blade Runner-inspired Reporter bag in an embossed version of our Smooth leather and robust TecTuff. The bag is stamped with the same moulded rubber Tyrell Corp patch, and the strap is tagged with an origami unicorn charm.
Dr. Martens x Warner Bros. 100th Anniversary drops Thursday 16th November06.11.2023 and will be available at drmartens.com drmartens.com.au and select partners.