Films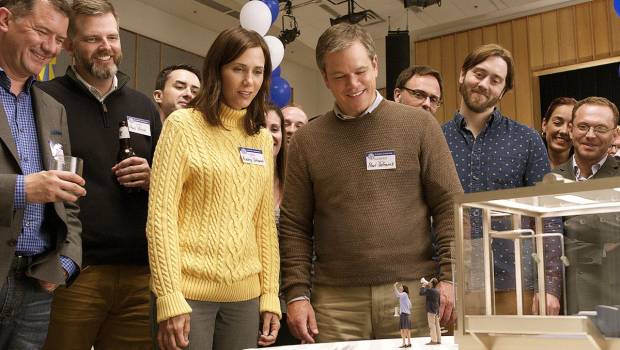 Published on December 23rd, 2017 | by Damien Straker
Downsizing – Film Review
Paramount Pictures presents a film by Alexander Payne
Produced by Megan Ellison, Mark Johnson, Alexander Payne and Jim Taylor
Written by Alexander Payne and Jim Taylor
Starring Matt Damon, Christoph Waltz, Hong Chau, Kristen Wiig and Jason Sudeikis
Music by Rolfe Kent
Cinematography Phedon Papamichael
Edited by Kevin Tent
Running Time: 135 minutes
Rating: M
Release Date: the 26th of December 2017
The distinguishing imprint of director Alexander Payne's impressive career has been to corner the market on humanist films that delicately balance self-depreciating comedy and slice-of-life drama. Few other filmmakers can deftly balance these contrasting tones. Payne's filmography (Election, About Schmidt, The Descendants, Sideways, Nebraska) has juggled these moods while focusing on flawed, ordinary men who feel dwarfed by their social problems and must resolve a crisis, usually involving family.
Payne's latest feature is Downsizing, an ambitious but uneven continuation of this thematic line. It marks the director's first foray into science fiction and special effects—although it's a social examination not a film embedded in classic sci-fi themes. Like Payne's previous films, it's dryly funny and occasionally touching in depicting newfound compassion in ordinary men. However, it has also become the subject of controversy. One of its major characters, an Asian woman, has been deemed a caricature and racist.
Alexander Payne himself is not a White-bred American. He was born in Omaha, US, but his family is Greek. He was married to Sandra Oh, a Canadian actress with Korean parents, for three years. While his films examine compassion from a White liberal perspective, it's without sentimentality and condescension. He believes flawed, selfish and privileged White men can overcome failure once they find compassion in their surroundings, which disproves the perception that White men are unscathed in Payne's work. Downsizing continues this transformation and is populated by a wide variety of nationalities in the film. Its cultural risks don't always succeed, but this is a criticism of the film not the director's values.
The film is about Paul (Matt Damon) who is living with his wife Audrey (Kristen Wiig) in Omaha, but is struggling to make ends meet. Paul resigned from becoming a doctor to care for his mother who soon passes away. His other friends (including Jason Sudeikis in a small role) live more successful lives and careers as well. The most significant world development though is that scientists have discovered a way to combat climate change by shrinking people down to five inches tall. This reduces wastage and creates a wealth lifestyle for tiny people because consumer goods are smaller and cost less.
Once Paul undergoes the scientific procedure under difficult circumstances, he meets two contrasting characters. The first is his selfish and annoying neighbour, Dusan (Christoph Waltz), who hosts wild parties with his friend Konrad (Udo Kier) in Paul's apartment block. The other character is a cranky, vulnerable woman named Ngoc Lan Tran (Hong Chau), an immigrant from Vietnam who was smuggled into the US and lost her foot. Paul tries to accommodate her and the wounded people in his new life, while avoiding Dusan's ridicule.
The first half of Downsizing is a lot of fun because Payne lays waste to the false notion that he's not an accomplished visual stylist—an underappreciated characteristic of his filmmaking. The special effects used to shrink the actors were designed by Industrial Light & Magic and are generally impressive, particularly for how they complement Payne's sarcastic humour. In one scene, Paul reluctantly signs a document and is dwarfed by the paper as he crawls over it. It takes upon on a monstrous quality that illustrates his insignificance. He's then asked if he could try and write bigger, which is funny.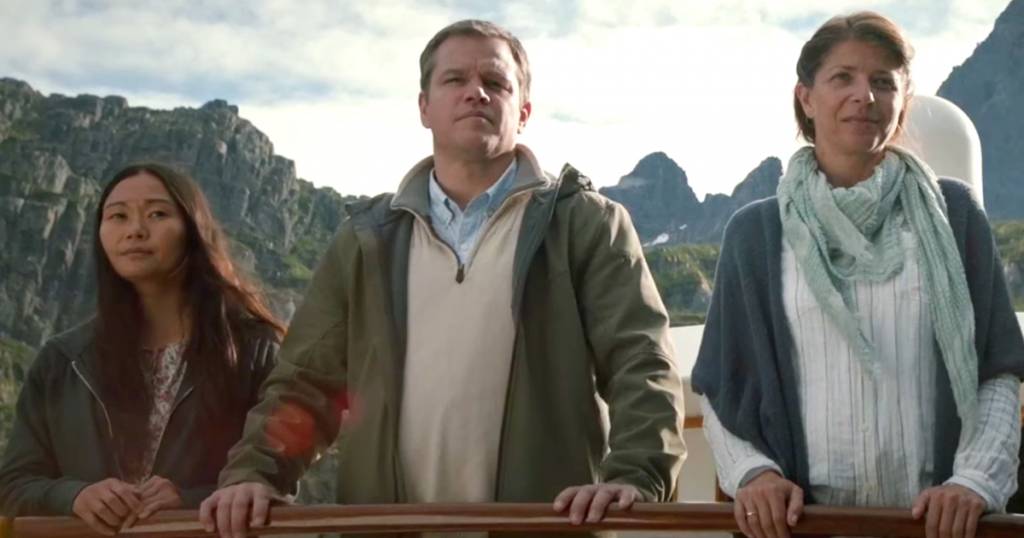 In another scene, an infomercial showcases the dream life if people undergo the shrinking procedure. The mansion is photographed like a doll's house and there are two funny celebrity cameos. Payne's thematic goal rests in satire: the false lustre of the American Dream where Middle Class people are geocentric and blind to what genuine struggles look like because of their aspirations. Exaggeration and verisimilitude are staples of the visuals, showing the science's ridiculousness, such as the scientists scooping up the miniatures with spatulas or holding a garbage bag of their entire waste. Meanwhile, the science facilities and the equipment also look tactile, which adds to the film's believability.
Unfortunately, Downsizing is unassured about its journey and developing its characters. Paul for example is less of a bastard than the flawed men in Payne's gallery. His characters are selfish or hateful, which immediately provides a clear trajectory of personal change to resolve their flaws. Paul is an ordinary, decent guy with money trouble, which doesn't give Matt Damon much personality besides not over or under playing Paul's ordinariness. Paul Giamatti was originally cast and would have added more texture. If this were truly vintage Payne, Dusan could have been the film's anti-hero. Christoph Waltz struggles to find any redemption in Dusan and is sometimes creepy. His friend Konrad cannot find a purpose in the script either.
The film's most divisive character is Ngoc. Its uncomfortable that this character speaks in broken English, but this also amplifies that she is an outsider. Some have argued that there's little character growth in her and she merely serves the development of a White male character. Yet it's also apparent that people like Paul live in a middle-class bubble until they see firsthand what real suffering looks like, which makes his growth necessary. Hong Chau is very skilful in creating a unique and troubling voice for Ngoc, and never shying from characterising Ngoc as bossy and impatient in dealing with Paul.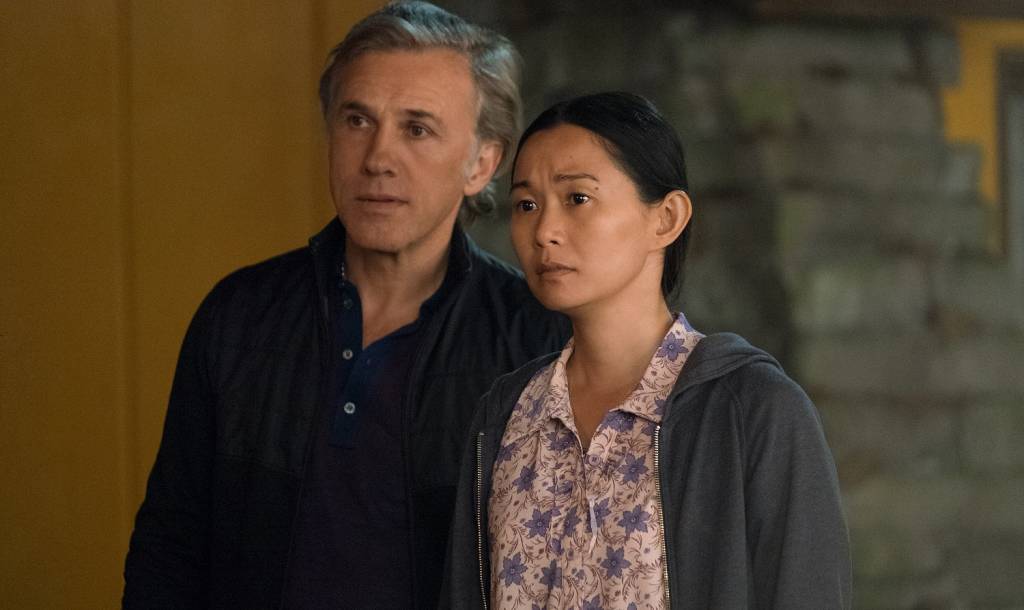 There's a visually affecting sequence where she and Paul leave the village and pass underneath a giant wall and into Mexico where people suffer in a rundown apartment block—its lightyears from the film's infomercial of a Disney-esque paradise. Ngoc has lost her foot and the people around her are sick and dying. Payne's aims are understandable: to underline how White Americans are privileged and insulated from seeing actual poverty. Perhaps he's reflecting on his own upbringing and privilege as he grew up in Omaha, in the same neighbourhood as billionaire Warren Buffet. The wall is arguably Payne's way of happily raising his middle-finger to Trumpism, which is a good thing.
Less defendable is the film's bizarre last quarter where the group travel by boat to a strange Norwegian village. Is this comical or earnest? It takes too long for the film to start this journey and it doesn't make sense why people like Dusan would go on this journey with Paul. Some of it is funny, such as when Paul plays the bongos, but it doesn't work. Paul's dilemma asks whether it's better to concede that the planet is currently doomed by climate change but will be renewed, or whether "small" perpetual actions, such as bringing people food, is a modern necessity. The script's arching idea is that the world is populated by people who feel emotionally smaller than you because of far graver social problems. Size is relative in this world. The screenplay's disjointedness is attributable to Payne and his writing partner Jim Taylor starting this project between The Descendants and Nebraska but delaying its conception.
For all of Downsizing's faults, I was rarely bored. It holds your attention for over two hours, which dispels the disappointment of it not capitalising on its original sci-fi concept. It would have been more vivid to see the smuggling trade of tiny goods rather than have characters talk about it for example. Nonetheless, the first half of the film showcases Payne's accomplished visual stylisations. The second half is weaker, and its liberal White lens deserves some criticism. Yet Payne remains a sincere filmmaker, who thankfully counters mawkishness with dry humour. Hopefully these qualities will continue when he returns to making small, naturalistic films. Next time he should focus on a subject besides flawed men of Middle America because he's thoroughly explored these themes. There are 'smaller' people whose problems deserve greater magnification.
Summary: The script's arching idea is that the world is populated by people who feel emotionally smaller than you because of far graver social problems. Size is relative in this world.