Films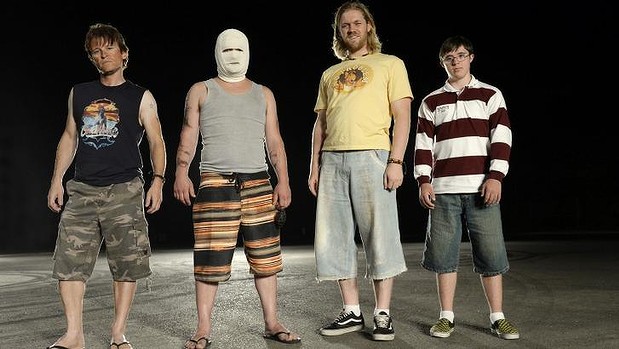 Published on June 5th, 2016 | by Damien Straker
DOWN UNDER Announced for Centrepiece Gala – Studiocanal Media Release
Melbourne International Film Festival announced filmmaker Abe Forsythe's second feature film, DOWN UNDER, will screen as the prestigious Centrepiece Gala at the 2016 edition of the festival.
A black comedy set during the aftermath of the Cronulla riots, DOWN UNDER is the story of two carloads of hotheads from both sides of the fight destined to collide. Sincere, though misguided, intent gives way to farcical ineptitude as this hilarious yet poignant story of ignorance, fear and kebab-cravings unfolds, and what was meant to be a retaliation mission turns into something neither side could have imagined.
The official selection of DOWN UNDER was announced as part of the Melbourne International Film Festival 2016 first-look program released this morning. The prestigious Centrepiece Gala celebrates Australian films and marks the mid-way point in the annual eighteen-day event. Melbourne International Film Festival Director Michelle Carey said, "We are delighted to have DOWN UNDER as our Centrepiece Gala film this year at MIFF and congratulate Abe Forsythe and the filmmaking team on this wonderful movie. The film is punchy, thoroughly entertaining and thought-provoking at the same time, with a terrific ensemble cast."
On the official selection of DOWN UNDER as the Centrepiece Gala film at the Melbourne International Film Festival, Forsythe responded, "I'm thrilled that DOWN UNDER has been given the Centrepiece Gala. MIFF has long been one of my favourite film festivals to attend, so it means a great deal to me to be given such a prestigious slot."
This announcement follows that of the Sydney Film Festival, which will host the World Premiere of DOWN UNDER of June 15.
DOWN UNDER stars Lincoln Younes (Hiding, Love Child Season 2), Rahel Romahn (Underbelly: The Golden Mile, The Combination), Damon Herriman (The Water Diviner, The Little Death, Justified), Michael Denkha (The Combination, Stealth), Fayssal Bazzi (Crownies, Cedar Boys), Alexander England (Gods of Egypt, Power Games: The Packer-Murdoch Story), Justin Rosniak (Animal Kingdom), Harriet Dyer (Love Child, Janet King) and introduces Christopher Bunton. It also features Josh McConville, Dylan Young, Christiaan Van Vuuren, Anthony Taufa along with Marshall Napier (The Water Horse, Babe) and David Field (Last Cab to Darwin, The Rover, Chopper).
Presented by Screen Australia, DOWN UNDER is a Wild Eddie Production, in association with El Guapo Films and Emu Creek Pictures, produced in conjunction with STUDIOCANAL. Written and directed by Abe Forsythe, produced by Jodi Matterson and executive produced by Greg McLean.
DOWN UNDER will release in cinemas on August 11, distributed by STUDIOCANAL Australia.