Events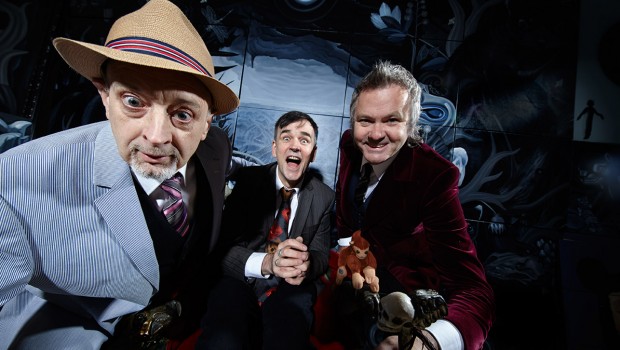 Published on March 22nd, 2016 | by admin
Doug Anthony Allstars premier new show in Sydney and beyond
ANARCHIC OZ COMIC LEGENDS THE DOUG ANTHONY ALLSTARS  2016 TOUR DATES 2016
Melbourne International Comedy Festival @ Melbourne Town Hall, Main Hall Friday 1 April "Reunion Rebirth" | Tickets HERE Saturday 2 April (Melbourne Premiere!) "Near Death Experience" | Tickets HERE "Near Death Experience" then tours to… Mackay Entertainment & Convention Centre, QLD Friday 6 May | Tickets HERE Townsville Civic Theatre, QLD Saturday 7 May | Tickets HERE Sydney Comedy Festival '16 @ The Enmore Theatre, Sydney Friday 15 May (Sydney Premiere!)  | Tickets HERE Glasshouse Theatre, Port Macquarie NSW Friday 20 May | Tickets HERE IPAC, Wollongong NSW Friday 27 May | Tickets HERE Darwin Entertainment Centre, NT Saturday 4 June | Tickets HERE Brisbane Powerhouse, QLD Thursday 30 June, Friday 1 July and Saturday 2 July  | Tickets HERE Her Majesty's Theatre, Adelaide SA Thursday 7 July | Tickets HERE
"While the Doug Anthony Allstars might be older, they're still hilarious, still magnetic, still just as exuberantly wrong… They started the show dancing on the edge of good taste, before leaping right off and taking the howling, gasping, audience with them." – Cal Wilson, The Age, 2015
"Wicked, dangerous and screamingly funny." – New York Times
Lock up your parents! This April, legendary Australian musical comedy group and foul-mouthed living treasures The Doug Anthony Allstars (DAAS) reunite for two riotously funny shows at the 2016 Melbourne International Comedy Festival: the smash-hit reunion show that shot DAAS back to global notoriety after their decade long hiatus, and the Melbourne premiere of new show, Near Death Experience. In May they then take The Enmore Theatre by hostage with the Sydney premier of Near Death Experience for Sydney Comedy Festival. The new show spreads its wings to gobble up venues in Mackay, Townsville, Darwin, Brisbane, Wollongong, Port Macquarie and Adelaide across May, June and July, before DAAS head off to their home-away-from-home at the Edinburgh Festival.
In 2013, original DAAS members Paul McDermott and Tim Ferguson teamed up with long-time collaborator Paul 'Flacco' Livingston, and simply picked up where they had left off – breaking box-office records around Australia, and delighting fever-pitch full houses of diehards together with a new generation of fans, indoctrinated via YouTube into DAAS' iconoclastic cult comedy stylings.
Reunion Rebirth is the original reunion show – an encore of the brilliantly brash songs and malicious, razor-sharp material that unleased DAAS to the world, thirty years ago, while new show, Near Death Experience, is another outrageous bombardment of death, sex, violence and pure evil. This is the DAAS you know and love – an irreverent mixture of filthy faux pas, spirited singing, and social commentary – with two decades worth of fresh targets in sight.
DAAS' darkly anarchic, revolutionary approach to comedy captured the zeitgeist of the '80s and '90s. The darling horrors of the festival circuit packed out venues throughout the UK, US and Europe, scored the Edinburgh Festival's Fringe Award in 1987 and became its biggest selling act for eight years, while their television appearances on Friday Night Live (ITV), The Big Gig (ABC) and their sci-fi sitcom DAAS Kapital (banned in Japan & Germany) established them as Australia's biggest international musical comedy group of all time. In 1995 when they threw in the towel, it stuck to the wall. Now they are back. Lock up your parents and your pit bulls.
If you missed DAAS the first time around, this is your chance to witness the lauded cult trio crash the main stage of the Melbourne International Comedy Festival, performing ferociously wicked new material and their radical original, thirty years on, before heading back home for the Sydney premiere of their brand new show at the 2016 Sydney Comedy Festival.
Find DAAS at www.facebook.com/DougAnthonyAllStars
and Twitter: @DAAS_Live #DAASLive