Events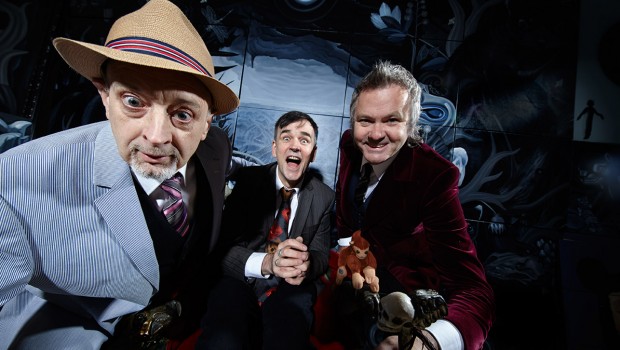 Published on September 24th, 2015 | by admin
Doug Anthony Allstars New Show set for the Gold Coast
International comedy legends the Doug Anthony AllStars (DAAS) are BACK! and premiering their scandalous new show Near Death Experience on the Gold Coast on Friday November 13th at The Arts Centre!
On the back of a sold out season during 2015's Melbourne International Comedy Festival and sold out shows across the country, Australia's preeminent comedy trio have begun preparations to take their reformation tour global in 2016. Now they're heading to the Gold Coast to present their new show. Original DAAS members Paul McDermott and Tim Ferguson teamed up with long time collaborator and mentor Paul "Flacco" Livingston for a 20 year reunion tour in 2014 and have been breaking box office records around the country ever since.
In between McDermott hosting TV's Room 101 on SBS, Livingston's latest book release, and the unstoppable Ferguson (with his constant companion MS) co-writing and directing a feature film, the trio is proving the ravages of time have only made them more fierce and fearless. With almost a century of comedic experience combined and no time to waste, their musical comedy is more wicked and dangerous than ever, leaving no socio, political or Rolling stone unturned. Speaking from Prague, McDermott said, "Death approaches. We have nothing to lose".
Speaking from experience, Livingston said, "Death is coming, look busy!" So far in 2015 the group has conquered a dozen Australian cities – including Canberra, Sydney, Newcastle and Cairns – with epic sold-out performances leaving audiences stimulated to the brink of comedy ecstasy and beyond, begging for more. The group's initial reign as lords of the comedy universe came to an abrupt end in 1994, playing a final sold-out season at Perth's Regal Theatre. In 2014 they picked up exactly where they'd left off.
Touring the theatres that made them infamous, DAAS are once again playing to fever pitch full houses of die-hards, as well as a new generation of fans, indoctrinated into their alternative and iconoclastic cult comedy stylings via the world wide web. With their trademark bombardment of songs, sex, violence, sex, feminism (and sex), DAAS revolutionized comedy in the '80s & '90s like no act before or since.
Taking comedy into rock venues, they played to huge crowds, charming and disarming audiences throughout the UK, USA, Europe and Australia and becoming the Edinburgh Fringe Festival's biggest selling act for eight years. Now they have returned, the world can again experience the groundbreaking phenomenon of DAAS live, in an unforgettable night of the dangerous and outrageously funny mob-rule chaos that has seen the group incite riots, ignite fires, silence the Spanish and get banned in Germany and Japan. Lock up your parents and your pit bulls, and brace yourself for a deathly funny assortment of freshly concocted comedy brilliance and old faves, with three (still) living legends of international comedy.
The Doug Anthony AllStars: Near Death Experience
Friday November 13 at The Arts Centre, Gold Coast QLD
Tickets $62
Book Here