Events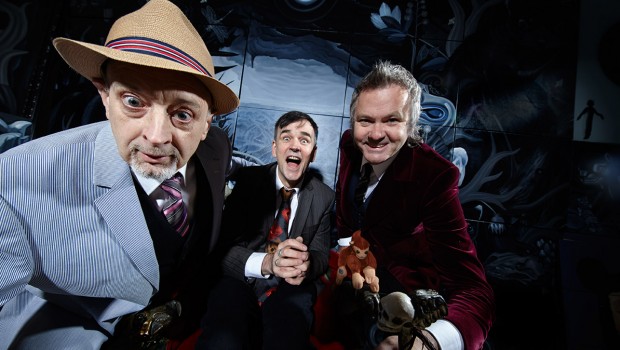 Published on August 29th, 2016 | by admin
Doug Anthony Allstars announce shows in Hobart and Canberra
As the Australian winter season comes to a close, Doug Anthony Allstars send their royal greetings from the perennial windy, bleak and wet Scotland where they are currently whipping Edinburgh Fringe Festival goers into a frenzy not at all diminished by 25 years off the Edinburgh circuit.
To celebrate their huge success and sell out audiences in Edinburgh and London, the tour de force that is DAAS will stage their new show 'Near Death Experience' at Theatre Royal in Hobart (Fri 14 and Sat 15 Oct) and at The Canberra Theatre Centre (Fri 11 and Sat 12 Nov).
Currently playing to some of the toughest crowds found anywhere in the world, DAAS are dripping with 4 and 5 star reviews in the UK right now:
"Seizing the chance to see the All Stars while you can… is certainly sage advice… don't and you'll be missing a transgressive ride, packed full of raw belly laughs" (5 stars, Chortle)
"Leave your knee-jerk liberalism at the door as political correctness flies out the window faster than a bullet train leaves Tokyo in this gloriously rude, crude show that's filled with crazy irreverence that is above all absolutely hilarious. DAAS are less 'boundary riding' and more boundary bounding." (5 stars, Edinburgh Guide)
"a riotous triumph" (4 stars, The Daily Mail )
"The reunited and rambunctious musical trio provide proper, from-the-gut, I-can't-believe-they-just-said-that laughs" (4 stars, London Times)
"In an era when Fringe comebacks largely fall horrendously flat, DAAS can take pride in having produced a return with as much as life in it as the offerings from their halcyon days. Clearly there's less venue-trashing and more medication-swallowing among the gang, but hats off to the Dougs for making a wholly unsentimental return to the Fringe fray." (4 stars, The List)
"While Livingston casts a deadpan eye over proceedings, McDermott… approaches the hosting role with an absurd arrogance, belting out the group's trademark musical numbers as though auditioning for a bizarro Broadway musical. Ferguson sits slumped in a wheelchair, radiating charisma though his body has been ravaged by multiple sclorosis. What starts out as pleasant affair becomes radical and dangerous the more this fallen hero makes his maverick voice heard. Ferguson may not have many years of performance left in him, but he's going out with his star burning as brightly as it did in ascendance." (4 stars, FEST)
"the group has retained its dark-as-hell humour, its comic timing, and the ability to send themselves up… a breath of wonderfully filthy air on an otherwise dull day." (4 stars, British Theatre Guide)
Since their rebirth in 2013, DAAS have broken box-office records. Their Edinburgh success follows sell out shows across Australia with new show 'Near Death Experience', an outrageous bombardment of death, sex, violence, music and more sex.
Their musical comedy is more wicked and dangerous than ever – an irreverent mixture of filthy faux pas, spirited singing, and social commentary – with two decades worth of fresh targets in sight.
Wracked by illness and age, this trio has no time to waste. Speaking from Prague, Paul McDermott said, 'Death approaches. We have nothing to lose.' Speaking from experience Paul Livingston said 'Death is coming, look busy!'
DAAS revolutionised world comedy like nobody before or since. Now you can run screaming down memory lane with Australia's most controversial comedy export at:
Theatre Royal, Hobart Friday 14 and Saturday 15 October (8pm) Bookings here
Canberra Theatre Centre Friday 11 and Saturday 12 November (8pm) Bookings here
WARNING: Violence. Horror themes. Sexual references. Mature. Adult images. Hypnotism. Extreme-conservative values. Be mildly unnerved, be very mildly unnerved.
www.facebook.com/DougAnthonyAllStars Twitter: @DAAS_Live #DAASLive