Events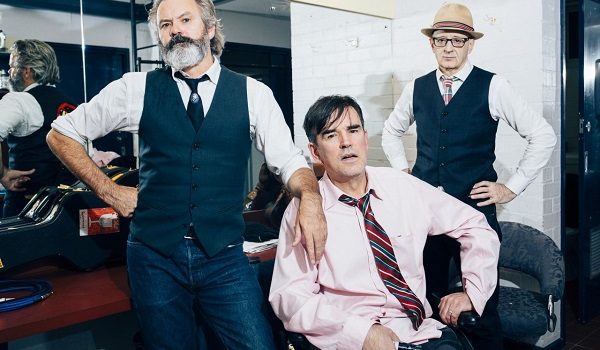 Published on February 1st, 2018 | by Admin
Doug Anthony Allstars announce Melbourne Comedy Festival shows
Tuesday 3 April – Sunday 8 April – Malthouse Theatre, Melbourne VIC | Tickets
Doug Anthony Allstars (DAAS) trio Paul McDermott, Tim Ferguson, and Paul 'Flacco' Livingston return with an encore performance of the riotous show that took last year's Edinburgh Fringe and London by storm.
The act that schooled the best of Australia's comedians in the art of shameless provocation and paradoxical parodies are back to grace The Melbourne International Comedy festival with their satirical genius. The unhinged ensemble is set to take its audience to uncomfortable corners of the psyche with its Machiavellian portrayal of the human condition at its best and worst.
Howlingly funny, hilariously dark, and joyously cathartic – it's a gut-bustingly hilarious barrage of brilliance from this unholy trinity of (still) living legends.
From 3-8 April 2018, DAAS will perform at Melbourne's Malthouse Theatre as part of the Melbourne International Comedy Festival. The trio will play six consecutive shows from Tuesday to Saturday at 9pm, with a final performance on Sunday at 8pm.
WARNING: Sexual Images, Violence, Magic, Extreme Conservatism, Dogs, Uncensored Whistle Song, Wheelchair Dancing.
In the 80s & 90s, the Doug Anthony Allstars took the comedy world by storm with their infamous live shows and TV appearances.  Wilfully provocative, psychologically manipulative and gleefully tasteless – DAAS kicked political correctness out the door and gave it a damned good thrashing outside. In a frenzy of mob-rule chaos, three men became the rockstars of comedy, generating unprecedented excitement and adoration and inspiring a whole new generation of comedians. Then in 1994 the Doug Anthony All Stars broke up and the world was safe again.
Fast forward to 2013: Paul McDermott & Tim Ferguson teamed up with their mentor Paul 'Flacco' Livingston and began to unleash a new brand of havoc and hilarity upon a nervous world. They were older, they were sicker, they were angrier, and they were better than ever.
Then in 2016, following sell-out shows Australia-wide, DAAS made a triumphant return to the Edinburgh Fringe Festival, playing to packed houses and picking up the coveted "Spirit Of The Fringe" award. They headed to London's Soho Theatre for more sold out shows and a tsunami of critical acclaim. In 2017, making a mockery of the term "swansong", DAAS returned the Edinburgh Fringe for a full season, where fans – both old and new – arrived in droves, and comics of the ilk of Eddie Izzard and Dawn French came to pay homage. They cemented their legend status with a final sellout UK show at legendary rock venue the Shepherd's Bush Empire before a star studded audience.
For 30 years, this notorious Australian musical comedy trio have smashed the international comedy scene, astounding audiences with outlandish flights of imagination, impeccable timing and superlative singing. In short, they are the world's most hilarious life-changing experience. You need to see this show before you die.
REVIEWS:
"Funny, moving and profound." EVENING STANDARD , UK
"Proper, from-the-gut, I-can't-believe-they-just-said-that laughs!"  LONDON TIMES
"Political correctness flies out the door in this gloriously rude, crude show" EDINBURGH GUIDE
"It'll make you howl with laughter, punch the air with defiance and break your heart twice." ★★★★★  METRO, UK
"Their show was one of the greatest things I have ever witnessed" THE SCOTSMAN