Events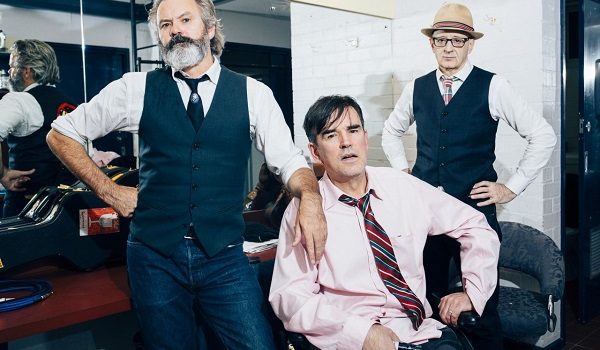 Published on October 20th, 2017 | by admin
Doug Anthony Allstars Announce 2nd Melbourne Show in November
Saturday 18 November, 7:30pm and 9:30pm shows
Comedy Theatre, Melbourne VIC | Tickets
7.30PM show – SELLING FAST | 9.30PM show – NOW ON SALE
Sex. Death. Horror. Legendary musical comedy trio Doug Anthony Allstars (DAAS) are back with all the ingredients for a great night of comedy. Following their record-breaking reformation world tour, Paul McDermott, Tim Ferguson, and Paul 'Flacco' Livingston are back in Melbourne.
On the back of critically acclaimed, sell out return seasons in Edinburgh and London 2016 and 2017, DAAS will bring their scandalous brand of musical comedy to town for one night only at the Comedy Theatre on Saturday 18 November.
With tickets to the 7:30pm nearly sold out, there is now a second chance to join the monster Gods of Australian Comedy at 9.30pm.
Playing at the last two Edinburgh Fringe Festivals to some of the world's notoriously toughest crowds (after a 25 year break from touring), DAAS once again whipped audiences into a fever-pitch frenzy, winning the Spirit of the Fringe award and rave reviews from the UK media. The show was lauded by international comedy superstars Dawn French who tweeted: "Utterley unique and very funny", and Eddie Izzard who wrote: "A show that says "One life. Live it".
Since their rebirth in 2013, DAAS have broken box-office records. With almost a century of comedic experience combined, the second coming of DAAS is more wicked and dangerous than ever – complete with filthy faux pas, spirited singing and socio political commentary – with two decades worth of fresh targets in sight.
DAAS revolutionised world comedy like nobody before or since. Now experience the groundbreaking phenomenon of DAAS in an unforgettable night of the dangerous and outrageously funny mob-rule chaos that has seen the group incite riots, ignite fires, silence the Spanish and get banned in Germany and Japan.
Lock up your parents and your pit bulls, and brace yourself for a deathly funny assortment of freshly concocted comedy brilliance with three (still) living legends of international comedy.
WARNING: Violence. Horror themes. Sexual references. Mature adult images. Hypnotism. Extreme-conservative values. Be mildly unnerved, be very mildly unnerved.
REVIEWS:
(The) rambunctious musical trio provide proper, from-the-gut, I-can't believe-they-just-said-that laughs – THE TIMES, London
Political correctness flies out the window in this gloriously rude, crude show that's filled with crazy irreverence that is above all absolutely hilarious… Shrewd intelligence and immense talent DAAS have by the ton. – EDINBURGH GUIDE
 …the show is a riotous triumph – DAILY MAIL
DAAS can take pride in having produced a return with as much as life in it as the offerings from their halcyon days. – THE LIST
This show had tears of laughter running down faces all across the venue… a breath of wonderfully filthy air… – BRITISH THEATRE GUIDE
★★★★ The Times
★★★★★ Edinburgh Guide
★★★★ Daily Mail
★★★★★ Chortle
★★★★ British Theatre Guide
★★★★ The List
Winners SPIRIT OF THE FRINGE AWARD, EDINBURGH
Find DAAS at www.facebook.com/DougAnthonyAllStars and Twitter: @DAAS_Live #DAASLive