Games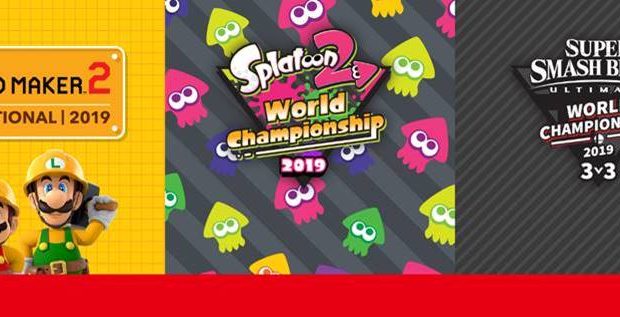 Published on June 11th, 2019 | by Admin
DOUBLE VICTORY FOR JAPANESE TEAMS IN SPLATOON 2 AND SUPER SMASH BROS. ULTIMATE WORLD CHAMPIONSHIPS
Australian and New Zealand Champions for Super Smash Bros. Ultimate and Splatoon 2 Champions Lime Soda battled valiantly on the world stage 
Players from all around the world came to Los Angeles to battle it out in three Nintendo tournaments and prove they are the world's best in a trio of Nintendo Switch games. Champions were crowned in the Super Mario Maker 2 Invitational 2019, Splatoon 2 World Championship 2019 and Super Smash Bros. Ultimate World Championship 2019 3v3 tournaments. The exciting competitions set the stage for a week of fun Nintendo activity at the E3 2019 video game trade show.
Super Mario Maker 2: Invitational 2019
YouTuber AbdallahSmash took the crown and received a special Super Mario Maker 2: Invitational 2019 trophy by navigating the challenging courses created by Nintendo Treehouse staff. The courses played during the Super Mario Maker 2 Invitational 2019 will also be made available for all players to enjoy sometime after the game launches exclusively for Nintendo Switch on 28th June.
Splatoon 2: World Championship 2019
In the Splatoon 2 World Championship 2019, GGBOYS representing Japan out-splatted teams from Europe, North America and Australia/New Zealand. GGBOYZ, composed of Dynamon, Taiji, Etona and Yamamicchi managed to recover after going 2-0 down in the finals against FTWin and eventually won 4-2. Splatoon 2 Australian and New Zealand Champions, Lime Soda, who mounted one of the most exciting Turf War comebacks in recent memory to make the World Championships, were defeated in an absorbing match (0-3) against Japan's GGBOYS in the semi-final. GGBOYS laid their claim to the championship trophy and will have their names etched onto the coveted Sterling Squid commemorating their victory.
After the Splatoon 2 World Championship 2019 champs emerged, Nintendo announced that the final Splatoon 2 Splatfest, nicknamed "Splatocalypse", will begin at 10:00pm AEST on 18th July*. The event, timed to coincide with the game's second anniversary, will run for 72 hours, and asks players: "Which world would you choose?" Chaos or Order? In addition, a new Shifty Station stage will be added for this final Splatfest, and all 23 of the previous Splatfest-specific stages will be making a reappearance, too. The 23 previous stages will surface in a constantly, shifting rotation for the first 48 hours, with the new stage making its debut for the final 24-hour period. Special in-game gear will also be distributed in honour of this Splatfest via players' Nintendo Switch news feed.
Nintendo also announced that sometime after the Splatocalypse is over in late July, an update for the Splatoon 2 game will add Turf War (Splatfest) to the modes players with a Nintendo Switch Online membership can select in Private Battle. With this new mode, players will get to enjoy Turf War on 24 stages at night time, including the newest Shifty Station playable in the final Splatfest.
Super Smash Bros. Ultimate: Ultimate World Championship 2019 3v3
Team Japan emerged victorious in the Super Smash Bros. Ultimate World Championship 2019 3v3 after defeating Team USA and Team Europe in heated battles on their way to the top. The Japanese team composed of Zackray, Kuro, Konbu and Akasa won the final match with Konbu using his supersized Mii Swordfighter to defeat Team Europe's Sirjon.
Team Australia/New Zealand battled courageously in their defeats by the hands of Team USA and Team Japan in their seeding matches, before taking on eventual grand finalists Team Europe in the first best-of-3 semi-final. Following SebPro101's incredible win to take the series to 1-1, Ghost faced off against Team Europe's Sirjon in a heart-stopping game in which Sirjon emerged the victor thanks to a well-timed Smash Ball, all while surviving at the 127% mark. With Team Europe's path free to move on to the finals, Team USA and Japan duked it out in their semi-final round with Japan's Zackray winning the first match against Wrath and Kuro winning the deciding third match against Team USA's Devonte.
The final between Japan and Europe began with two decisive three-stock wipe-outs against Europe, who only managed to bring some hope of a comeback in the third match when RobinGG, on his final character Palutena, knocked the Smash Ball from Kuro's Dark Pit to use it to his own advantage. But in the fourth and deciding match Sirjon barely managed to take a single one of Konbu's stocks, while Konbu's Mii Swordfighter in combination with a perfectly timed Super Mushroom sealed the deal for Japan.
To stay up to date on all of Nintendo's activities at E3 2019, keep an eye on https://e3.nintendo.com/**.