Comics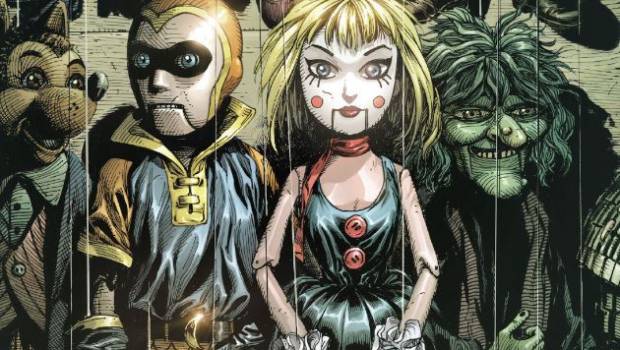 Published on July 25th, 2018 | by Andrew Bistak
Doomsday Clock #6 Review
Summary: Doomsday Clock #6 is a little slow in furthering this story but still a fun read about Mime and Marionette
Doomsday Clock #6 is a Marionette and Mime focused issue by writer Geoff Johns and artist Gary Frank as they give us an origin issue of these characters, including the strange yet enjoyable amalgamation of the DCU meets the Watchmen Universe. The story starts with a flashback to Marionette's early life as a child which not only led to heart broke but also one of many catalysts that led this young girl in becoming this super villain.
Back in the present, the Joker is proudly displaying his captured "Batman" as he sternly warns both Marionette and Mime not to mess with the Clown Prince himself. However when the two villains from the Watchmen universe decide to stage a breakout, they are played by the Joker who introduces them to one of the largest meetings of supervillains.
Unfortunately for our villains things don't go according to play when the Comedian crashes the party who is hoping to finding answers as to where Ozymandias is hiding. However the Comedian is duped by the Joker and captured with Mime believing that he may know the whereabouts of Dr Manhattan and more importantly, he holds to the clues to where her baby is.
Though this issue didn't really disclose too much of the main theme of Doomsday Clock, thankfully I still found this issue an interesting read, particularly finding out more about Mime and Marionette. The dialogue was good, however as Geoff attempts to inject an element of "adult" into the story and as a result, he overuses the word shit which did become a little repetitive but fortunately the amazing art of Gary Frank more than made up for this shortfall.
Final Thoughts?
All in all, a fun, albeit slow issue and as we are only at issue 6 of 12, I'm hoping that Geoff and co pick up the pace a little more… like where is the Justice Society of America and the Legion of Superheroes?
Gallery